I find it unusual that I have not seen much commentary from financial analysts or many articles around the great results being reported by lodging stocks and REITs this earnings season. As examples, both Hyatt (NYSE:H) and InterContinental Hotels (NYSE:IHG) saw 6% year-over-year RevPAR (Revenue per available room) increases this quarter and easily beat earnings expectations as well. Hyatt would have seen nearly 8% RevPAR growth if not for currency impacts and IHG shares soared Friday on its latest results and the announcement of $750mm special dividend.
Friday I profiled Las Vegas Sands (NYSE:LVS) which saw RevPAR grow almost 19% Y/Y in the quarter on the unabated strength from its properties in Macau. The company's overall occupancy rate also moved up 280bps to 94.4%. It is almost easier to find an atheist in a foxhole than a room in its Asian resorts right now.
FelCor Lodging Trust (NYSE:FCH) also showed Y/Y RevPAR growth of 7% this quarter when the company reported quarterly results on Thursday. FFO (Funds from Operations) came in at three cents a share for the quarter, besting estimates by two cents a share. This REIT (real estate investment trust) also posted revenue of ~$221mm, over $7mm above this consensus.
This turnaround play is now up some 60% since I profiled it nine months ago in a Seeking Alpha Pro piece and still feels like it has upside. Although the REIT is not as nearly as dirt cheap as it was last summer, I am still holding the shares.
Insiders continue to make small purchases of the shares and FFO growth should be quite attractive over the next two years. FFO should be up some 40% this fiscal year over FY2013 levels and the consensus has FFO growing more than 30% in FY2015. The REIT is still attractively valued at ~12x FY2015's projected EPS. Although it currently pays just a 1% dividend, this payout should increase substantially in coming years due to strong FFO growth.
There are a couple of reasons RevPAR growth is so strong in the lodging industry. First, economic activity continues to pick up albeit at a much slower pace than usual in a post war recovery. Business travel is a pocket of strength within that growth. As importantly, very little new supply was constructed in the years after the financial crisis. This has led to a demand/supply imbalance that should continue for the next few years boosting RevPAR and ADR (Average daily room rate).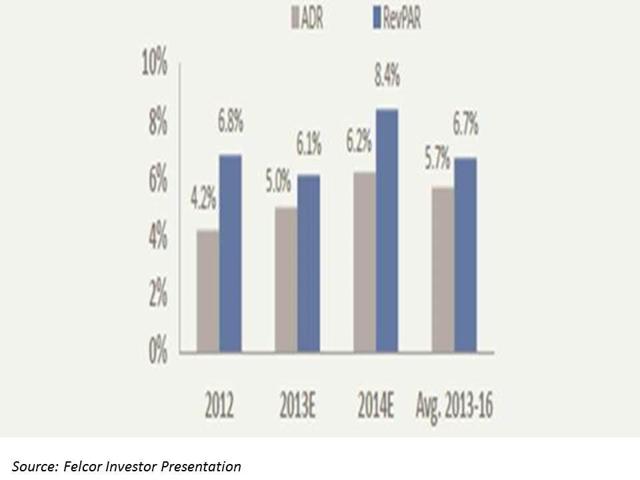 Click to enlarge
In this article we will look at a couple of attractive and high-yield hotel REITs that should continue to benefit from this supply/demand imbalance, its accompanying RevPAR and FFO growth. Income investors should consider the space to check into as good additions to their yield portfolios.
Summit Hotel Properties (INN) is a REIT focused on upscale and upper-midscale select-service hotels on a national basis. It has ~90 hotels, with more than 11,000 rooms. I bought a few more shares Friday before this REIT reports earnings on May 12th as Summit has beat expectations by a penny or two a share for the last four quarters and given the strength in the sector probably will again this quarter.
At current prices this REIT yields close to five percent (4.9%). Summit should post 10% gains both in FY2014 and FY2015. The company continues to expand by acquisitions, recently purchasing a 210 room DoubleTree in San Francisco that should generate a 8.5% to 9.5% capitalization rate on its investment. The REIT sells right at book value and a very reasonable 9 times the projected FFO for FY2015.
Hospitality Properties Trust (NYSE:HPT) is a lodging and travel center real estate investment trust. HPT operates approximately 290 hotels and some 180 travel centers located in 44 states, Puerto Rico and Canada.
This REIT has one of the bigger yields (6.6%) within this space. HPT is also very reasonably priced at 10x trailing FFO. This entity was recently upgraded to "Outperform" at Wells Fargo. The company is almost done with a multi-year renovation program that should boost cash flow per property. It also has been rumored as a possible target for activists if they expand their interest in the REIT sector.
Disclosure: I am long FCH, INN. I wrote this article myself, and it expresses my own opinions. I am not receiving compensation for it (other than from Seeking Alpha). I have no business relationship with any company whose stock is mentioned in this article.