To say prospects for stocks are uncertain is about as insightful as saying the sun rises in the east. But some periods are more uncertain than others and as uncertainty goes, the present rates pretty high. Hence the stock market has been spinning its wheels for several months now, and in the past week.
Generally, the economy seems poised for recovery with a lot of cleanup having occurred in the financial sector. That's why it's hard to be out of the market. Unfortunately, however, the economy can't seem to get going as long as consumers remain wary, which is something they are likely to continue to do as long as the jobs picture remains grim. That's why it's hard to be in the market.
The Pause-Trading ETF Model I introduced on Seeking Alpha two weeks ago reflects that, veering from stocks to mainly bonds and now back to stocks, sort of. Of this week's four equity ETFs, one focuses outside the U.S. and the other three specialize in industries normally considered "defensive," the ones to own (or overweight) if you need to be in stocks but fear a bear market.
Here is this week's top-five list:
Here's last week's list:
iShares COMEX Gold Trust

(NYSEARCA:IAU)

Nuveen New York Qty Inc Munpl

(NUN)

SPDR Gold Trust (NYSEARCA:GLD)

Vanguard Extended Duration Bond ETF

(EDV)

Vanguard Long-Term Bond ETF

(NYSEARCA:BLV)
An interesting thing to watch week to week is the nature of the ETFs on the lists. Are there common themes? Right now, it appears there is one: Caution. Sort-term technical factors may be pushing the model into some equity ETFs this week, but the bigger trend remains very much on the conservative side of the risk-reward scale.
Details of the approach are discussed below in the Appendix, where you can also see data showing the model's long-term backtested performance data.
APPENDIX
To create this model, I started with a very broad-based ETF screen I created in StockScreen123.com.
Eliminate ETFs for which volume averaged less than 10,000 shares over the past five trading days

Eliminate HOLDRs (I don't want to be bothered with the need to trade in multiples of 100 shares)

Eliminate leveraged and short ETFs (I think of these as hedging tools rather than standard ETF investments of even trading vehicles)
Then I sorted the results and select the top 5 ETFs based on the StockScreen123 ETF Rotation - Basic ranking system, which is based on the following factors:
120-day share price percent change - higher is better (15%)

1-Year Sharpe Ratio - higher is better (15%)

5-day share price percent change - lower is better (70%)
The idea of using weakness as a bullish indicator is certainly not new. But often, it's an add-on to other factors that, on the whole, emphasize strength. Here, the weakness factor is dominant, with a 70 percent weighting.
This model is designed to be re-run every week with the list being refreshed accordingly. I trade through FolioInvesting.com, where I pay a flat annual fee rather than a per-trade commission, so I don't care about the fact that turnover form week to week is often 80%-100%. If you want to follow an approach like this but do have to worry about commissions, the strategy tests reasonably well with three ETFs, or even with one. (Cutting the number of ETFs is far preferable to extending the holding period.)
Figure 1 (click to enlarge) shows the result of a StockScreen123 backtest of the strategy from 3/31/01 through 7/22/10.
Figure 1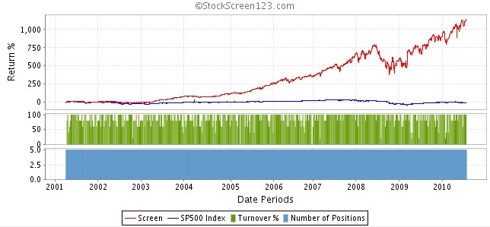 Figure 2 (click to enlarge) covers the past five years, a very challenging market environment that witnessed the fizzling of many strategies that had succeeded for a long time.
Figure 2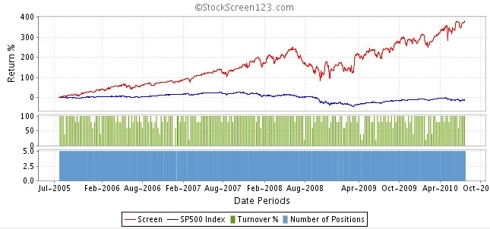 Disclosure: Long FXG, FXU, IDX, PBJ, EDV