A Ranking system sorts stocks from best to worst based on a set of weighted factors. Portfolio123 has a powerful ranking system which allows the user to create complex formulas according to many different criteria. They also have highly useful several groups of pre-built ranking systems; I used one of them, the "All-Stars: Piotroski," in this article. The ranking system is based on investing principles of the well-known investor Joseph Piotroski.
The "All-Stars: Piotroski" ranking system is quite complex, and it takes into account many factors like; price-to-book value (50% weight), gross margin, debt, current ratio, return-on-assets and share buybacks, as shown in the chart below.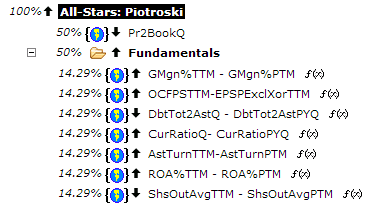 In order to find out how such a ranking formula would have performed during the last 15 years, I ran a back-test, which is available by the Portfolio123's screener. For the back-test, I took all the 7,014 stocks in the Portfolio123's database.
The back-test results are shown in the chart below. For the back-test, I divided the 7,014 companies into fifty groups according to their ranking. The chart clearly shows that the average annual return has a very significant positive correlation to the "All-Stars: Piotroski" rank. The highest-ranked group with the ranking score of 98-100, which is shown by the dark blue column in the chart, has given by far the best return, an average annual return of about 25%, while the average annual return of the S&P 500 index during the same period was about 2.7% (the red column at the left part of the chart). Also, the second and the third group (scored: 96-98 and 94-96) have given superior returns. This brings me to the conclusion that the ranking system is very useful.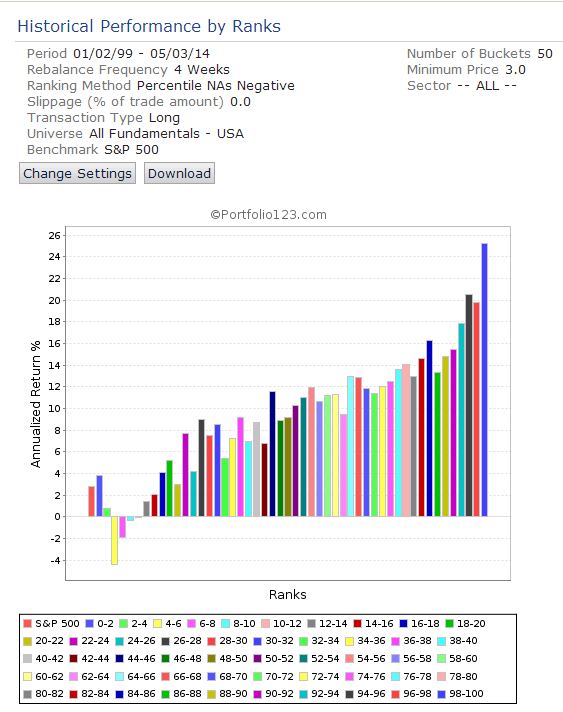 After running the "All-Stars: Piotroski" ranking system on all the S&P 500 stocks which pay a dividend with a higher than 1% yield, on May 04, I discovered the twenty best dividend stocks, which are shown in the chart below. In this article, I analyze the first stock of the list Transocean Ltd. (NYSE:RIG).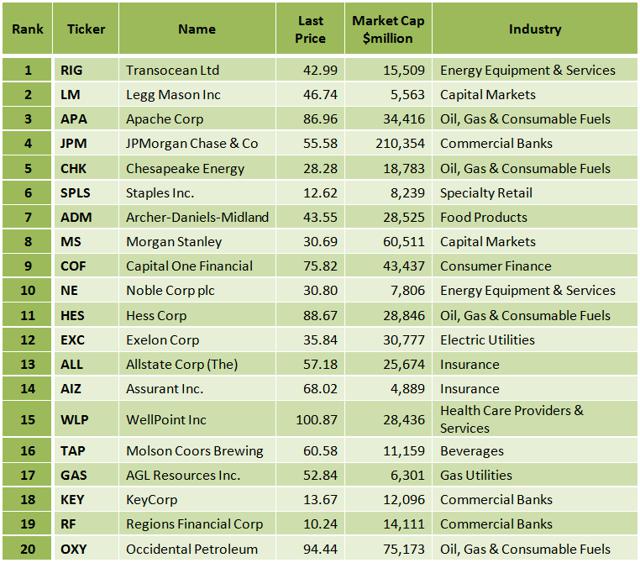 Transocean
Transocean is the largest offshore drilling rig contractor in the world. RIG's market is global, given that rigs can be mobilized from region to region. As of February 18, 2014, its fleet consisted of 46 High-Specification Floaters (Ultra-Deepwater, Deepwater and Harsh Environment semisubmersibles and drillships), 22 Midwater Floaters and 11 High-Specification Jackups. At February 18, 2014, it also had seven Ultra-Deepwater Drillships and 5 High-Specification Jackups under construction or under contract to be constructed. Transocean Ltd. was founded in 1953 and is based in Vernier, Switzerland.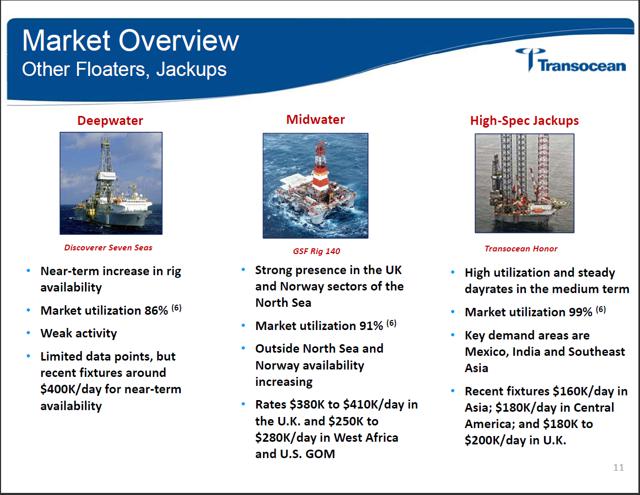 Source: Howard Weil Energy Conference Presentation
Major Developments
At Transocean's Investor Day last November, management discussed its plans to increase shareholder value through new capital investment, the creation of an MLP, improvements in operating efficiency, and dividend increases. The company plans to launch an MLP of its high-spec Ultra-Deepwater rigs through an initial public offering in 3Q14, since there is strong investor demand for MLPs. The MLP, which is subject to board approval, is expected to generate approximately $1 billion in proceeds and will improve the company's financial flexibility. Transocean will remain a majority shareholder of the MLP.
Valuation
Transocean has a very low trailing P/E ratio of 11.11, and its stock is trading way below book value; its price-to-book-value ratio is only 0.93. According to Yahoo Finance, Transocean's next financial year forward P/E is very low at 10.61, and the average annual earnings growth estimates for the next five years is very high at 18.72%. These give an extremely low PEG ratio of 0.57, the ninth lowest PEG ratio among all S&P 500 companies. Rowan Companies plc (NYSE:RDC), Forest Laboratories Inc. (NYSE:FRX) and Gilead Sciences Inc. (NASDAQ:GILD) are the three stocks with the lowest PEG ratio among all S&P 500 companies. The PEG Ratio - Price/Earnings to Growth ratio, is a widely-used indicator of a stock's potential value. It is favored by many investors over the P/E ratio, because it also accounts for growth. A lower PEG means that the stock is more undervalued.
Dividend
After interrupting the dividend payment in 2002, Transocean paid a special dividend of $33 on November 27, 2007, and it has resumed paying uninterrupted dividends since May 2011. RIG currently pays a quarterly dividend of $0.56 per share. The annualized payout of $2.24 represents a very high yield of 5.21%. Furthermore, on November 11, 2013, RIG announced that it would propose a $3.00 per share annualized dividend during its 2014 annual meeting.
Next Quarter Results
Transocean will report its first-quarter 2014 financial results on May 07. RIG is expected to post a profit of $1.03 a share, a 10.8% rise from the company's actual earnings for the same quarter a year ago. Since competitors Ensco plc (NYSE:ESV) and Noble Corp. (NYSE:NE) beat the street's estimates in its latest earnings report, I think that there is a reasonable chance that RIG also will beat analyst expectations in the current quarter.
My Take
Oil and natural gas prices have been rising from the beginning of the year, which should promote an increase in demand for new explorations. WTI crude price has risen 9.5% from its low of January 09, 2014, to $99.64 per barrel on March 07, while the Henry Hub natural gas price has risen 15.2% since the beginning of the year to $4.739 per Million Btu. Since a greater percentage of oil is being discovered in extremely deep waters where Transocean thrives, this will cause an increase in the demand for Transocean's Ultra-Deepwater rigs where the rental price is the highest (from $519,000 to $600,000 daily rate, data released by the company on April 17). Although the Ultra‐Deepwater rig market is experiencing near‐term softness, and new contracts are expected at $440K to $540K/day, exploration success indicates significant long‐term Ultra-Deepwater demand.
Risk
In April 2010, the Deepwater Horizon, one of RIG's deepwater units, experienced an explosion, burned and sank in the U.S. Gulf of Mexico while working for its customer, BP plc (NYSE:BP) on its Macondo well. In January 2013, RIG settled with the Department of Justice on certain civil charges, and potential criminal charges, for $1.4 billion in fines and penalties. However, other civil charges against RIG and other parties remain outstanding in the U.S. District Court. In the event that the court finds RIG guilty of gross negligence in the Macondo explosion, RIG could be exposed to certain punitive damages.
Conclusion
Transocean has compelling valuation metrics and strong earnings growth prospects. Its PEG ratio is extremely low at 0.57, the ninth lowest PEG ratio among all S&P 500 companies. Furthermore, the company is focusing on returning value to its shareholders by proposing an increase in its payment to $3.00 per share annualized dividend, and by creation of an MLP. All these factors lead me to the conclusion that RIG's stock is a smart investment right now.
Disclosure: I have no positions in any stocks mentioned, but may initiate a long position in RIG over the next 72 hours. I wrote this article myself, and it expresses my own opinions. I am not receiving compensation for it (other than from Seeking Alpha). I have no business relationship with any company whose stock is mentioned in this article.