Gold and silver once again rebounded late in the week on renewed safe haven demand stemming from fresh violence in The Ukraine, but with U.S. stock indexes threatening record highs, interest in precious metals in the West is waning as evidenced by ongoing outflows from metal ETFs. Economic reports in the U.S. were better-than-expected and, though there was no real news from the Federal Reserve's policy meeting, absent a dramatic change in the economy, there is little chance of the Central Bank deviating from its current course, which is decidedly negative for precious metals.
Gold buying in China continues at a solid pace, though you wouldn't know that from reading anything in the mainstream financial media, as recent reports questioning record gold demand in China last year continue to affect sentiment toward precious metals amongst U.S. investors. Demand from India could offer some support for the gold price in the period ahead, but the the Ukraine has clearly been the most important prop for gold and silver lately.
For the week, spot gold fell 0.2 percent, from $1,303.80 an ounce to $1,300.60, and silver dropped 1.4 percent, from $19.73 an ounce to $19.46. The gold price is now up 7.9 percent so far in 2014, almost one-third below its record high of over $1,920 an ounce in late 2011, and silver is now up just two cents for the year, still 61 percent below its all-time high near $50 an ounce reached just over three years ago.
The gold price jumped more than $20 an ounce on Friday and ended the day with its biggest gain in nearly two months after word came from the Ukraine that the separatist movement in the East had entered a much more dangerous phase. Traders were quick to close out short positions going into the weekend after two Ukraine helicopters were shot down by pro-Russian forces in Slovyansk, and dozens of people died in a fire at a trade union building in Odessa, with more perishing in street fighting.
As was the case a week ago, this spurred safe haven demand and "rescued" precious metals markets from what would have otherwise been a pretty dismal bout of selling as developments in the West have been very negative for gold and silver. Friday's U.S. Labor report showed robust job creation last month and, while the jobless rate fell for all the wrong reasons (i.e. people leaving the labor force rather than finding jobs), the spring rebound after a severe winter has U.S. investors continuing to favor stocks and to pare what little exposure they had to precious metals.
This changing sentiment in the West can be seen in the reversal of flows for the holdings of the SPDR Gold Shares ETF (NYSEARCA:GLD) as shown below.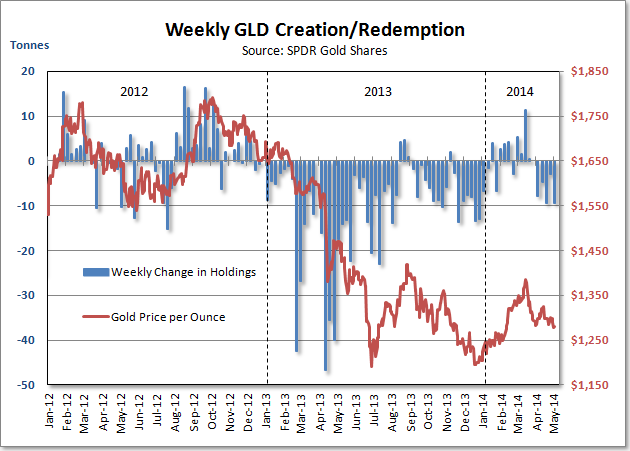 After seeing steady inflows during the first three months of the year, there have now been five straight weeks of outflows totaling 34 tonnes. This puts the ETF's holdings down more than 15 tonnes for the year, and what was once a positive factor for the gold market has turned negative.
Of course, this pales in comparison to what happened last year as, during the first four months of 2013, the fund shed nearly 300 tonnes of the metal. But as a gauge of sentiment toward gold in the West (where, importantly, prices are set), this bodes ill for the short-term.
In contrast to declining interest in GLD, the iShares Silver Trust ETF (NYSEARCA:SLV) saw inflows last week of 27 tonnes, and its holdings are now up 351 tonnes for the year, despite the silver price struggling to hang on to a year-to-date gain.
If not for the Ukraine, it could have been much worse for both gold and silver last week. Wednesday's Fed meeting provided no reason for U.S. investors to do anything other than sell precious metals, as the Central Bank continued to taper its money printing effort while acknowledging an improving recovery in the spring after a dismal winter.
In short, with the official rate of inflation still benign, there are simply no positive catalysts in the West for either gold or silver.
The East is a different matter, however, as, in addition to geopolitical risks in the Ukraine spurring safe haven buying, demand in China continues to be strong, despite what investors in the West might believe. Hong Kong's gold exports to China registered 81 tonnes in March, not far below the record pace of 95 tonnes per month seen last year, and Koos Jansen provided two insightful commentaries last week that are undoubtedly in conflict with what most U.S. investors now think about the China gold market:
• Weekly Chinese Gold Demand Increases At 35 MT, YTD 670 MT
• Internationalization Renminbi Requires Increase In Gold Reserves
As noted in the first report, though premiums of as much as $20 an ounce earlier in the year have vanished, weekly gold demand is only slightly below average so far in 2014 after almost doubling in recent weeks. The second item is also quite bullish for the yellow metal, as it details the difference between a gold "backed" and gold "supported" currency, the latter being the most likely course for China and reason to think they'll continue to quietly accumulate thousands more tonnes of the metal beyond their current official holdings of 1,054 tonnes.
This contrasts with the negative reporting in the financial media as detailed here, here and here in recent weeks, stemming from a comment that as much as 1,000 tonnes of recent gold imports to China may have been used as collateral for shadow banking system loans.
To be sure, the idea of slowing demand from China (after last year's record-shattering pace) has been the reason du jour to expect the gold price to plummet to much lower levels in the years ahead, and the latest example of this came from Morgan Stanley via this story at Barrons. Morgan Stanley's analysts see the gold price averaging $1,168 in the second half of 2014 and then falling to $1,138 next year, largely due to less demand from China.
The Ukraine has saved the gold market from big declines in each of the last two weeks, and it could continue to do so again in the days ahead, but, outside of Asia, many forces are aligned against higher metal prices at the moment. Until such time that sentiment improves in the West (and ETF flows should be a good indication of this), it will continue to be a difficult time for gold bulls.
Disclosure: I own gold and silver coins and bars along with precious metal ETFs other than GLD and SLV. I have no positions in any stocks mentioned, and no plans to initiate any positions within the next 72 hours. I wrote this article myself, and it expresses my own opinions. I am not receiving compensation for it (other than from Seeking Alpha). I have no business relationship with any company whose stock is mentioned in this article.