Poland is one of the more under-reported economic stories, which is somewhat surprising, as it's a fairly large country, and the economy has performed surprisingly well. It's one of Europe's success stories, when there is a genuine lack of these at the moment.
The economy
GDP growth has been remarkably strong; the country didn't even experience a recession during the financial crisis. However, last year, growth slowed considerably.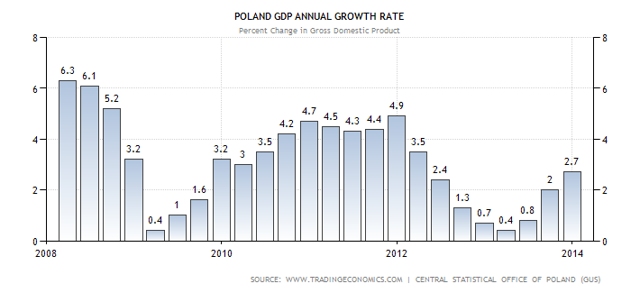 Click to enlarge
Inflation has come down from 4% during 2012 to under 1% today. This is not a problem, and if anything, a bit on the low side. The trade balance, mildly negative for much of the previous decade, has moved to a small surplus in the last year, although the current account is still modestly negative (-1.6% of GDP).
Public finances are fairly sound. There was a public deficit of 4.4% in the GDP last year, swinging into a huge surplus of 5.0% this year on a one-off asset transfer from pensions to the tune of a whopping 8.5% of GDP. The deficit will return to negative in 2015 to the tune of 2.9% of GDP.
The structural deficit was 3.6% last year, reducing to 2.4% in 2015, so the Polish economy is running fairly close to capacity. In light of that, unemployment is rather high, at just over 10%, with fairly large-scale emigration. This indicates some problems in the labor market, as much of the unemployment must be structural, rather than cyclical. Public debt is below the Maastricht norm of 60%, reaching 51% of GDP in 2015, down from 57.8% last year.
EU membership has done Poland a world of good:
Of the 10 mostly post-Communist countries that joined the European Union exactly a decade ago today, none has benefited more from membership than Poland. First and foremost, there's the cash: the country received £56bn in development funds between 2007 and 2013, money that was used to build hundreds of kilometres of highways and express roads as well as youth sports facilities, modern sewerage systems, kindergartens and pre-schools.

Add to that the £60bn earmarked for Warsaw in the EU's 2014-20 budget, and the country will have enjoyed a windfall equivalent to roughly double the value of the Marshall Plan, calculated in today's dollar figures. And that does not take into account the tens of billions of pounds that Polish farmers continue to receive in agricultural subsidies from Brussels. What we are witnessing is, without a doubt, one of the largest wealth transfers between nations in modern history.

Then there is the boost the Polish economy has enjoyed thanks to its booming exports, which mostly head to other EU countries. A year before accession, Poland generated an annual GDP of £130bn; by 2013, that figure had grown to £305bn. Meanwhile, GDP per capita has risen from 44% of the EU average on accession to 67% today and is forecast to reach 74% by 2020. [The Guardian]
There is little, if any, euroscepticism in Poland, but it's also because Poland has avoided membership of the euro so far, membership which has been such a disaster for other EU countries.
You can see that there has been some headwinds lately. Here is the World Bank describing what has gone on:
Economic growth slowed considerably in 2012 and 2013. Overall GDP growth declined from 4.5% in 2011 to 1.9% in 2012 and 1.6% in 2013 amid slowing domestic demand. Investment declined as fiscal consolidation and lower EU co-funded investments curbed public investment, while private consumption was lackluster as a result of Euro Area recession, falling corporate and consumer confidence, high unemployment and subdued wage growth. Net exports, supported by the performance of German economy (Poland's main trading partner) were the sole driver of growth from late 2012 to mid-2013.
But monetary policy has been loosened, and growth has resumed at more healthy levels.
The stock market
There was a year in the early 1990s when the Polish stock market produced a stunning 1000% return or so in a single year. The 2000s were particularly good as well, as the benefits of EU membership started to manifest themselves. The markets set a record of 67568 in late 2007 in the wake of the financial crisis.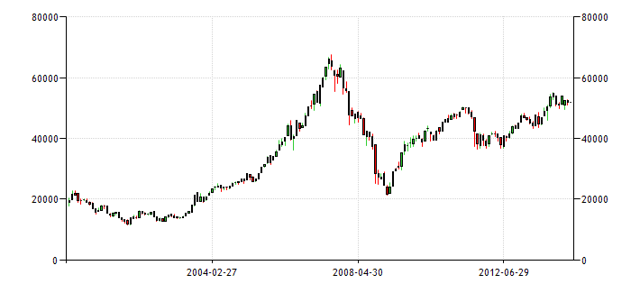 Click to enlarge
As you can see, the subsequent crash wiped out most of the decade's gains, and the market is still well off its all-time highs, which is somewhat surprising, considering the robust economic performance.
Stocks are cheap both on an absolute and relative basis (compared to it's own historic average and compared to other markets). The table below is is from July 2013:
And finally there is Poland. Currently we are reading a lot about reshoring, about how rising transport costs and the growing need for companies to be more flexible in the manufacturing sector, is leading companies to bring their manufacturing closer to home. This trend is partly manifesting itself in companies reshoring manufacturing to countries where they achieve most of their sales. But there is a growing view that countries on the edge of high spending regions, with low labour costs and high productivity may benefit. In this respect, two names keep cropping up - Mexico, where unfortunately PE ratios are above the historic average, and Poland.

Anyway, here are the PE ratios for the countries I mentioned back at the end of June.

| | | |
| --- | --- | --- |
| Country | P/E | Average |
| China | 8.7 | 14.9 |
| Columbia | 17.4 | 22.7 |
| Czech Republic | 7.7 | 17.1 |
| Korea | 9.2 | 16.8 |
| Malaysia | 16.2 | 22 |
| Mexico | 19.5 | 16.2 |
| Morocco | 11.6 | 17.7 |
| Peru | 10.6 | 14.9 |
| Philippines | 18.5 | 24.5 |
| Poland | 9.4 | 15.6 |
This isn't likely to have changed much, if at all, in the 10 months that have passed. Stocks are up a bit, but so are earnings: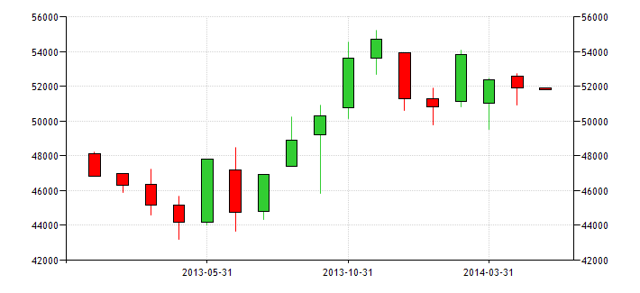 Click to enlarge
Monetary policy is accommodating since the dip in growth (see graph on GDP above) in 2012, and should help underpin equity prices:
Monetary Policy Council started an easing cycle in November 2012, cutting rates by a total of 225 bps, bringing the reference rate to 2.5%. With economic activity below potential, weak labor markets, and subdued consumer demand, annual headline inflation dropped to a record low of 0.2% in June 2013. Since then, the inflation rate has increased to around 1%, which is still well below the National Bank of Poland's [NBP] target band of 1.5-3.5%. Poland's real effective exchange rate appears to be broadly consistent with fundamentals. [Worldbank]
Can Polish stocks stay this cheap for some time? Of course, but we expect them to revert to the mean in the longer term, which means that Polish stocks constitute something of an opportunity at these levels. However, there are some hurdles to overcome.
The Ukraine crisis
It is a bit of a platitude that every crisis also provides an opportunity. Well, the opportunity so far hasn't manifested itself in any major way, as Polish shares haven't really been all that affected by the the Ukraine crisis so far.
"EVERYTHING depends on what happens in the east," said Janusz Piechocinski, Poland's economy minister, in a recent interview on Polish radio. Around one-fifth of Poland's exports go to neighbouring Ukraine and Russia, thousands of jobs depend on trade with the east, and Poland still gets a lot of its oil and some of its gas from Russia. No wonder then that, with an explosive stand-off between Russia and Ukraine, Mr Piechocinski is no longer certain that Poland's GDP will increase by up to 3.2% and its exports by 6% this year, as he forecast only a few weeks ago. [The Economist]
The Ukraine alone is much less important to the Polish economy, though:
Poland exports a diverse assortment of goods to Ukraine - including everything from apparel to home appliances and automotive parts. Although statistics from Poland's Economy Ministry indicated a decline in Polish exports to Ukraine for the first two months of 2014, Ukraine is still Poland's eighth-largest export market and goods sent there make up 1 percent of Polish GDP. "Even in the worst-case scenario," Adamiak said, "it's highly unlikely that problems in Ukraine will cost Poland's economy more than 0.5 percent of GDP." That "worst-case scenario" involves Ukraine defaulting on its debts, which is less likely as initial loan guarantees and other offers of aid have been made by the United States and European Union. [DW]
The danger is more for the Ukraine exposure of specific companies and, of course, an escalation of the conflict with Russia. Poland has been one of the most staunch supporters of the Maidan revolution that toppled the Russian-friendly regime of Yanukovich in Ukraine, and in case of an escalation, that could put Poland on a collision course with Russia.
Poland imports roughly 80% of its gas from Russia (curiously, the DW article linked above has that at 8%), and achieved a bigger than a 10% discount on the gas price as recent as 2012.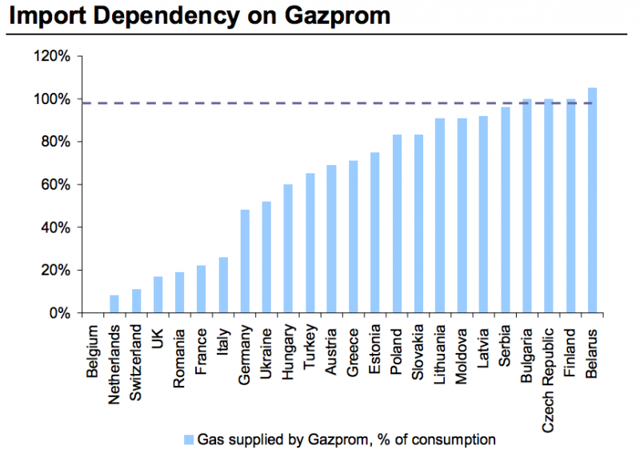 Click to enlarge
The magnitude of that dependency could pose some problems, although we think this is unlikely. Russia needs to sell its energy resources as much as countries like Poland need energy. Russian imports constitute 6% of Polish exports, representing 2.5% of GDP (much of these exports are agricultural goods).
A further softening of the Russian economy (the Ukrainian economy is already in deep crisis) could have a fair amount of impact on Polish growth, but that's only likely to happen if the crisis greatly escalates.
Exchange Traded Funds
Probably the best way to position oneself for Polish shares to achieve more historic valuations would be through ETFs, unless one likes to do lots of research on individual Polish companies. There are two ETFs specialized in Poland:
Market Vectors Poland ETF (NYSEARCA:PLND)
iShares MSCI Poland Capped ETF (NYSEARCA:EPOL)
PLND's top ten holdings are:
With 45% of the portfolio going to the financial sector, followed by basic materials (12%).
EPOL's top ten holdings are:
PKO Bank Polski S.A. PKO: 15.05%
Bank Pekao SA PEO: 10.10%
Powszechny Zaklad Ubezpieczen SA PZU: 9.41%
KGHM Polska Miedz SA KGH: 5.61%
Polski Koncern Naftowy Orlen SA PKN: 4.98%
Pge Polska Grupa: 4.65%
Bank Zachodni WBK S.A. BZW: 4.59%
mBank S.A. MBK: 3.76%
Polskie Gornictwo Naftowe I Common Stock Pln1.0: 3.32%
Orange Polska SA PTTWF: 3.24%
The exposure again is particularly slanted towards the financial sector, which, with 52% of the portfolio, is by far the largest sector, followed by basic materials (13%).
Banks are well-capitalized and profitable
The banking sector has remained well-capitalized, liquid, and profitable, but credit growth has been weak. Capital adequacy is strong (at 15.7% in September 2013, 90% of which is Core Tier 1 capital), and liquidity is high. In the first nine months of 2013, the profit of the banking sector stood at PLN 12 billion, which is in line with results in previous years. The deleveraging of the Euro area banks continued in an orderly fashion: a fall in foreign funding was offset by rising domestic deposits. Private sector credit growth was slightly above 4% in December 2013, due to an increase in household credit - in particular consumer credit, and despite a decline in credit to the corporate sector. [Worldbank]
So there are few worries here.
Conclusion
Helped by EU membership, Poland has been a star performer, and we feel this is insufficiently priced into equities, which remain cheap both relative to most other markets and by historical standards. While there might be some fall-out from the Ukraine crisis, especially in case there is a serious escalation, we think any sell-off should be bought for considerable longer-term gains.
Disclosure: I have no positions in any stocks mentioned, and no plans to initiate any positions within the next 72 hours. I wrote this article myself, and it expresses my own opinions. I am not receiving compensation for it (other than from Seeking Alpha). I have no business relationship with any company whose stock is mentioned in this article.