There are 10,151 analyst ratings on the 500 stocks in the S&P 500. That's an average of just over 20 analysts covering each stock in the index. What would we all do without those 53 analysts covering Intel (the most for any company)? Or the 49 covering Apple and Cisco?
It's probably not a surprise to anyone that the majority of analyst ratings are "buys." It's just the nature of the business. Of the 10,151 ratings on S&P 500 stocks, 5,416 are buys (or 53.4%). That wouldn't seem so out of the ordinary if the rest were sells, but just 504 of the 10,151 ratings are sells (4.96%) -- the rest are "holds."
Below are the 40 stocks in the S&P 500 with 80% or more buy ratings. Only one stock in the index has 100% buy ratings -- Washington Post (WPO). But before you go wondering how a newspaper company could be the most loved stock on Wall Street, realize that only one analyst covers the stock. The S&P 500 stock that is really probably the most loved is Celgene (NASDAQ:CELG). There are 25 analysts covering CELG, and 96% of them recommend buying it. Mastercard (NYSE:MA), Apple (NASDAQ:AAPL), CMS Energy (NYSE:CMS), Thermo Fisher (NYSE:TMO), and Republic Services (NYSE:RSG) are the only other names in the index with more than 90% buy ratings. Visa (NYSE:V) isn't far behind at 89.5%. With Mastercard and Visa ranking third and eighth in terms of buy ratings, analysts are definitely bullish on credit cards even though the two stocks are down roughly 20% year to date. Other notables that one might expect to see on this list (along with Apple) include Google (NASDAQ:GOOG), Goldman Sachs (NYSE:GS), Cisco (NASDAQ:CSCO), and Coca-Cola (NYSE:KO). Some other names that investors might not realize are so loved by analysts include Halliburton (NYSE:HAL), Peabody (BTU), Archer-Daniels-Midland (NYSE:ADM), and Microsoft (NASDAQ:MSFT).
click to enlarge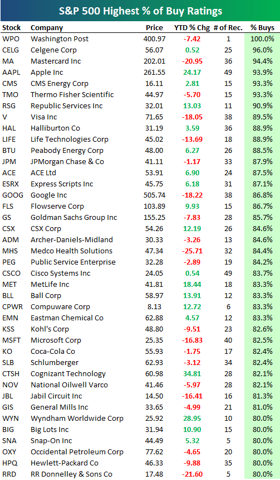 Click to enlarge