Yum Brands Inc. (NYSE:YUM) was surrounded by controversies regarding food quality at its KFC restaurants in China while the situation was worsened by the Avian flu epidemic. However, the company's efforts to regain consumer confidence seems to be paying off as reflected in its latest quarter results released by the company on April 22nd. Yum Brands, the parent company of KFC, Pizza Hut, and Taco Bell, managed to beat Wall Street expectations in terms of its earnings for the quarter. Improved sales in China drove profits 18% higher in the recent quarter. This article will focus on the company's performance during the recent quarter as well as its future performance. I will try to compare the company's performance with that of McDonald's (NYSE:MCD), which also reported its latest quarter results on the same day.
Top and Bottom Lines
Yum Brands managed to report earnings of $399 million on revenues of $2.7 billion. Yum generates 85% of revenues from company-owned stores and 15% from the company's franchises. During the quarter, sales increased 9% while revenues from franchises declined 1%, contributing to a 7% rise in total revenues for the quarter. Earnings per share increased 24%, ignoring special items, but the incorporation of special items restricted the EPS growth to 21%. The following graph compares the key performance metrics of Yum Brands to those of McDonald's. Yum Brands managed to beat McDonald's in all key performance areas.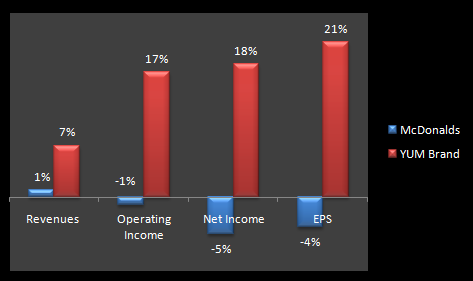 Source: Yum and McDonald's press releases
The US market remained soft for both companies as McDonald's comparable sales declined by 1.7%, while KFC and Pizza Hut's sales declined by 4% and 3%, respectively. It is important to note that the US is a key market for both companies, as it contributes 55% of the revenues for Pizza Hut and 25% of the revenues for KFC. McDonald's receives 31% of its total revenues and 43% operating income from the US, which underscores the importance of the market for the company. McDonald's blamed weak sales in Japan and Australia for its 10% decline in operating income in the APMEA (Asia Pacific, Middle East and Africa) region. On the other hand, Japan was among the countries that offered positive sales growth in mid-single digits to Yum Brands for its KFC and Pizza Hut divisions.
The following graph illustrates the importance of each of Yum Brands' segments for the company's top and bottom lines by depicting each segment's contribution to the company's revenues and operating profit.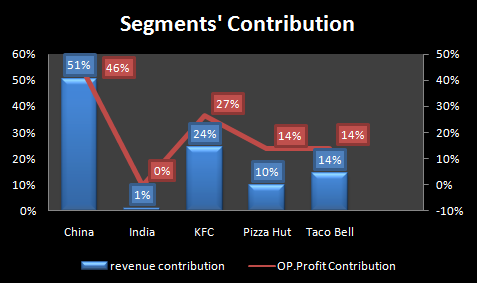 Source: Company Press Release
The following table depicts the performance of each of Yum Brands' segments individually. The China and India divisions were top performers during the quarter, followed by the KFC division. However, Pizza Hut and Taco Bell struggled to increase sales growth and saw declines in same store sales growth year over year. YUM is earning its highest restaurant margins from its China division because the margin grew 6.8% year over year. The margins of the other segments declined, reflecting the company's depressed prices and rising food costs. Operating profit in the China division experienced a massive growth of 80%, followed by the KFC division's 4% growth. All of the other divisions experienced declining operating profits this quarter.

Source: YUM's press release
Shareholders' Return
McDonald's returned $1.2 billion to shareholders through dividends and share repurchases. YUM has repurchased 2.3 million shares at an average price of $74 year to date. Hence, the company has paid $170 million to its shareholders in the form of share buybacks. Moreover, its declared dividend of $0.37 reflects an increase of 10% up from $0.335 in the same quarter a year earlier. That signals an additional payout to shareholders of around $165 million, depending on its 447 million shares outstanding on average. In aggregate, the year to date payout to shareholders (either paid or just announced) both in the form of dividends and share repurchases is equal to $335 million. The following chart illustrates the fact that YUM outperformed McDonald's in terms of total return the stock offers to its shareholders. However, YUM itself lags behind the S&P500 as well as Chipotle Mexican Grill (NYSE:CMG).

Source: Y-Charts
The Road Ahead
YUM Brands reported 24% EPS growth for the first quarter this year and has reiterated its target to achieve EPS growth of at least 20% during 2014. Moreover, YUM Brands is looking forward to consistently delivering double digit EPS growth in the coming years. The following analysis details what steps the company is taking towards attaining that level of EPS growth.
Breakfast Battleground
Taco Bell is now targeting the breakfast market. First, it offered Waffle Tacos, and now it has started offering a full breakfast menu at more than 5,000 locations. It seems that the fight for the breakfast market share has been intensified among big players as well as new entrants. Previously, McDonald's had been offering free coffee to lure customers away from Taco Bell and solidify its commanding lead in breakfast market as it had a 25% share. The US has been giving McDonald's a tough time due to sharp competition as the company saw a fifth straight month of declining US comparable sales in March.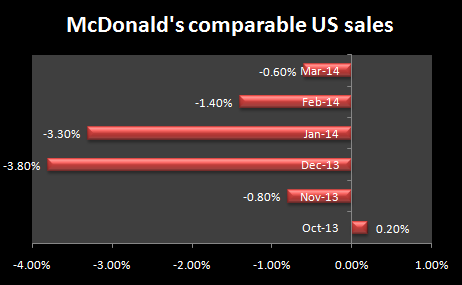 Source: Bloomberg
YUM Brands is also facing difficulties in continuing its growth momentum in the US because of other fast food chains like Chipotle Mexican Grill, Panera Bread (NASDAQ:PNRA), Wendy's (NYSE:WEN) and Burger King Worldwide Inc (BKW). Taco Bell makes up the bulk of the company's operating profits and its newly launched breakfast menu, if well received by the audience, will boost the company's second quarter operating profits. However, there are other competitors striving to grab shares in the breakfast market. Late last month, White Castle Management Company launched a new Belgian Waffle sandwich. Burger King started to offer its breakfast value menu containing several items priced at just $1. Starbucks Corp (NASDAQ:SBUX) is also heating up the competition. Taco Bell will need to minimize the serving time and offer tasty quality breakfast items at reasonable prices to make its position remains robust amid the rising competition.
Expansion In Emerging And Other Markets
YUM has continued its momentum in terms of expansion by opening new outlets and restaurants and intends to do so throughout this year. YUM has a more acute focus on China and India, which is why both countries remain the company's key segments, while its US and international segments have been restructured into three global segments: KFC, Pizza Hut, and Taco Bell. The company opened 249 new restaurants internationally, out of which 86% were opened in the emerging markets. According to David C. Novak, the company's CEO and chairman, YUM aims to open at least 700 new restaurants in China this year to solidify its leading position in the country. It seems that the company has regained the confidence of its Chinese consumers regarding its food quality through its marketing campaigns and celebrity endorsements. Moreover, India represents a lucrative QSR market and will also start paying off for Yum Brands very soon. Opening more outlets in the region and enhancing promotional activities are required to deepen the company's foothold. In less than a year, India will be generating positive profits for the company, bolstering its contribution to the company's top and bottom lines. Note that India is on its way to becoming the third largest economy after China and the United States.
Consumer Centric Strategy
YUM, like McDonald's, has redesigned its strategy to focus on being more customer-centric. As discussed in my previous article, McDonald's has entered Vietnam. Its services in the region will cater to local tastes and intrigue customers to visit McDonald's more often. Eventually, its customer-centric strategy will boost its store traffic in Vietnam. The company recently launched its Brazilian burger in Pakistan that may entice the local youth to taste something new in the region. This kind of innovative strategy may work in Pakistan, but may not work in a region like China where people are no longer obsessed with foreign tastes. The Chinese are remain loyal to their local tastes, as indicated by their rising preference of local restaurants (offering menus accustomed to Chinese traditional dishes) over foreign QSRs. Recently, KFC alone introduced 15 new items on its menu, which has delivered a spike in its sales for the quarter and will continue to do so in the future. For its China-based KFC outlets, YUM has rolled out two new chicken sandwiches and three rice dishes along with drinks and desserts, catering to the local consumers' preferences.
Takeaway
There are some headwinds ahead in the form of increased minimum wages, increased beef prices, and the applicability of Obamacare to provide affordable health insurance for employees, but these concerns are will affect all QSRs equally. QSRs will be affected by these macroeconomic or political factors in the US according to their reliance on the region. However, their international expansions will bode well for the companies' long-term futures. That is why companies' need to operate their businesses by applying more customer-centric strategies. Yum Brands needs to boost its store traffic in a world that is growing more health conscious. Uniqueness and innovative thinking like that of Chipotle Mexican Grill can pave the way for the company's profitability. Based on Yum's latest quarter performance and its bright future outlook justified by the continued expansion, I believe it is a stock worth investing in. Therefore, reiterating my previous opinion, I will recommend investors consider a long-term investment in this stock.
Disclosure: I have no positions in any stocks mentioned, and no plans to initiate any positions within the next 72 hours.
Business relationship disclosure: The article has been written by a Gemstone Equity Research research analyst. Gemstone Equity Research is not receiving compensation for it (other than from Seeking Alpha). Gemstone Equity Research has no business relationship with any company whose stock is mentioned in this article.