A couple of weeks ago, Apple (NASDAQ:AAPL) blew away analyst estimates with its fiscal second quarter report. Revenues and earnings surprised to the upside as iPhone sales came in extremely strong. Apple issued its usual less-than-expected guidance, but also announced an update to its capital return plan. Part of that plan was a dividend raise, but one that was much smaller than expected. Today, I'll examine the dividend disappointment, and what it means for investors going forward.
Apple's dividend raise - a raise at all?
Apple raised its quarterly dividend from $3.05 a quarter to $3.29 per quarter, a raise of less than 8%. The new number might seem strange, but it may have to do with the upcoming stock split. I was looking for a raise of about 15% to $3.50 a quarter, and there were analysts looking for potentially 20% or more. Earlier this year, Cisco Systems (NASDAQ:CSCO) raised its dividend by nearly 12%, so Apple investors might be frustrated that they didn't get that much. Late last year, Microsoft (NASDAQ:MSFT) raised its dividend by almost 22%, with another raise expected later this year.
Perhaps the one question worth asking if this is a true raise. At the end of Q2 last year, Apple had just over 940 million shares outstanding. At the end of this year's Q2 period, the outstanding share count was under 862 million. That's a decline of about 8.33%, which is actually larger than the dividend's raise of 7.87%. So even though Apple raised the dividend amount, the company may actually pay out less in total dividends. In the 10-Q filing for the recently reported quarter, Apple stated the following:
The Company expects to pay approximately $2.8 billion in quarterly dividends to common shareholders during the third quarter of 2014.
In last year's fiscal third quarter, Apple paid $2.789 billion in dividends, as per the 10-Q filing. So depending on Apple's share count, Apple could actually pay less in total dividends during this year's Q3 period. We won't know until mid-to-late July if this actually happens, but this does fuel some of the disappointment. At best, you're looking at a very small increase in total dividends paid. I understand what Apple is doing with the buyback, and I've agreed that the buyback is needed, but it would look a little foolish if Apple pays out less in total dividends. Maybe the company should have announced a 9% or even 10% dividend raise to avoid the possibility of a total dividend payment decline.
Yes, the buyback is critical here:
Obviously, the main reason for the dividend raise disappointment is that Apple felt cash would be better spent for the buyback. Apple announced a $30 billion increase in the buyback, putting the buyback's new total at $90 billion. In total, Apple's capital return plan is expected to return over $130 billion to shareholders by the end of calendar 2015.
The timing of the buyback was key, and something I discussed in my earnings preview article. Apple could have announced a trillion-dollar buyback, but if it were to be executed over say 200 years, it really wouldn't be that special. The fact that Apple expects the $90 billion plan to be finished by the end of 2015 means Apple is serious about reducing its share count in the next 12 to 18 months.
For this reason, Apple investors should probably not expect a large raise next year, either. Perhaps expectations should be in-line with whatever the share count reduction is over the next year. Apple clearly wants to use cash for the buyback, to help earnings per share and bolster the stock price. Dividends don't help with either of those items. Apple also announced a 7 for 1 stock split at the quarterly report, so really, the new dividend should be $0.47 per quarter, or $1.88 per year.
Debt raised as domestic funds low:
As many investors know, Apple has a tremendous balance sheet that is flush with cash. Unfortunately, most of that cash is located outside the US, and those funds cannot be used for dividends and buybacks. You can see the changes in Apple's cash pile, including the domestic and foreign portions, in the chart below.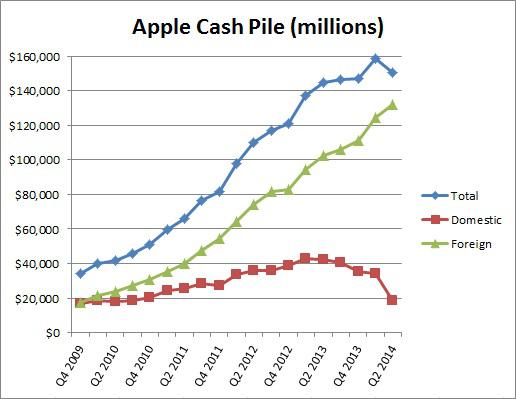 At the end of Apple's most recent quarter, the domestic cash pile was about $18.4 billion, the lowest it has been since fiscal Q4 of 2009. The domestic portion of Apple's total was just over 12.2%. One year ago, the domestic percentage stood at 29.3%, and four years ago it was 42.7%. It is extremely possible that the domestic percentage goes under 10% at some point in the next year or so. This is not an Apple-specific issue, however. Many other large cap tech names, including Intel (NASDAQ:INTC) and Google (GOOG, GOOGL) have a large portion of cash outside the US. In the following table, I've compared these five names in terms of their cash piles, both foreign and domestic, as well as debt totals (pre-Apple debt deal).

*Apple's total includes cash and cash equivalents, short-term investments, and long-term investments. All other names detail their cash piles as cash and cash equivalents plus short-term investments.
**Rounded to nearest $0.1 billion.
***Intel states that $11 billion is held in total by foreign subsidiaries. However, about $1.9 billion is available for use in the US without incurring additional taxes beyond those already accrued in the company's financial statements.
To "use" the foreign funds, Apple has two options. The first option is to repatriate funds, which would require Apple to pay a hefty tax bill. The second option is to borrow against those funds. Apple took out $17 billion in debt last year to help the buyback. When Apple increased the buyback a few weeks ago, the company announced it would be looking for more debt, which is now here. Apple raised another $12 billion to help with the buyback.
The one slight issue I have with Apple basically stating the buyback will be finished so soon is that it almost compels the company to buy back all this stock by the end of 2015. As you can see from the chart below, Apple shares have raced higher after the most recent earnings report, with shares close to their 52-week high.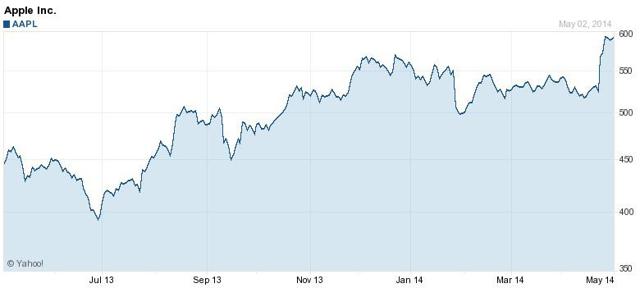 (Source: Yahoo! Finance)
Apple was very opportunistic with the buyback a few months ago, spending heavily when shares were around $500. I liked that move, and I hope Apple is very judicious with the remainder of this buyback. I hope Apple pulls back a bit on the trigger here with shares elevated, as you figure they will pull back at some point. The last thing you want to see is Apple rush in and buy shares, and then they fall back to say $550 or even $500 (pre-split prices). Remember, the bear camp will do anything to discredit Apple.
Apple falls further behind peers:
Right now, Apple's dividend is decent, but it's not tremendous, especially when it comes to large cap US tech. In the following chart, you can see how Apple's annual yield compares against others.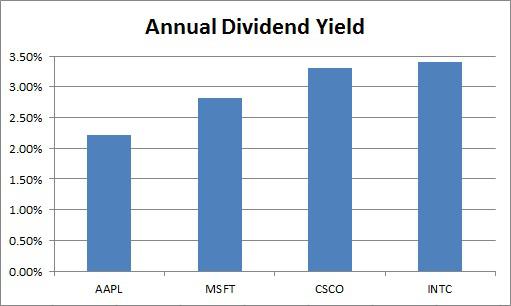 In the past year, Apple has actually fallen further behind its peers. There are two reasons for this. First, Apple's dividend was not raised as much this year as Cisco or Microsoft did, as I detailed above. Microsoft is expected to raise its dividend in the next few months, and Intel's dividend future is currently in question. The second item is that Apple's stock has soared in the past year. Apple shares are up 33%, which has led Apple's yield to take a dive. Microsoft is up a little under 20% in the past year, with Cisco up almost 11% and Intel up almost 10%. In the table below, I've compared these four names in terms of yields a year ago versus Friday's close.

Apple has fallen a lot further behind both Cisco and Microsoft when it comes to annual yield. Intel's lead over Apple has risen, although not as much since Intel has not raised its dividend recently. In the next section, I'll detail what all of this means.
Investor considerations going forward:
In the end, investors have a few items to think about. First, Apple has made it clear that it would rather spend on the buyback than the dividend for the next year or two. The $30 billion increase in the buyback, along with another debt raise, clearly signals Apple wants to decrease its share count and support the stock. Had the buyback raise only been $10 billion or $20 billion, you probably would have seen a larger dividend raise, perhaps one in the 10%-15% range.
For the immediate future, those looking at Apple just for income are best suited going elsewhere. Microsoft, Intel, and Cisco all have higher yields, and Apple will most likely not narrow that gap for at least 2 years, if not much longer. Given how Apple's stock has done lately, Apple may not have a 3% yield anytime soon. If Apple investors are looking for an Intel-like yield that's been in the mid to upper 3% range, they might have to wait several years.
The point where things really get interesting is 2016. Apple is expected to finish the current buyback by the end of calendar 2015, so what happens after that? I wouldn't be surprised if Apple announces a new buyback, or an increase to the current plan. Based on current conditions, I don't think you'll see $20 billion or $30 billion worth of shares repurchased a year. I think Apple will slow down the buyback a bit, to a level where the share count either stays flat for the year or is reduced a little. Of course, things could change, depending on what happens to the business and the global economy. Two years out is a lot of guessing.
But as Apple slows down the buyback, I do believe the company will funnel more cash to investors through the dividend. I wouldn't expect a large raise next year, but perhaps investors will get one in 2016. By that point, it is possible that Apple could even start to repatriate some of its foreign funds. Apple's foreign cash pile could be approaching $200 billion by then. With maybe only 800 million shares or so outstanding in 2016 (ignoring the split for a minute), it would only take a few billion dollars for Apple to raise the dividend by a couple of bucks (again, ignoring the split). Apple doesn't need to repatriate $50 billion to have a meaningful dividend. The company could repatriate a few billion a year and still have meaningful increases. Apple may have disappointed some with its dividend raise a few weeks ago, as the company decided the buyback was more important. Today, I detailed what this all means for investors.
Disclosure: I have no positions in any stocks mentioned, and no plans to initiate any positions within the next 72 hours. I wrote this article myself, and it expresses my own opinions. I am not receiving compensation for it (other than from Seeking Alpha). I have no business relationship with any company whose stock is mentioned in this article.
Additional disclosure: Investors are always reminded that before making any investment, you should do your own proper due diligence on any name directly or indirectly mentioned in this article. Investors should also consider seeking advice from a broker or financial adviser before making any investment decisions. Any material in this article should be considered general information, and not relied on as a formal investment recommendation.