I have been studying magicJack VocalTec Communications Ltd. (NASDAQ:CALL) for some time now. I was quite surprised by the bearish article that appeared on Seeking Alpha last week that can be read here. This article concentrated too much on the past which in my opinion is a huge mistake. I believe the future is bright for CALL, and I think new highs will be reached into 2014 and beyond.
The recent consolidation around $18 is a gift, and I have initiated a position in my portfolio last week. I am very bullish on CALL going forward and I expect new highs into 2014 as the company reaps the benefits of their investments in 2013 and early 2014.
The story
CALL is a cloud communications leader that is the inventor of magicJack devices. The device weighs about one ounce and plugs into the USB port of a computer or laptop. It allows free phone services to anywhere in the US and Canada, but can also be used internationally. The company also provides additional products and services, which include voice apps on smart phones, as well as the magicJack PLUS, which is an updated magicJack device that has its own CPU and can connect a regular phone directly to the user's broadband modem/router and function as a standalone phone without using a computer. In June 2013, the company introduced the New magicJack PLUS. This new device has superior voice quality, expanded memory and enhanced processing power. The New magicJack PLUS includes a six-month right to access servers in order to make and receive telephone calls for free.
The company makes revenues from a number of different sources. These include:
Sales of the magicJack devices - revenues recognized from sales of the magicJack devices
• Access right renewals - revenues from customers purchasing rights to access the servers beyond the initial access right period included with a magicJack device or magicJack service.
• Shipping and handling - charges for shipping and handling fees for magicJack devices shipped directly to customers.
• magicJack-related products - revenues recognized from sale of other items related to the magicJack devices and access right renewals, including porting fees charged to customers to port their existing phone number to a magicJack device or service; fees charged for customers to select a custom, vanity or Canadian phone number; fees charged to customers to change their existing number; and insurance covering the replacement of a damaged or lost device.
• Prepaid minutes - revenues as a result of minutes bought for international calls.
Why I am bullish into 2014
The last earnings call was very strong. Estimates have been rising into 2014 and beyond. The numbers below speak for themselves.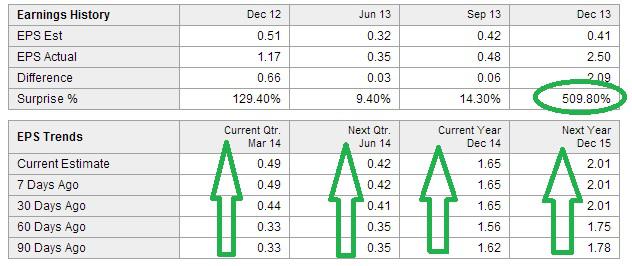 (Adapted from finance.yahoo.com)
As you can see above, the last quarter was impressive as earnings estimates beat analyst estimates by over 500%! I believe that the future is bright for CALL and one can see the numbers increasing into 2014 and 2015.
Let's look deeper into the annual financial report over the last 5 years.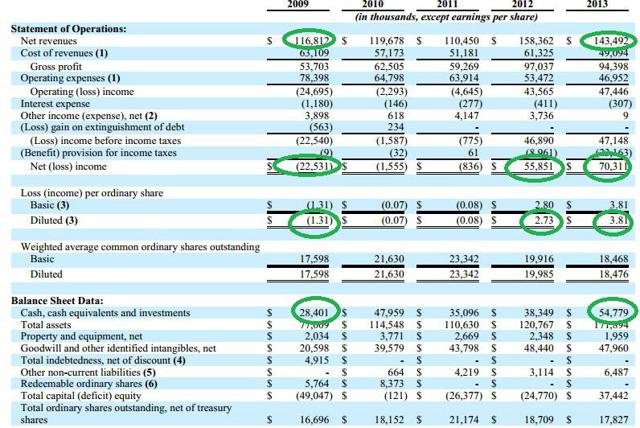 Once again, impressive numbers. The growth since 2009 has been stellar. Net income has increased, revenues have been increasing and income per share has been rising too. Furthermore, I am impressed with over $50 million in cash at hand and $0 debt here.
The company (at the close of May 2nd, 2014) is valued at $322 million. Revenues for 2014 are expected to be $157 million and $174 million for 2015. The company has around 13 million shares in the float, with a high 38% of the float being short. This is a massive number, and I expect a short squeeze with stellar numbers for the next earnings call on May 12th, 2014, provided numbers are as strong as I expect.
What also interests me is that the 33% of the float is owned by insiders, whilst 38% is owned by institutions which leaves just around 3.5m shares to be traded. There has been no insider selling over the last few months which is a very bullish sign.
One also must remember that the company is under new management as in December 2012, CEO Dan Borislow resigned. The new CEO and President, Gerry Vento, has worked hard in 2013 and a number of new signs have been witnessed. First, CALL has a new and improved website which is much simpler to use and explains things better than the previous one. Furthermore, the introduction of a better mobile app both on the android system and iOS has been given great reviews. I have used it on my phone and results were amazing, all this for free. Look at the reviews here for the android system. It also got an amazing 4.2 rating and downloads are between 6 and 10 million, another strong indication of huge numbers.
Technical analysis
When I study a company, my aim is always to make sure the technical analysis lines up with the fundamentals. If both start to match, and earnings estimates are increasing, this is where I make my buy. As stated, I took a position last week around $18 and will be adding long term calls next week if prices remain solid.
Let's look at the daily chart first. The descending trendline is offering some resistance at these levels. I expect this to be broken shortly. There has been strong support since late 2013. Also, note how the gap has been filled since the last earnings report, and prices have come back to test the previous breakout, something that has worked great for me in the past.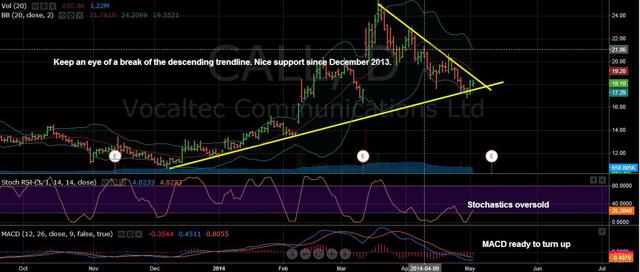 (Adapted from tradingview.com)
The weekly chart triggered as well in my system as prices have found support on the 20dma. Stochastics are also oversold at this time.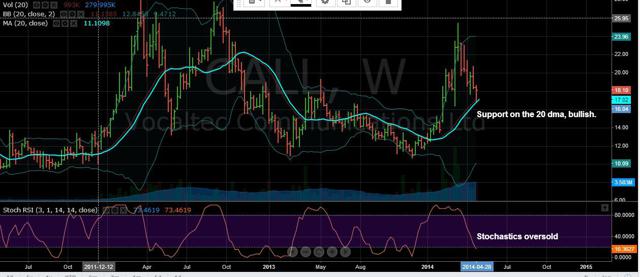 (Adapted from tradingview.com)
Risks
There are some risks worth mentioning. The biggest one is that in their last quarter subscribers dropped from 3.3 to 3.2 million. I am not worried about this as I believe magicJack's potential is in monetizing the mobile app platform and that is where the huge growth will be in the next few years. Considering that advertising costs have been decreasing in the last few years, I believe that the new management will continue to work in improving the application and increasing their bottom line.
Advertising costs are decreasing. With over $50 million in cash, I believe the company will spend more in 2014 and 2015.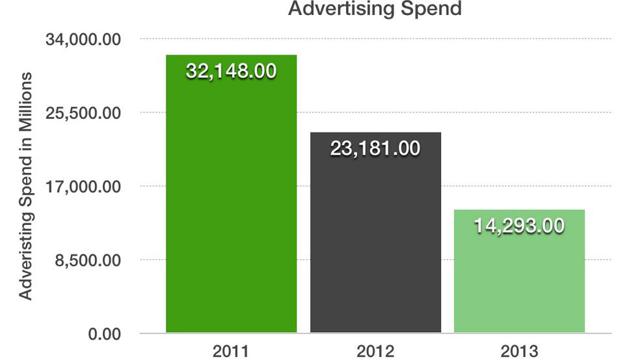 (Adapted from: optionmill.optionmillionair.netdna-cdn.c...)
The bears will come out in force and tell you that CALL has too much competition with Skype, WhatsApp and Viber but I believe that magicJack has a superior product as one can call the U.S. and Canada for free. Furthermore, I believe that free text messaging will come out in the next few months. This was confirmed in the last earnings call.
Tim Horan - Oppenheimer

And the texting, you think we can see it in the third quarter, fourth quarter any best guess at this point?

Gerald Vento

Tim, I appreciate the question and I understand where it comes from. And as we've said consistently, we will promise a date when we can deliver a date. So like we're doing with the new device, like we're doing with the upgrade to the app, expect that same candor and conservatism with any incremental feature
Conclusion
As a user of magicJack, I always liked the service. The primary market is in the United States so the potential for growth both in Canada and internationally is massive. I use this in Canada to do business in the U.S. and the amount of money that I save every year is phenomenal. Some of my friends also use the new application and have been loving it.
I continue to like what the story shows here and I believe going forward in 2014 and 2015 CALL is a stock to buy and hold. The future looks strong and with the $55 million cash in hand, the company can now start to invest and advertise more, improve customer service and expand their portfolio. With over 38% of the float being short, I expect a massive short squeeze either before or after earnings, and I would not want to be short.
Disclosure: I am long CALL. I wrote this article myself, and it expresses my own opinions. I am not receiving compensation for it (other than from Seeking Alpha). I have no business relationship with any company whose stock is mentioned in this article.