The latest U.S. non-farm employment report showed another strong print foremployment in residential construction. For the 31st month in a row, seasonally adjusted employment in residential construction showed year-over-year growth. The 659,300 workers are the highest since March, 2009. Year-over-year growth was a strong 8.2% and month-over-month growth was 6.9%. The slowdown in the growth rate I continue to anticipate clearly remains further out on the horizon than I thought.
This pace of employment growth continues despite the end of the upward momentum in home builder sentiment. This momentum ended dramatically when the National Association of Home Builders(NAHB)/Wells Fargo Housing Market Index (HMI) took a sudden plunge back in February. The numbers have stabilized over the next two months with an encouraging jump in sentiment for sales of single-family detached homes over the next six months. I am eagerly anticipating the May sentiment numbers as a potentially fresh turning point.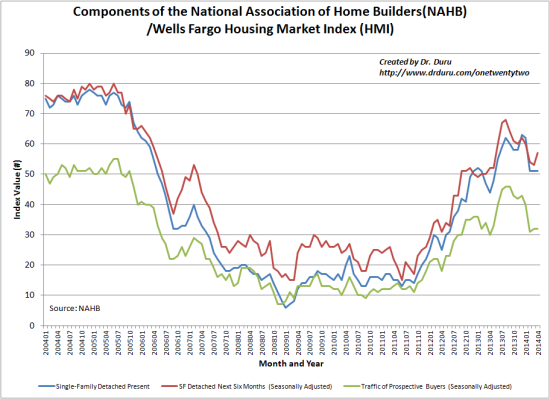 The HMI stabilizes with a potential sign of a turnaround underway in expectations for single-family detached sales
Source: National Association of Home Builders (NAHB)
The trading action in the iShares US Home Construction (NYSEARCA:ITB) adds to a sense of stabilization. When the breakout in ITB ended in March, I braced for extended rangebound trading with a correction close to the lows from 2013. The pullback has yet to materialize. Instead ITB seems to be stabilizing at much higher levels. The chart below shows how the 200-day moving average (DMA) is providing support. ITB even seemed to respond to the strong jobs report with a respectable 1.4% gain.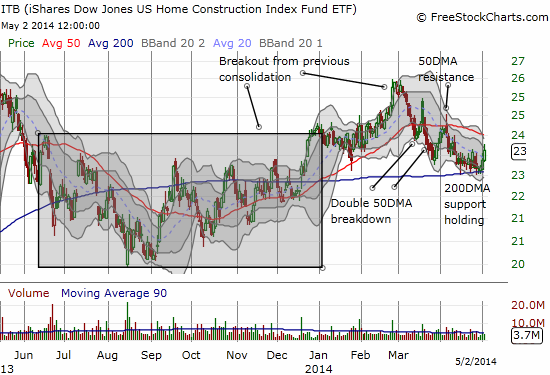 ITB attempts to stabilize just below 2014′s breakout point
Source: FreeStockCharts.com
Moreover, short interest in ITB continues to decline. As of the April 15, 2014 settlement date, short interest plunged to a 9-month low and a 40% drop in two weeks. (Short interest is the blue line and measured by the y-axis on the left).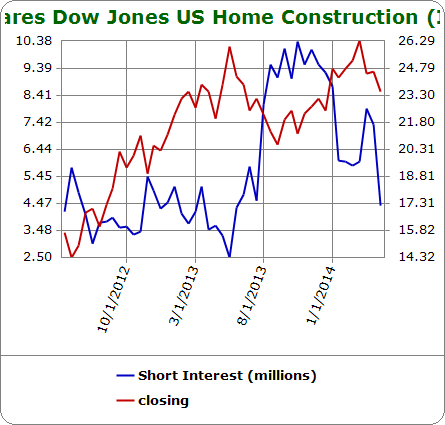 Short interest in ITB continues its rapid decline
Source: Schaeffer's Investment Research
It is very possible that this decline in short interest merely represents a shift in interest of bears from housing to the more fruitful collection of momentum stocks that have taken a severe beating over this same time period. Regardless, it is increasingly hard to ignore the rapid retreat in short interest for ITB as the ETF stabilizes, residential construction employment continues to grow robustly, and home builder sentiment shows signs of stabilizing.
There are three earnings reports to watch this month that should provide additional "on the ground" reference points important for assessing whether home builders have reached a point of stabilization or just a temporary respite: Tri Point Homes (NYSE:TPH) on May 6th, William Lyon Homes (NYSE:WLH) on May 9th, and Toll Brothers (NYSE:TOL) on May 28th. In particular, TPH is well-positioned in the inventory-constrained California market. Despite that, the stock has slowly declined for five months and greatly under-performed ITB. A change in fortune for TPH could become another important signal of stabilization.
Be careful out there!
Disclosure: I am long ITB, TOL, TPH. I wrote this article myself, and it expresses my own opinions. I am not receiving compensation for it (other than from Seeking Alpha). I have no business relationship with any company whose stock is mentioned in this article.
Additional disclosure: Long call options on ITB and TOL