SunEdison (SUNE) is one of the largest solar developers in the world with operations spread across Asia, Europe and America. The company has focused on the solar system business after spinning off its low-margin, low-growth semiconductor wafer business. SunEdison started out as a Polysilicon producer and diversified into the solar development business. Now solar system installation is its main line of business. I have been advocating a buy on SUNE for a long time now. The strong rally in solar stocks over the last one year had made even some of the better ones, a bit stretched out in the short term. The pullback in solar stocks has been quite vicious with many of the top names such as Trina Solar (NYSE:TSL), Canadian Solar (NASDAQ:CSIQ) and Renesola (NYSE:SOL) falling by more than 40% from their 52-week highs. SunEdison has not fallen that much and I think that it represents a good time to add a position in the stock. The company gave very good Q4 2013 results, with strong installations numbers and high retained value. The stock has more than doubled since I last wrote about buying the stock. The easy gains have been made but I think that it is still a good long-term buy.
Why SunEdison remains a good Buy
1) Diverse revenue streams - SunEdison is diverse in the true sense of the term. Not only has the company diversified in its business segments but also geographically. SunEdison now has two prominent business segments covering the solar supply chain. The first unit manufactures and sells silicon wafers while the second division does solar installation and development plus polysilicon production. Though polysilicon is not that profit making as it used to be back in 2007, it is starting to make a comeback. SunEdison has manufacturing facilities in US, Europe and Asia, where solar installation is booming. The installation pipeline is also well diversified with 50% in North America, 30% in Europe and Latin America and 20% in emerging markets like South Africa, the Middle East and Asia.
2) Strength in both Utility and Residential segments - SunEdison is strong both in residential and utility segments. Both of these segments are showing a sharp growth rate. SUNE has also taken steps for boosting rooftop solar installations. It recently signed a financing deal with Wells Fargo to finance small rooftop installations in USA.
3) Good Q4 2013 results - As per the chart below, we can see that SUNE has performed well in FY 2013 and the actual figures met the outlook given earlier.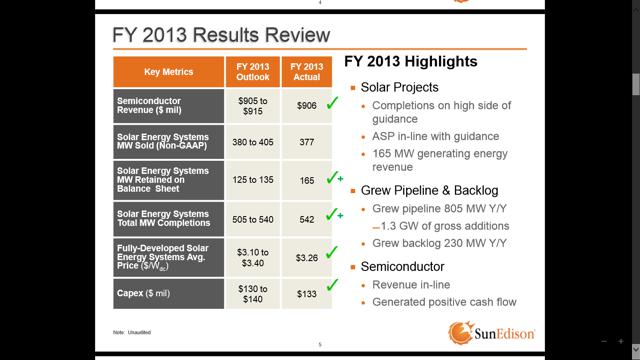 4) Strong pipeline of projects. - The company declared in its Q4 2013 results that it completed 333 MW of solar installations in Q4 itself. There are another 3400 MW of solar installations lined up at the end of Q4 2013.
We have grown our annual megawatt completions at a compound growth greater than 90% since 2009. In the fourth quarter, we completed a record 333 megawatts. A couple of years ago, that number of megawatts would have represented a full year's worth of completions, not a quarter. And while we installed a large amount of megawatts in Q4 similar to last quarter, we still have over 500 megawatts under construction at the end of the quarter. And there continues to be a significant demand in the market for our projects. Our diversified pipeline now stands at 3.4 gigawatts, up by about 270 megawatts from last quarter even after completing 333 megawatts.

Source: SunEdison Transcripts
5) Retaining good solar projects on the Balance Sheet - SunEdison has tweaked its business model so that it is retaining high-value solar projects on its balance sheet, rather than selling them to a 3rd party investor. This is being done as it generates more profits for the company though it requires more capital. The company is planning an IPO of a yield vehicle, which will allow the company to gather cheap capital from public investors.
In the quarter, we retained 127 megawatts of projects on the balance sheet, representing close to $260 million of retained value, which is over $150 million in excess of the forgone gross margin from those projects, had we sold them. Also on February 18, we announced that we filed a confidential S-1 for the IPO of a yield vehicle with the SEC.

Source: SunEdison Transcripts
SunEdison Risks
a) Lumpy Nature of Solar Development Business
Solar development and installation business is lumpy in nature, the cash flows from it being unpredictable. The major portion of SUNE's revenue is derived from solar installation business. Moreover any significant delays in getting approvals and financing can also lead to time and cost escalation.
b) Absence in two of the largest global markets
Japan and China accounted for more than 40% of the solar demand in 2013 and SUNE like other US-based solar companies such as First Solar (NASDAQ:FSLR) and SunPower (NASDAQ:SPWR) has very little presence in these markets. While SunPower has a partnership with Toshiba in Japan, SUNE is quite weak. These two markets will continue to represent a large portion of the global demand and absence in these places is a major weakness for SUNE.
c) Stock Price increase by 10x
SunEdison stock price has been on a tear, since reaching its all-time low of $1.67 in May 2012. The stock traded in the range of ~2$-~10$ between 2012 and 2013. It saw its price increase to a higher range of ~$11-$22 from Dec 2013. Currently the stock is trading at ~$17.2. The stock has increased by almost 10x in the last couple of years, so it may see some consolidation before increasing further. The company's market capitalization is now more than $5.5 billion with a P/S of 2.1x.
SunEdison Outlook
SunEdison has the potential to keep growing, as its solar systems business still accounts for only 2-3% of the total global systems market. This market is set to keep increasing in double digits, which implies that SunEdision has a lot of space to grow in terms of volumes and revenues. Some companies have estimated that the solar market will grow to 100 GW per year over the next 10 years. Even if SunEdison keeps its current market share, this implies that SunEdison will grow by 250% over the next decade.
SunEdison is amongst the best-rated solar stock of 2014 and is the most talked about solar stock. The major upside for SUNE is its spinoff from its semiconductor business, which will lead the company towards a more focused projects execution. Also the industry believes that the year will belong to those companies which have a strong project pipeline for building new utility-scale solar plants in the coming years, though other solar businesses will gain too. SunEdison's approach is more organized as it plans to set up a public company through an IPO in the coming year.
The company has provided the following key metrics for the full year. Looking at the FY 2014 metrics, there has been a remarkable improvement when we compare the same with the same last year. The company has plans to increase the solar energy system sales by 52% from 2013. The company expects to retain almost three times more MW and double its total completions in 2014 than what it did in the last year. Not to mention that the company had outperformed its outlook in 2013.
| | | | | |
| --- | --- | --- | --- | --- |
| (Figures in MW) | FY 13 | Outlook FY 14 | Median | % Increase |
| Solar Energy Systems Sold (Non-GAAP) | 377 | 500 - 650 | 575 | 52.52 |
| Solar Energy Systems Retained on BS | 165 | 400 - 500 | 450 | 172.72 |
| Solar Energy Systems Total Completions | 542 | 900 - 1150 | 1025 | 89.11 |
Summary
SunEdison has performed extremely strongly in the last year, as its focus on the system development has paid rich dividends. The company is one of the largest solar developers in the world with a diversified pipeline of projects. The recent sector correction has not been as harsh on SunEdison, as the company has given strong results. With the solar industry expected to grow in double digits for the next 5-10 years, SunEdison is well placed to outperform the market. SunEdison is strongly positioned across all parts of the solar supply chain. Unlike other solar developers such as Active Solar, SUNE is also a manufacturer of solar components which gives it a cheaper source of supply. The Yieldco IPO will allow SUNE to retain more high value solar projects on its balance sheet and provide a cheap source of capital. This will generate additional value for investors. The spinoff of the semiconductor division is also a good strategic move, as it will allow the management to focus on the high growth solar energy area. SunEdison is one of the best solar installer stocks to invest in, despite its strong run up. The company is more diversified and a better buy than the other solar installer stocks such as SolarCity (NASDAQ:SCTY) or First Solar, which are mostly focused on the US market. SCTY is overvalued in my view. I would look to add SunEdison on further dips.
Disclosure: I have no positions in any stocks mentioned, and no plans to initiate any positions within the next 72 hours. I wrote this article myself, and it expresses my own opinions. I am not receiving compensation for it (other than from Seeking Alpha). I have no business relationship with any company whose stock is mentioned in this article.