Pengrowth Energy (NYSE:PGH) will release Q1 results May 12, 2014. The stock should react nicely if Pengrowth turns in a solid quarter. Management has been transparent and given clear guidance for the year so investors have a decent measuring stick to gauge success.
For the year as a whole, Pengrowth is guiding to just over 70,000 barrels of oil equivalent per day and funds flow around $1.00 per share.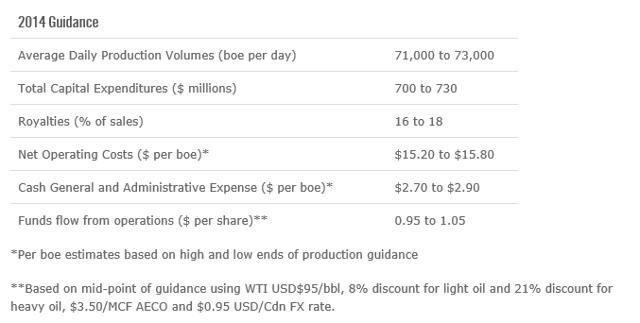 Source: Pengrowth website
Based on what we have seen from Penn West (NYSE:PWE) regarding pricing in the Western Canadian sedimentary basin, the results should be just fine.
Investors need to recall that Pengrowth sold over $1 billion of non-core assets in 2013, making year-over-year production comparisons less meaningful. Production will be lower reflecting the production lost as a result of the asset sales, but the remaining production will benefit from higher commodity prices and a lower Canadian dollar exchange rate compared to 2013.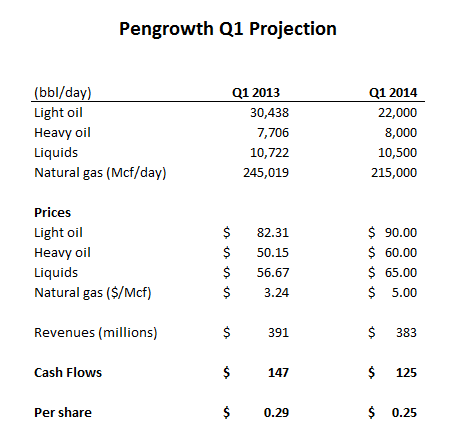 Source: Pengrowth quarterly report, Blair estimates
As a result I project that Pengrowth should turn in $125 million (or better) of cash flow compared to $107 million in the fourth quarter of 2013 and $147 million in Q1 last year. The results will be somewhat muted by the effects of Pengrowth's hedging program. My estimates of realized prices in the March 2014 quarter attempt to include the effects of hedging at a "guesstimate level" of accuracy.
The financial results should be on track as set out. The real message will be progress on the Lindbergh program which the company hopes will reach first steam later this year and end the year well on the way to a goal to reach 12,500 barrels of oil a day during 2015. The company ended 2013 with over $400 million cash on its balance sheet and should be able to fund its $715 million capital program in 2014 from that cash supplemented by operating cash flows without having to add any new debt.
I am bullish on the outlook for Pengrowth as it moves forward on a strategy the company describes as "A balanced portfolio, sustainable cash flow and a promising future". I am confident it will be and am long 160,000 shares.
Disclosure: I am long PGH. I wrote this article myself, and it expresses my own opinions. I am not receiving compensation for it (other than from Seeking Alpha). I have no business relationship with any company whose stock is mentioned in this article.