I'm greatly tempted to buy some Yahoo (NASDAQ:YHOO). Re/code is reporting that Alibaba will do its much-anticipated IPO filing early this week. Betting on Yahoo before the Alibaba IPO happens is a good gambit. UBS analyst Eric Sheridan made a $47 price target for Yahoo because Sheridan strongly believes that investors are undervaluing the Alibaba stake.
Sheridan pointed out that Alibaba's explosive growth will continue due to the rapid rise of Chinese eCommerce. Alibaba is responsible for 80% of all Chinese consumers' online shopping in 2013. This almost-monopolistic grip on China's e-commerce makes Alibaba's IPO a much-hyped up event which might even be bigger than Facebook's 2012 debut on the stock market.
Trefis Vs. UBS
Compared to the very bullish call of UBS, conservative Trefis still values the sum of all parts of Yahoo at $34.78. Look at the chart below from Trefis - it gives Yahoo a lower-than-market-price sum-of-parts valuation. Trefis' total valuation of Yahoo's fair value is 40% from Alibaba stake. It is bigger than the 34.8% contribution of Yahoo's advertising business.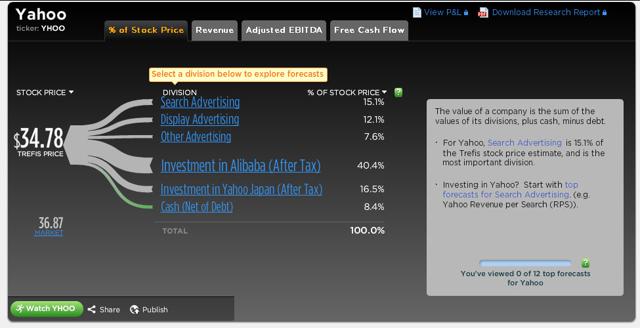 Trefis' conservative valuation is much lower than Eric Sheridan's sum of the parts estimate for Yahoo's forward intrinsic value. The UBS analyst gives a $26.32 additional implied EV to Yahoo from its Alibaba shares, or 56% of the total EV of each Yahoo share. Trefis only gives Alibaba investment a $13.912 value for Yahoo.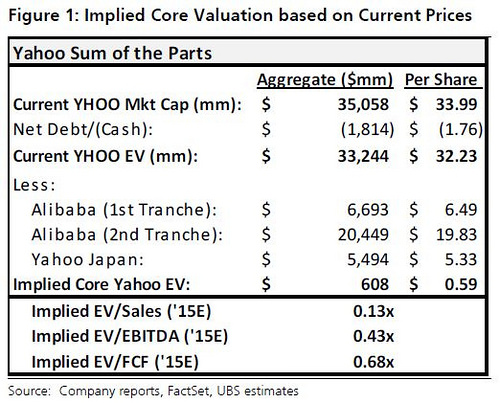 Image courtesy of blog.barrons.com
Given this huge disparity of how much Alibaba stake should be worth, I am going to play safe and just average down the valuation from Trefis and UBS.
26.32 + 13.91 = 40.23/2 = 20.115
In my book, Alibaba stake is worth $20.11 to Yahoo's valuation. Since Yahoo is now trading at $36.87, the $20.11 is already 54.54% of YHOO's current market value. However, I'm still speculating that U.S. investors are very eager for the Alibaba IPO. Yahoo's stake might still be worth more than my own guesstimate of $20.11.
$50 Price Target
Another contributor explained why YHOO can hit $50 . I agree with his reasoning. If Alibaba's IPO delivers UBS' estimate of $165 billion market valuation, Yahoo's 24% Alibaba stake should be worth $39.6 billion - an amount bigger than Yahoo's current total market value of $37.11 billion.
Of course, I don't expect the stock to immediately hit $50. Nokia closed the D&S sale to Microsoft and yet the market still finds it boring. YHOO's price will not immediately fly high after Alibaba does its IPO. I am resigned to the fact that Yahoo, despite its recent improvements, is still facing headwinds in its core advertising business. Google (GOOG, GOOGL) and Facebook (NASDAQ:FB) are the current market darlings because they are perceived as the only two serious players in mobile advertising.
| | | | |
| --- | --- | --- | --- |
| Company | P/E | Price/Book | MARKET CAP |
| Yahoo | 30.75 | 2.92 | 37.11 Billion |
| Facebook | 78.42 | 9.33 | 155.16 Billion |
| Google | 27.97 | 3.96 | 360.09 Billion |
Source: Yahoo Finance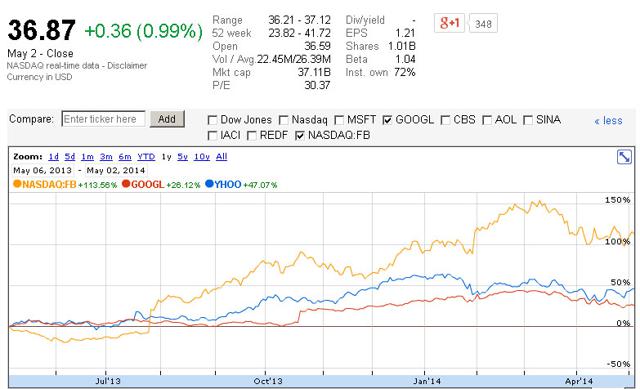 Source: Google Finance
Conclusion
Factoring the Alibaba stake's contribution to Yahoo's valuation is not an exact science. My bullish sentiment over Yahoo is speculative and is very dependent on how Alibaba's IPO will turn out. If Alibaba really files for U.S. public listing later today, I will be tempted to hitch my wagon to Yahoo's Alibaba star.
The long wait for this event to happen is keeping YHOO investors antsy. Yahoo's current value is tightly entwined with Alibaba. The high P/E, EV/EBITDA, and P/S of Yahoo are obvious clues that many market players have hitched their wagon to the blockbuster star IPO of Alibaba. The fence-sitters like me will probably give Yahoo more room to fly higher depending on how events will turn out.
My favorite valuation tool, Alpha Omega Mathematica, only rates YHOO as a HOLD. However, Alpha Omega Mathematica's Momentum Indicator gives Yahoo a high score. Some gamblers and event-driven traders might see Alibaba's action today as a small momentous event towards the $47 price target of UBS. Bet or buy at your own risk and please do your own due diligence.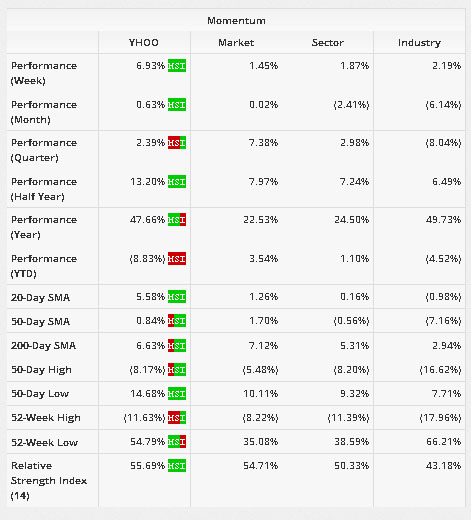 Source: Alpha Omega Mathematica
Disclosure: I have no positions in any stocks mentioned, but may initiate a long position in YHOO over the next 72 hours. I wrote this article myself, and it expresses my own opinions. I am not receiving compensation for it (other than from Seeking Alpha). I have no business relationship with any company whose stock is mentioned in this article.
Additional disclosure: I am long FB and GOOG.