Perhaps the next firm, freshly positive catalyst will provide the spark to follow-through on Apple's buying spree. At least a breakout from the current downward trend could be enough to turn sentiment around. However, the current trading behavior in Apple's stock suggests it will meander until April's earnings report, perhaps even retest post-earnings lows before that point. April's earnings is shaping up to be another defining moment for the stock. Last year, it provided a bottom. This year, it could deliver the difference between a failed buyback program and a successful one (at least in the intermediate-term).
This quote is from a piece I wrote in early March titled "Apple's Post-Earnings Buyback Fails To Sway Growing Negative Sentiment In The Stock." At that time, I was wringing my hands over what I believed was a surprising litany of signs pointing toward negative sentiment on Apple (NASDAQ:AAPL). While AAPL never retested the lows post-January earnings, it did indeed meander its way into earnings. In fact, AAPL coincidentally closed at $524.75 before the company reported fiscal second-quarter earnings in April, just a hair below the $526.24 close preceding my article. (Granted, AAPL outperformed the Nasdaq's -4.2% performance over the same time period). Those earnings provided the catalyst that decisively broke the short-term downtrend and seemingly assisted a gradual turnaround in sentiment. Assuming many institutional investors were caught under-invested in Apple post-earnings, the turnaround in sentiment could provide sufficient buying fuel to propel AAPL above $600 and an eventual rendezvous with its all-time high another 19% away. Recall Morgan Stanley's earlier claim that Apple's top 30 institutional holders only held 30% of the company's stock - a record low and down from the peak of 40% in 2009.
If institutional investors do not reload, the 7:1 split planned for holders of stock as of the close of trading on June 2nd will help bring more retail investors into the stock (and likely out of the options trading pits). It is no accident that CEO Tim Cook made purchasing demand the core reason for the split: "We are taking this action to make Apple stock more accessible to a larger number of investors" (quotes from the earnings call are from Seeking Alpha transcripts). The split, of course, does nothing to change the value of the stock or the company, but psychologically, the ability to buy more than 1 or 2 shares means a lot for folks who have just a little to invest.
While future demand is uncertain, what is certain is what is happening to the stock right now. First, the price chart is clearly much more bullish now. The 13.0% gain since the stock closed before April earnings seems to put a confirming exclamation point on a bottoming process that has slowly ground along since May, 2013.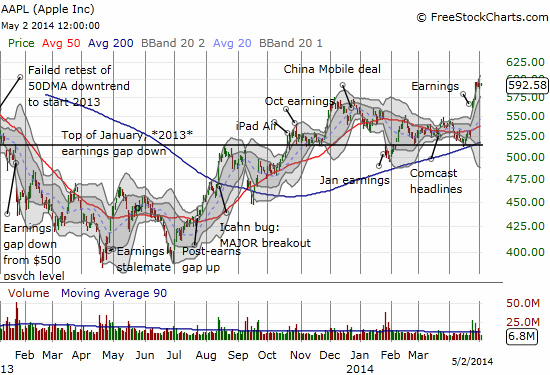 Apple's grinding recovery continues
Source: FreeStockCharts.com
Short interest has turned around dramatically. It peaked just as I wrote my previous article on AAPL. The next short interest report will include the response to earnings and should confirm a turnaround in bearish trades. (Short interest is shown by the blue line and measured with the left y-axis in millions of shares).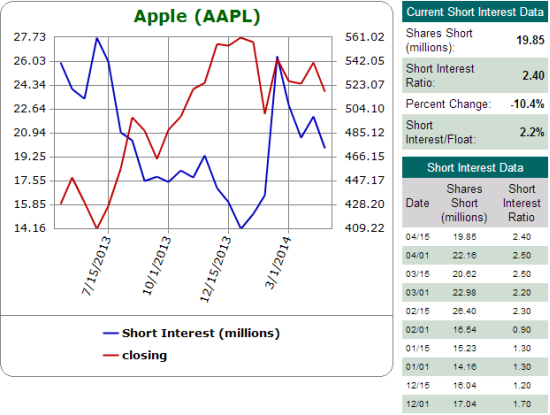 Short interest in Apple is on the decline again
Source: Schaeffer's Investment Research
Since short interest has been 3% or less of Apple's float, there is no reason to think that a retreat in bearishness includes a short squeeze.
Options trading seems to support an interpretation of a retreat in bearishness. The open interest put/call ratio finally reached a crescendo with April's earnings. The ratio hit a 52-week high at a lofty 0.96 just ahead of earnings. Apple's open interest put/call ratio last reached these levels when the stock was hitting its last all-time highs in September, 2012. The ratio remains high at 0.78 (still at the 85th percentile), but it looks like it is now in decline.
A crescendo of bearish bets in Apple options
Source: Schaeffer's Investment Research
These signals provide an illuminating backdrop for the fundamental reasons traders and investors might place stronger hopes on Apple: major changes to the company's "capital return program" and valuation.
Apple increased its planned buyback from $60 to $90B, as it insists the "current stock price does not reflect the full value of the [c]ompany." The company will increase its dividend by 8% to $3.29 per share. This is the second time in less than two years and implies that investors can count on regular increases. As incoming CFO Luca Maestri stated: "We are planning for continued annual increases and we're very proud that Apple is one of the largest dividend payers in the world, with annual payments of $11 billion." Apple is airmailing significant cash back to shareholders. Before April earnings, the market was very reluctant to respond to this shareholder-friendly allocation of cash. Sentiment may have finally changed.
In "Apple Still Likely To Outperform The Market Going Forward", Ziv Bar points to the second quarter outperformance, the changes in the capital allocation program, and interesting speculation about the prospects of Apple finding itself inserted into the Dow Jones Industrial Average (DOW) as catalysts for future buyers. As Bar states, "In many ways, Apple has already had its correction." The long-standing, steady washout of sellers could make Apple more resilient in a general stock market correction... and that resilience itself will make Apple even more attractive whenever the "bargain hunters" arrive to pick through the pieces of a market correction.
On the valuation side, there are several points interlocking with sentiment and Apple's financial performance.
Apple's revenue generation continues to grind away. The $45.6B of revenue in the previous quarter was a March quarter record and Apple's biggest non-holiday quarter ever. The gross margin of 39.3% is even more notable as Apple's highest since the stock peaked in September, 2012. Suddenly, AAPL's persistently low valuation makes it particularly attractive to technology investors looking for alternatives to faltering and wilting, yet still expensive momentum stocks with balance sheets and earnings performances weaker than Apple's. In "Daily State Of The Markets: Can The Market Survive The Mo-Mo Meltdown?", David Moenning looks at past examples of meltdowns in momentum stocks to conclude that if the S&P 500 can continue to remain aloft and consolidate over the next two to four months, the index will build a base for moving higher. I have to believe Apple will be a part of that move given its current anti-momentum positioning that finally has it outperforming the S&P 500 this quarter. Perhaps Apple consolidates around or just above the $600 level.
The chart below comes from MSN Money. It shows Apple's steady decline in (annual) valuation, as investors have steadily lost their appetite for paying up for Apple.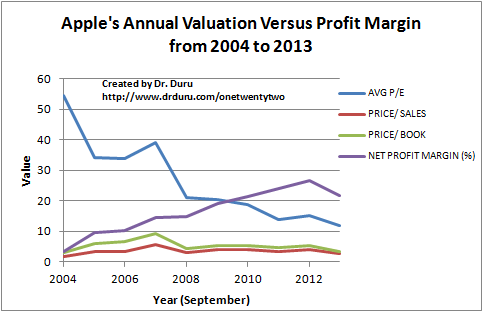 Apple's Annual Valuation Versus Profit Margin from 2004 to 2013
Source: MSN Money
According to MSN Money, the current valuations are as follows: 14.8 P/E, 12.1 Forward P/E, 3.1 Price/Sales, 3.9 Price/Book. Using $10.2B in net profit and $45.6B in revenue, I come up with a 22.3% net profit margin for the previous quarter. A small adjustment higher in willingness to pay for AAPL from improving sentiment should easily send the stock back to all-time highs.
Overall, the tide seems to be finally turning for AAPL. Improving trader and investor sentiment sits at the core of the recovery story in the shares. Next up, new products to seal the deal...?
Be careful out there!
Disclosure: I am long AAPL. I wrote this article myself, and it expresses my own opinions. I am not receiving compensation for it (other than from Seeking Alpha). I have no business relationship with any company whose stock is mentioned in this article.
Additional disclosure: Long shares and call options