Prospect Capital (NASDAQ:PSEC) has been it a bit of a rut recently. The stock has stagnated, with concerns regarding BDCs in ETFs causing short-term selling pressure. However, these issues could easily be swept away if the company manages to post a decent quarter. Prospect Capital is a high yield stock, with an outsized 12% yield. It is also one of the better choices out there for income, with moderate risk compared to other options out there.
What to expect for Q1 2014 (fiscal Q3) earnings
With the first quarter of 2014 now behind us, we can now see how Prospect Capital has fared so far this year. The stock is down about $0.43, or 3.80%, YTD, compared to a modest 1.80% increase in the S&P 500. However, when adjusting for the four monthly dividends at $0.11 each, Prospect Capital is flat for the year.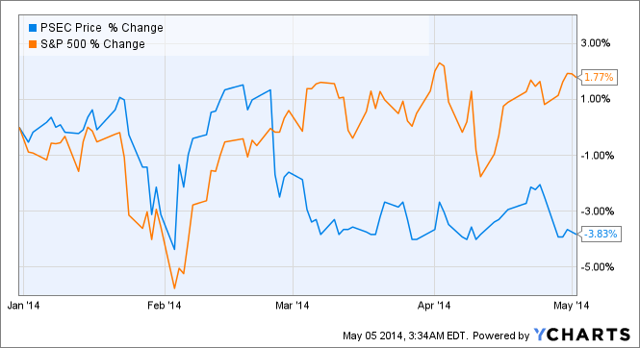 Indeed, Prospect Capital performance and success largely hinges on its dividends. Not only do they provide stability, but they also offer an alternative to the "total return" method of investing, especially when reinvested.
However, the company is facing a problem. NII, or net investment income, has been sluggish in its growth. NII is crucial for BDCs such as Prospect Capital as this metric corresponds heavily with the future safety of the dividend.
Last quarter (fiscal Q2), Prospect Capital posted NII of $92.2 million, or $0.32 per share, down from $99.2 million, or $0.51 per share, last year. Do note that the company booked a large one-time gain from exiting and equity position in 2012, inflating NII for the quarter.
While Prospect Capital is growing its overall NII, on a per share basis, it has not kept up, largely thanks to increases in the share count and higher expenses. As a result, the coverage ratio for the quarter dipped to around 0.97x, or in other words, the dividends exceed NII for the quarter.
That being said, Prospect Capital could post a surprise for Q1 2014 (fiscal Q3). As I noted a recent article, the company had a record quarter for originations. As noted by COO Grier Eliasek, "originations are a significant lifeblood" for Prospect Capital's business.
For the quarter, Prospect Capital closed over $1.3 billion loan originations, a record high, far exceeding last quarter's $607.7 million and last year's $681.9 million. Included in this total are two mega loans made during the last few days of the quarter, one for $277.5 million to IWCO Direct, and another $279 million to Harbortouch Payments.
Assuming the rate of return on these new loans is inline with previous levels, Prospect Capital stands to make a pretty penny. I expect its NII to post a rebound from last quarter, likely between $0.35 to $0.40 per share.
When will the share price recover?
While Prospect Capital seems bound to post a good quarter for NII, its share price will likely remain depressed. The reason is quite simple: ETFs are selling BDCs in anticipation of a June 2014 reconstitution of the Russell and S&P indexes. The vast majority of BDCs, including Prospect Capital, are traded on these exchanges, with Russell-linked ETFs alone estimated to hold 8% of all BDC shares outstanding.
This is a major event, especially for smaller, more illiquid BDCs. Prospect Capital is lucky that it is not exposed as greatly as some of its peers. Regardless, its share price still has suffered alongside them and will be hard pressed to recover until this issue dissipates. Until then, the Q4 2013 (fiscal Q2) NAV of $10.73 should serve as support.
The dividend is locked in until September
Finally, let us look at Prospect Capital's dividend. Fortunately for investors, the company has already declared dividends through September 2014.
11.0425 cents per share for May 2014 (record date of May 30, 2014 and payment date of June 19, 2014);

11.0450 cents per share for June 2014 (record date of June 30, 2014 and payment date of July 24, 2014);

11.0475 cents per share for July 2014 (record date of July 31, 2014 and payment date of August 21, 2014);

11.0500 cents per share for August 2014 (record date of August 29, 2014 and payment date of September 18, 2014); and

11.0525 cents per share for September 2014 (record date of September 30, 2014 and payment date of October 22, 2014).
While no dividend is ever 100% guaranteed, these should be considered all but "locked in" given that these are declared dividends, not announced. It is also interesting that Prospect Capital is making an effort to provide very small monthly dividend increases. At current prices, Prospect Capital has a forward yield of about 12.28%.
Conclusion
For income investors, Prospect Capital is a solid choice thanks to its large yield, almost 1% per month, and very modest premium to NAV. In addition, the stock has received several recent upgrades, including a buy rating at Guggenheim. This follows similar upgrades from Wunderlich Securities and Deutsche Bank. The consensus from these firms is that Prospect Capital's should fetch a mid $12 valuation implying 15% upside from current prices.
Disclaimer: The opinions in this article are for informational purposes only and should not be construed as a recommendation to buy or sell the stocks mentioned. Please do your own due diligence before making any investment decision.
Disclosure: I am long PSEC. I wrote this article myself, and it expresses my own opinions. I am not receiving compensation for it (other than from Seeking Alpha). I have no business relationship with any company whose stock is mentioned in this article.