When I last wrote about Bank of America's (NYSE:BAC) technical strength around a month and a half ago, the stock had been on a tear, touching nearly $18 per share on a very strong uptrend. It turns out that was the exact top for the stock, and since then, we've seen shares move down $3 to the $15 area. We've since bounced a quarter from the low, but as you can see in the chart below, we are well off the highs with a very ugly, rapid sell-off that took no prisoners.
The rally that took us to $18 is definitively dead. It was a strong rally that rode the wave of the 50-day moving average up from $14 to $18, but as you can see, that line was not only broken in early April, but has now turned down as well. In addition, the stock has busted through the 200-day moving average by a significant enough amount that I'm worried. And if you see the 200-day moving average slope, it has begun to level off, and if the stock continues to languish, it could turn down as well.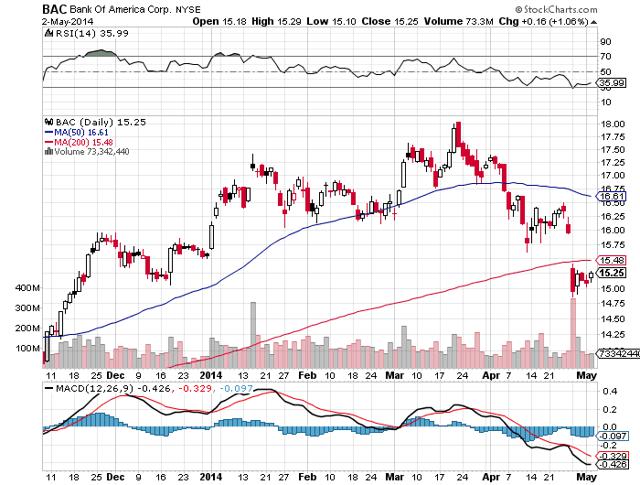 This setup is pretty ugly, as there is really nothing technically to get me excited about holding BAC shares. We blew through support levels, including the 200- and 50-DMAs, and while we have stopped going down so quickly, I want to see a bounce instead of a consolidation from the current ~$15 prices. The chart is unequivocally hideous for longs, but does that mean all is lost? Should we abandon ship?
Fundamentally, I still like the story of BAC. I think the stock is very cheap on an earnings and book value basis, with shares trading for less than 10 times next year's earnings and a very small premium to tangible book value. As I've said before, I think higher rates will produce much higher margins for BAC, and while we haven't seen rates rise yet, they will at some point. I also have the utmost confidence in BAC's management team, as they have done an exemplary job of cleaning up a huge, convoluted mess that was left by their predecessors.
Of course, we have to mention the uh-oh that occurred post-CCAR this year and absolutely brutalized the stock recently. An accounting blunder wherein BAC accidentally misrepresented its capital level due to some structured notes in Merrill's balance sheet has clearly caused investors to lose trust in BAC's risk controls. However, given the nature of the error, I am not worried. I just don't think it's a big deal, and while I may be proven wrong, we aren't talking about earnings restatements or fraud; we are talking about a very complex rule that was misinterpreted by BAC staff and caused them to double count some of its capital. While this is unacceptable, I don't think it's indicative of larger issues. But who cares what I think? None other than the Oracle himself said he isn't worried about BAC's risk controls, and since he owns more warrants than anyone else, he is effectively BAC's largest shareholder. If he's not worried, I'm not sure why I should be.
BAC's had a rough few weeks here with a nasty sell-off and some really, really bad news that came out. The chart speaks for itself, as shares have blasted through every kind of support there was from its previous rally. I am concerned with the downturn of the 50-DMA and the leveling off of the 200-DMA, and if BAC doesn't break through the 200-DMA soon, I will become more concerned. Fundamentally, I still really like BAC. I thought it was a decent value at $18, so you can imagine how cheap I think it is at $15. However, there comes a point when you must throw in the towel on a loser; I just don't think we're there yet. I still have confidence in BAC's management and its business model, and I think this black eye is temporary. We'll see $18 again this year, but it could be a while, so if you're long, be patient.
Disclosure: I am long BAC. I wrote this article myself, and it expresses my own opinions. I am not receiving compensation for it (other than from Seeking Alpha). I have no business relationship with any company whose stock is mentioned in this article.