It's certainly going to be something to watch how Twitter (NYSE:TWTR) trades this week. Aside from its recent miss on earnings - where the company managed to salvage some of its stock price on Friday after its decline - Twitter seems like it is no longer the market's darling after once sitting as high as $70 just five months ago.
The fate of the stock in the short term is now up to the institutional holders and employees of the company, as a six month lock up of the company's stock is set to expire today. The securities contained therein, according to Seeking Alpha, represent 82% of the company's outstanding shares.
Seeking Alpha reported:
A six-month lock-up on 480M Twitter shares is due to expire today, releasing for trading over four times the amount of stock that is already available. The securities also represent 82% of the company's outstanding shares.
The increased supply of stock could add to the 39% drop that the stock price has suffered this year, although major investors who hold at least 205M shares combined plan to hold onto their interests.
These include private-equity firm Benchmark, co-founders Evan Williams and Jack Dorsey, CEO Dick Costolo, and Rizvi Traverse Management, whose 14% makes it Twitter's largest shareholder.
Despite the sharp fall in Twitter's shares in 2014, Barron's reckons the stock is still overpriced, as the company trades at a "big premium" to other Internet plays, its user growth is slowing, and it "appears to be a long way from profitability."
That's a significant amount of shares, and definitely enough to do damage on a stock that seems to already have post-earnings wobbly knees. It's been reported that 205 million shares plan on holding, but that leaves a massive 275 million unaccounted for shares.
Of course, who can forget what happened to Yelp (NYSE:YELP) when the major question of a lockup expiration loomed?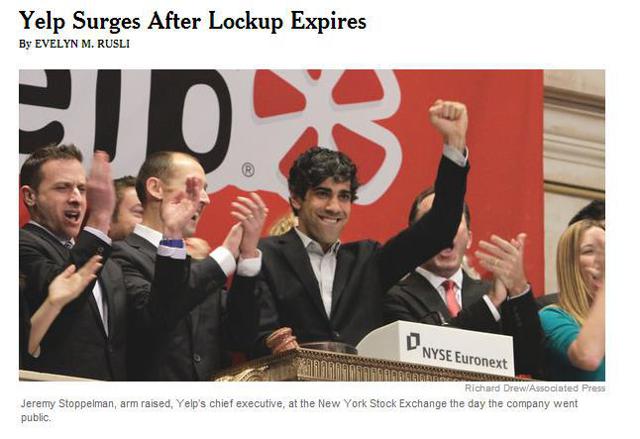 If you recall, Yelp surged on a short squeeze - up 22% at one point during that day - as company insiders and employees held their stock through their lockup period. They were rewarded, as the stock ran significantly afterwards.
The last time Twitter had a lockup expiration, the stock was trading around $56 a share. You have to wonder if the decreased price is going to entice others to what to take their free money and run.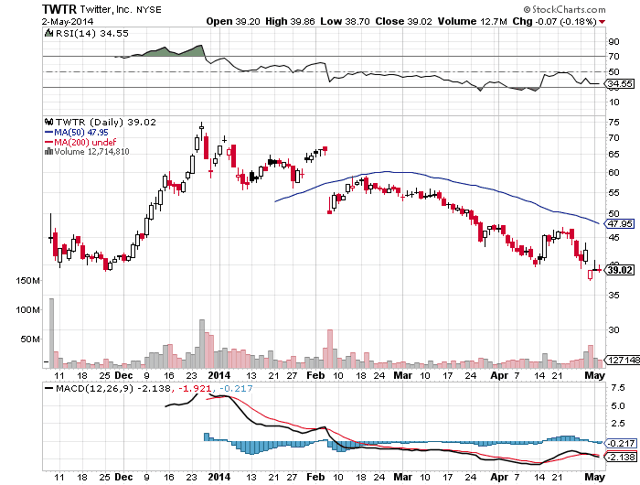 Click to enlarge
Technically, Twitter continues to seem mired in a downtrend here that begun in late December. earnings have failed to fuel a turnaround in the company's stock since then. I contend we could easily see Twitter under $30 before the end of the year this year, pending some type of "hail mary" style news. The guidance, in a case of aggressive valuation like Twitter, is just too important.
Additionally, the company is still a long way from turning a profit.
Regardless of whether or not Twitter employees hit the exits here, Twitter is still going to be a stock to watch for significant volatility, as the market works out how it feels about this and other social media/momentum stocks.
I'm expecting downward pressure on the stock to increase this week, and would recommend hedging a long position - or perhaps considering going short.
Best of luck to all investors.
Disclosure: I am long TWTR. I wrote this article myself, and it expresses my own opinions. I am not receiving compensation for it (other than from Seeking Alpha). I have no business relationship with any company whose stock is mentioned in this article.
Additional disclosure: I have a long strangle on Twitter.