Born out of a botched long straddle heading into earnings, and backed by refreshed research on the company done by yours truly, I find myself with a long position in Facebook - a company I never really considered for a long investment before.
One of the biggest fears I had about Facebook (NASDAQ:FB) was that it was going to turn into another Myspace. While that may be the case, I'm not quite sure that it's going to occur anytime soon. For the next couple of years, at least, Facebook seems to have a pretty bright future ahead of it.
Facebook stock, after initially disappointing after its IPO, has charged back and broken new ground - pushing as high as $72 earlier this year.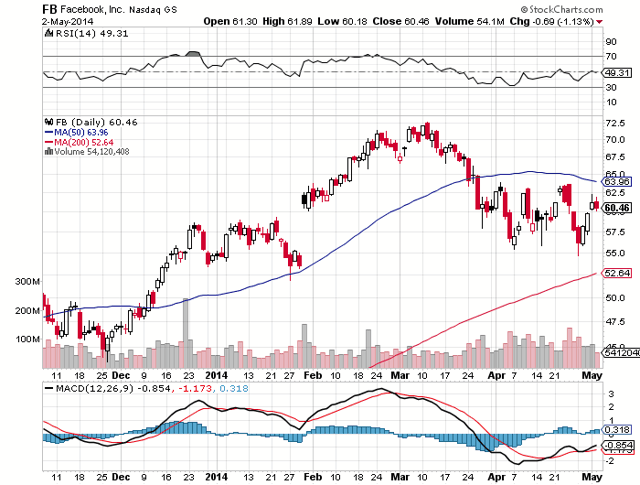 Click to enlarge
From a technical perspective, it looks like the next resistance for Facebook, should it break out of its downtrend, is going to be the 50-DMA at right around $64.
The company still remains in a long-term bullish trend, but the trending since the beginning of March could be construed by short-term technical analysts as looking suspect, at best. The short-term resistance at $62.50 is going to be crucial, as the stock has tested that three times in the last 5 weeks.
As for Facebook, the company, they're looking more and more like they could be a promising long investment for several reasons.
Social Media Accepts them as the Leader
You know they're doing something right - have you noticed that the new Twitter (NYSE:TWTR) is starting to look suspiciously like Facebook? What if I want to check in on what heinous million-dollar sports bet Floyd Mayweather has made this week? At first glance, his Twitter and his Facebook look exactly the same.
I used my archaic knowledge of MS Paint to try and point out exactly how similar they are by using extremely scientific colored boxes: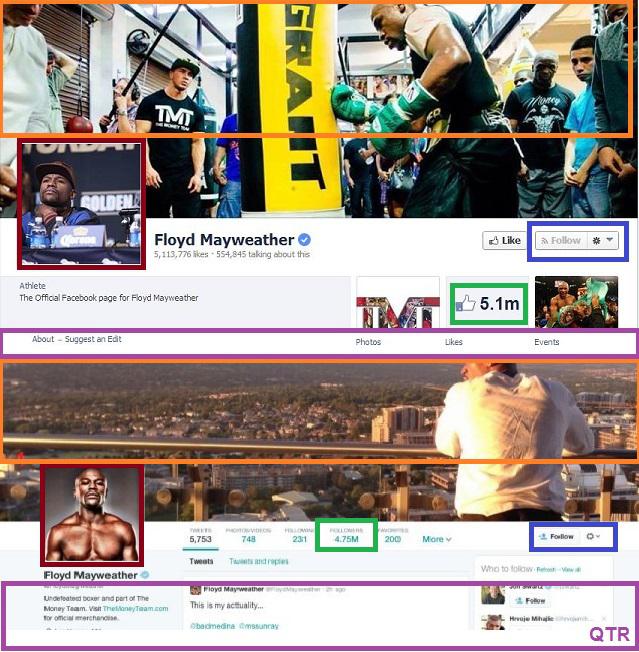 They both have a cover picture, and both have a profile picture. They both harbor "Follow" buttons, pictures, and they both display how many followers they have.
This change means that Facebook has the winning formula - or at least Twitter would think so. They think moving to a Facebook format is legitimately going to help them monetize better. It's less than stellar news for Facebook, due to the fact that Twitter is essentially trying to move in on what makes them unique.
Zuckerberg Isn't Afraid of Innovation
Let's face it - with a company like Facebook and the multiples that it currently trades at, the fundamentals have to be thrown out the window a bit. The real question surrounding Facebook's growth is going to be whether or not the stock price is going to outrun the innovation of the company, or vice versa.
If the company innovates quickly, the stock is likely to be undervalued, even at its high multiples. If the stock runs hard while the company becomes complacent, it's a likely scenario for a pullback.
Thus, when you find yourself in a situation like Facebook, you cannot be afraid to innovate and move forward. Further, you have to have the moxie to make the right decisions - some small, some massive - to ultimately support the long-term vision of the company.
This is where Zuckerberg excels, and the acquisition of WhatsApp is a perfect example.
(click to enlarge - source Business Insider)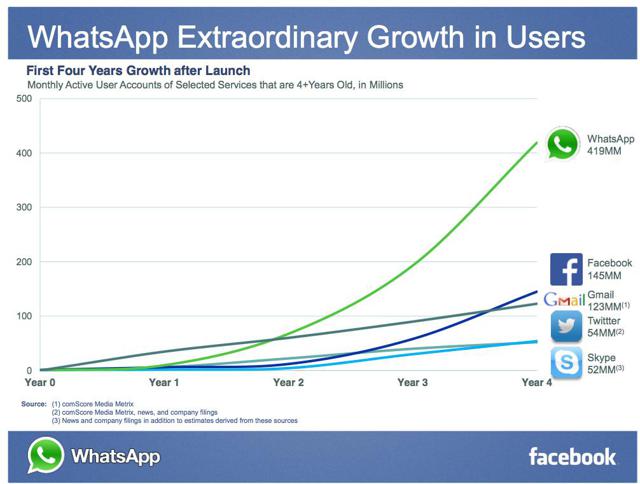 Click to enlarge
I wrote in my article, "Zuckerberg Keeps Swinging":
Having said that, if this company is going to survive and avoid a fate like Myspace, what Zuckerberg is doing is extremely critical. Somewhere, deep down, he knows that's likely be replaced in coming years, so it's good that he's making these moves while he has the power to do so.

So, there's no doubt that the purchase of WhatsApp was the right move for Facebook and its shareholders. If I was long the company, I'd be behind this deal and the deal's potential in a big way.

Complacency, especially in technology, isn't going to get you anywhere - and for now, Zuckerberg needs to keep swinging.
In addition to the WhatsApp purchase, Facebook is now also dabbling in the field of online wallets. I explored this in a recent article and why I think it could be such a big deal not only for Facebook - but for the industry - in the future.
In my article about Facebook dipping into the wallet market, I wrote:
Third, the projected growth in the global mobile wallet market is enormous. It's exactly the kind of growth a company like Facebook needs to get out in front of. Zuckerberg may be rich, and he may be getting a bit older, but it still seems that he continues to know what's "trending".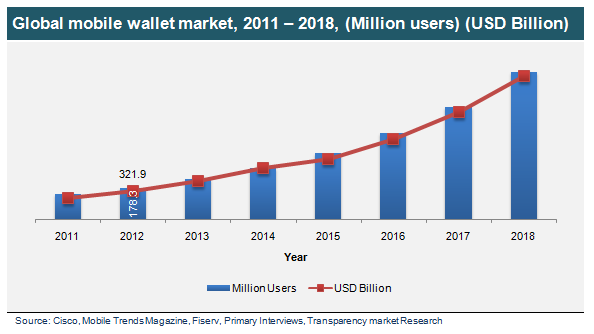 Do you see the similarity between both of those graphics behind both of Facebook's forays into innovation? Do you notice something between them - namely, they're both poised to explode with growth? It's likely this isn't a coincidence that these have been Zuckerberg's last couple of big moves.
As long as Zuckerberg continues to innovate and continues to keep swinging, I think Facebook has room to support its lofty valuation and share price.
It's going to be this type of aggressiveness that could propel the stock towards $100.
I remain long Facebook and wish all investors the best of luck.
Disclosure: I am long FB, TWTR. I wrote this article myself, and it expresses my own opinions. I am not receiving compensation for it (other than from Seeking Alpha). I have no business relationship with any company whose stock is mentioned in this article. I hold FB calls and a TWTR long strangle.