Most of the chatter surrounding Pfizer (NYSE:PFE) this week has been surrounding the company's bid for AstraZeneca (NYSE:AZN). In the news this week was AstraZeneca's rejection of a reconsidered offer from Pfizer. Pfizer's addendum to its previous offer to AZN made it a potential deal with over $100 billion.
The offer represented a premium of over 30% to what AstraZeneca's stock price was during the beginning of April.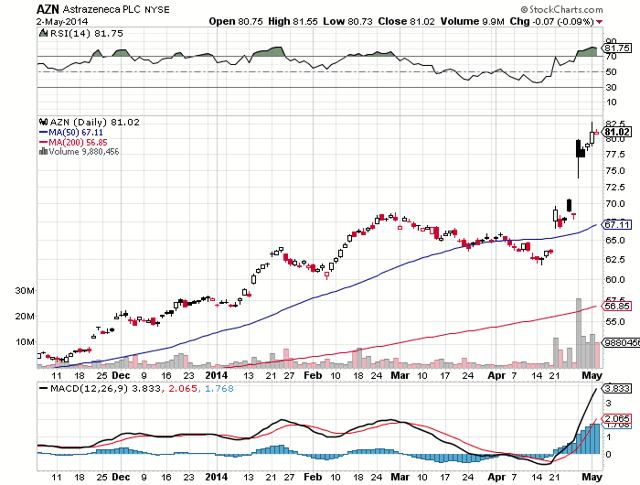 AZN fired back that its board of directors believed that the offer made from Pfizer undervalued the company - as many board of directors do when approached with a buyout offer. Most of the time, an initial rejection is simply standard operating produced to entice a bigger offer.
The benefits of picking up AZN? Obviously, it would offer an expanded drug line and a stronger potential for growth for Pfizer. Pfizer is suggesting keeping the company based in and listed in the U.S.
Reuters has been reporting that Pfizer CEO, Ian Read doesn't seem too ready to bypass management and go directly to shareholders with the deal yet.
Forbes commented on Pfizer's past in M&A:
But this wouldn't be the first time Pfizer has executed this sort of financial maneuvering. If history repeats itself, the following precedents should be noted. On January 1, 2010, after acquiring Wyeth for $68 billion, Pfizer had 116,500 employees. By the end of 2013, the company had 77,700 employees, a reduction of more than 38,000 people. Also, in 2013 the company initiated a $10 billion stock repurchase plan. During the same period Pfizer increased its earnings per share from $1.94 to $3.19. The effect of such tactics were short lived, however, as Pfizer was weakened by a violent downturn in the economy and the realities of the great patent cliff.
And so, that headline will be in the forefront as Pfizer goes to report earnings this week.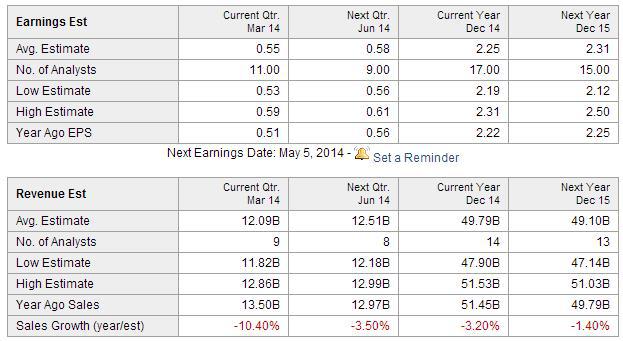 Consensus estimates are calling for $0.55/share on revenues of $12.09 billion - compared to year-ago numbers of $0.51/share on revenues of $13.50 billion.
Pfizer stock has performed well over the last 12 months, showing continued sustained growth, as it now dances around its 52-week highs. The stock trades with a modest trailing twelve-month P/E of 9.60 and yields 3.4%.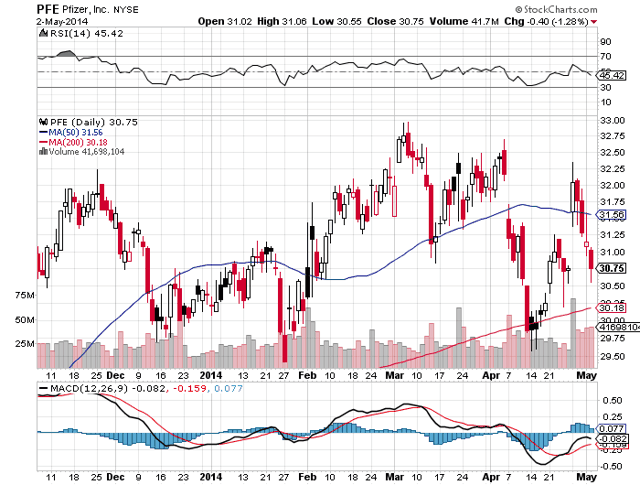 Over the last couple of months, analysts seem to have been hesitant over Pfizer's earnings - with some of them cutting their projections for full-year 2014/2015 by a couple of percentage points.
Without AstraZeneca, should the deal fall through, Pfizer is going to have to rely on its own drugs in its own pipeline. Zack's reported:
Although revenues will continue to be impacted by the loss of exclusivity of Lipitor as well as the expiration of a few co-promotion agreements, products like Celebrex, Inlyta, Xalkori, Xeljanz and Eliquis should continue to perform well. Lyrica, which has billion-dollar potential, will remain the key growth driver.
Its vaccine drugs have continued to provide a good foundation for continued growth for the company. It's had some positive news from its drug Palbociclib, and some disappointments, like with Dacomitinib - its latest foray into lung cancer.
With or without AZN, Pfizer looks like a safe candidate for growth in the long term. The only question is going to be whether or not, if a deal gets done, how long the effects are going to take to hit the financials.
Pfizer is expected to be patient and levelheaded about the way it's going to continue approaching the deal. Many analysts, including myself, think that Read will eventually be able to get the merger done.
But, as I've already noted with regard to the merger, slow growth doesn't seem to be what Pfizer is after. Even after completing a potential deal with AstraZeneca, the effects aren't likely to be felt until FY 2016-17. I'll be waiting anxiously to hear for more color from the company on this week's earnings call.
Disclosure: I have no positions in any stocks mentioned, and no plans to initiate any positions within the next 72 hours. I wrote this article myself, and it expresses my own opinions. I am not receiving compensation for it (other than from Seeking Alpha). I have no business relationship with any company whose stock is mentioned in this article.