Tesla (NASDAQ:TSLA) found itself in a bit of a rebound to end the week last week. After a month where momentum stocks were punished, Tesla seemed to be the sole exception and continues to trade over its $200 mark. There is a lot of excitement behind Tesla's products, so it's no surprise to me that shorts are having trouble getting the price down, despite its high multiple.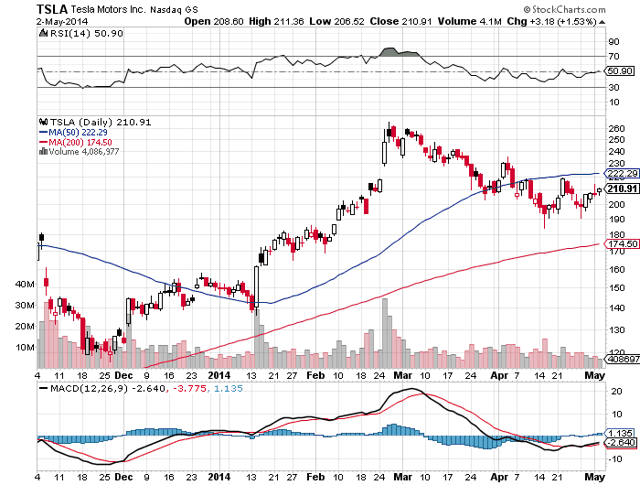 Man, Tesla owners love their products!
On May 7th, Tesla is set to report its first-quarter fiscal earnings and elaborate on business operations via a conference call. Like many long-term believers in what Tesla is doing, I'll be listening to this call mostly for the editorialization offered by management, and less for the numbers themselves.
Here's what analysts are going to be expecting heading into Tesla's earnings on May 7th:

So much of the focus for Tesla is on 2015. CEO Elon Musk already alluded to the fact that every Tesla built in 2014 is already spoken for, so 2015 is the year in focus for analysts.
Looking past 2014, Morgan Stanley has come out and warned that the company's first-quarter shipments are likely to come in below expectations. The stock was little changed on this news last week, as I suspect a fair amount of Tesla bulls are people with focus geared towards the long term for the company. I know I sure am.
Another concern by those that are looking at earnings with a skeptical eye is the potential year-over-year decline in North American sales of the Model S. The decline, not necessarily a product of decreased demand in general, could spook some shareholders out of their Tesla positions. MS touches on this possibility in their report, as well, which you can access using the above link.
Additionally, as I touched on in my last Tesla article, Tesla continues its strategy of having two potential sites for its upcoming Gigafactory. Marketplace.org reports:
The Gigafactory is a massive battery plant, built by the electric car maker Tesla, that will take up to 1,000 acres and will include its own on-site wind and solar energy plants. Tesla has narrowed down its choice of location to four states, but rather than pick one now, it will prepare to build in two or three (or potentially all four), CEO Elon Musk announced on Wednesday.

Replicating engineering work, design work, site selection, connection to power and utilities, and permitting is a costly strategy, says Ben Kallo, senior equity analyst with Robert W. Baird.

"You can talk about millions and even tens of millions [of dollars] to do this" for just one extra site, according to Kallo.

But the cost of not doing it could be much greater. Tesla plans to have 500,000 electric cars on the road by 2020. This would include more of its Model S sedans, a new SUV, and a more affordable car (at $35,000, it might be described as 'less unaffordable'). Tesla also plans to expand into electricity storage to the wind and solar industries, says Kallo. And the gigafactory is the foundation of that plan. A delay could damage Tesla's competitive advantage as a first mover, and could damage investor confidence. Aside from its own share holders, Tesla needs investors to finance the $5 billion behemoth project.

Jakki Mohr teaches marketing at the University of Montana and has followed Tesla closely. She says having multiple possibilities to site the gigafactory is a savvy negotiating move.
Since the Gigafactory is going to be such a crucial factor in exactly how much Tesla can produce - especially past the crucial 2015 sales year - the execution of building it and getting it running is likely to have direct results on how the stock trades in the future.
The strategy I'll likely be using for Tesla's earnings is going to be a long straddle.
Quoth, you're always advocating these long straddles heading into earnings - do they actually work?"

The answer is "no, they don't always work - nothing in the markets always works" - but what we try and do here in the Margaritaville brand blender that is Quoth's head is identify stocks that are so volatile and so momentum-laden - so in the public spotlight - that there's more than a normal number of catalysts to have them move beyond the realm of the IV that's already priced in on the options. Notice I'm not advocating these trades for stocks like Intel (NASDAQ:INTC) or 3M (NYSE:MMM)?
As a matter of fact, this quarter has done well to point out some of the risks with playing a straddle into earnings. Sometimes, the stocks you think are most privy to a major move after earnings - like LinkedIn (NYSE:LNKD) recently, for example - simply are draped in ambivalence after earnings.
That's why I like to tack on a little extra premium and allow a couple extra weeks of trading for a lot of my straddles, post-earnings.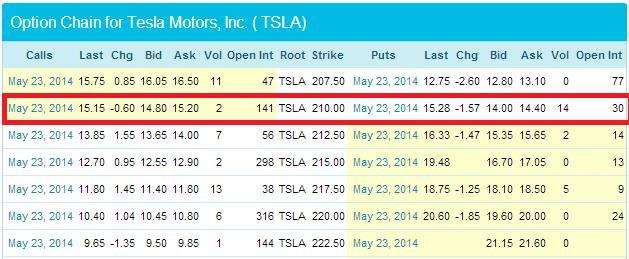 If we use the May 23rd options, we buy a little more time to allow a post-earnings move for little cost. To buy both ends of a $210 straddle, it's going to cost us $29.60 - meaning our breakevens for Tesla are going to be $239.60 or $180.40 - both levels that Tesla could easily achieve on the slightest trend turn for the company's stock.
If you're bullish long term, like I am, any dip in the stock's price is going to be a buying opportunity. Tesla still hasn't gotten cheap enough for me to feel like I'm not chasing. If the stock dips on earnings, I'll likely close out the put side to my straddle and load up long with options that don't expire until towards the 3rd quarter.
If the stock rockets post-earnings, I'll likely sell of my call side (or potentially hold it towards expiration and consider exercising), but won't likely add too much on top of the $210/share I'm guaranteed.
I'd love to see this upcoming earnings rocket the stock upwards, but have to admit that if it creates the buying opportunity I've been waiting for with Tesla, I can't be mad.
Best of luck to all Tesla investors.
Disclosure: I have no positions in any stocks mentioned, and no plans to initiate any positions within the next 72 hours. I wrote this article myself, and it expresses my own opinions. I am not receiving compensation for it (other than from Seeking Alpha). I have no business relationship with any company whose stock is mentioned in this article.
Additional disclosure: I may potentially open a Tesla long straddle into earnings this week.