Recently Citi Equity Research released an updated list of global bond refugee stocks. Stocks with higher dividends and lower volatility as an alternative to bond investments. Among companies making the cut is Lockheed Martin (NYSE:LMT) with a current dividend yield of 3.3%. Below we continue our review of LMT in Part XIV of this series, evaluating LMT from a relative value and dividend stability perspective. Glyndon Park Bond Refugee Ratings:
Overall Bond Refugee Rating: Highly Attractive
Relative Valuation: Attractive
Dividend Stability: Highly Stable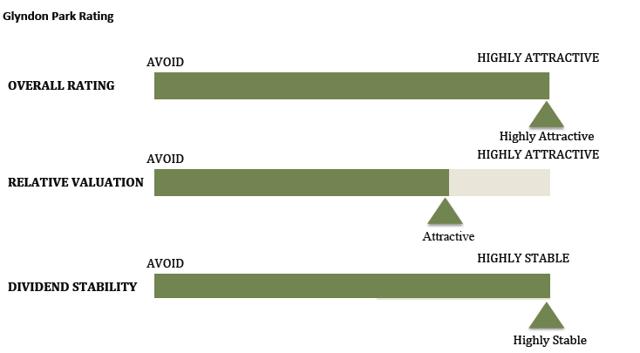 Click to enlarge
Background
LMT engages in the development and design of advanced technology systems for industrial, defense, aeronautical, space, and other commercial applications.
Strategy
LMT is a leading defense contractor and leverages longstanding core capabilities to continually develop advanced systems for military and government usage. As a leading defense contractor there are a limited number of competitive threats and bidding while highly competitive generally allows for reasonable rates of return. Key threats to LMT are largely political, whereby reduced military or other government spending could have a substantial negative effect.
LMT generates a significant amount of free cash flow and in addition to dividends has committed to repurchasing outstanding shares. The company noted in their most recent earnings release that shares outstanding have been reduced 31% from their peak.
Valuation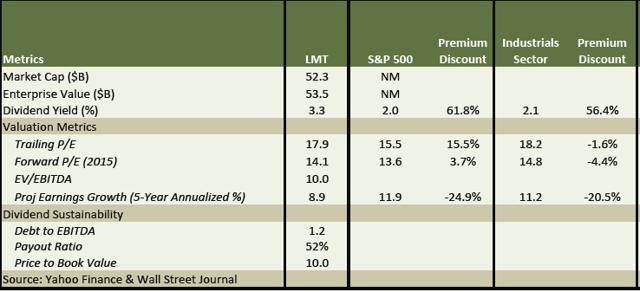 Click to enlarge
LMT has a market capitalization of $52.3 billion, enterprise value of $53.3 billion with a current trailing PE of 17.9 and projected PE of 14.1.
LMT trades at a 15.5 % premium to the S&P 500 (NYSEARCA:SPY) on a trailing earnings basis and modest 3.7% on forward earnings. On an enterprise basis LMT shares trade at 10 times trailing EBITDA.
LMT's earnings ratios are at a modest discount to the industrial sector (NYSEARCA:XLI) with a 1.6% discount on a trailing basis and 4.4% on forward earnings. LMT's earnings are projected to grow at 8.9% annually over the next five years versus 11.9% and 11.2% for the S&P 500 and Industrials Sector.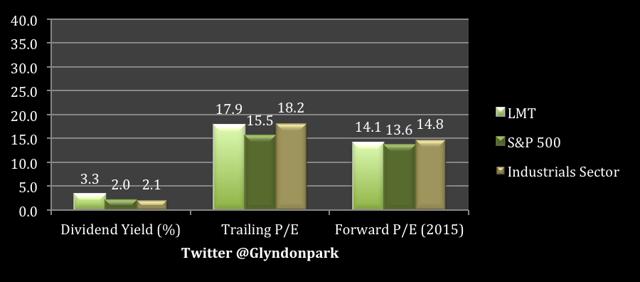 Click to enlarge
We rate LMT as attractive based on bond refugee criteria that stresses relative value and stability of income. (see relative value matrix below)
LMT trades at a discount to the Industrials sector leaving modest relative upside, particularly on a forward basis.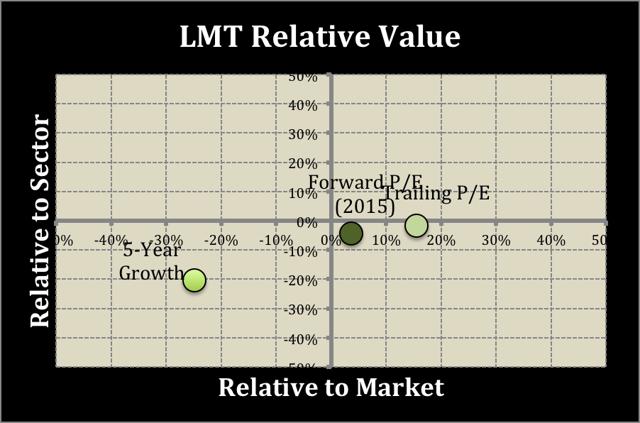 Click to enlarge
Dividend Stability
LMT has a an excellent dividend track record with management committed to returning free cash flow to shareholders through dividends and stock buybacks.
From a financial view, LMT has a conservative balance sheet with debt at 1.2 times EBITDA. A very low rate given the capital intensity of their business. LMT has a payout ratio of 52% providing substantial flexibility to maintain the dividend.
We rate LMT stability as highly stable based on:
LMT history and commitment to growing dividends coupled with strong free cash flow.
LMT balance sheet and payout ratio are very conservative.
.
Sources:
Yahoo Finance
Wall Street Journal
S&P
LMT Company Presentation
Disclosure: I have no positions in any stocks mentioned, and no plans to initiate any positions within the next 72 hours. I wrote this article myself, and it expresses my own opinions. I am not receiving compensation for it (other than from Seeking Alpha). I have no business relationship with any company whose stock is mentioned in this article.