We are now more than halfway through earnings season. Earnings are coming in somewhat above reduced expectations overall. Obviously some trends within the overall market become apparent every quarter. In an earlier article this weekend, I profiled the surprising strength in the lodging industry this quarter.
It is also apparent that ConocoPhillips (NYSE:COP) continues to be best bet among the big three of American energy giants which also includes Exxon Mobil (NYSE:XOM) and Chevron (NYSE:CVX). I articulated that this energy titan was fast becoming "Best of Breed" in January of this year. This thesis continued to be confirmed within the earnings reports each of these concerns submitted this quarter.
Chevron reported earnings that missed both top and bottom line expectations. Earnings came in 11 cents a share below the consensus as profit fell some 27% year-over-year (Y/Y) as production posted a slight decline Y/Y.
Exxon Mobil managed to beat earnings estimates by two pennies a share but was ~$3B light with its revenues compared to expectations. There are also some concerns around the company's Russian operations given the escalating tensions around Ukraine.
Some ~6% of Exxon's overall production comes via Russia and this has to be viewed as an increasing risk given the current situation. Exxon is the operator of Sakhalin-1, a massive oil field off Russia's eastern coast. The company and Rosneft also have a joint venture to evaluate the development of tight-oil reserves in western Siberia, and are building a liquefied natural gas plant on Russia's eastern coast.
In contrast, ConocoPhillips reported solid results all the way around. Earnings came in at $1.81 a share, a quarter a share above the consensus. Revenues rose over 9% Y/Y to come in at just over $16B, also above expectations as the company managed to increase production slightly excluding Libyan production.
Although not as cheap as it was when I advised to buy the shares on its "dip" earlier in the year, I still prefer ConocoPhillips to its major American energy giants. It is more domestically focused than its brethren with over 50% of its revenues coming from geopolitical stable North America. This will increase over the years as it continues to divest non-core overseas assets and puts 60% of its capital budget towards increasing its production from the North American continent.
Even as ConocoPhillips is at 52 week highs, I continue to hold it as a core position in my income portfolio. It still has a higher dividend yield than either Exxon Mobil or Chevron (See Chart).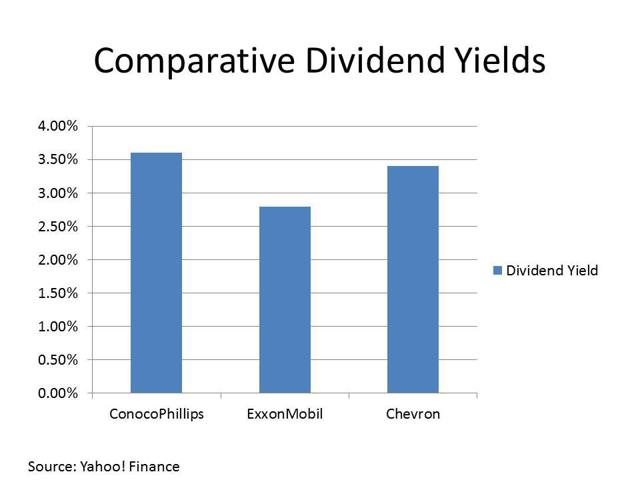 In addition, it has the least complex business model. In addition to being increasingly focused on North America, it does not have the chemical or refinery businesses its competitors manage after spinning off Phillips 66 (NYSE:PSX) in 2012. COP is also slightly cheaper on a trailing earnings basis than the two bigger energy giants. ACCUMULATE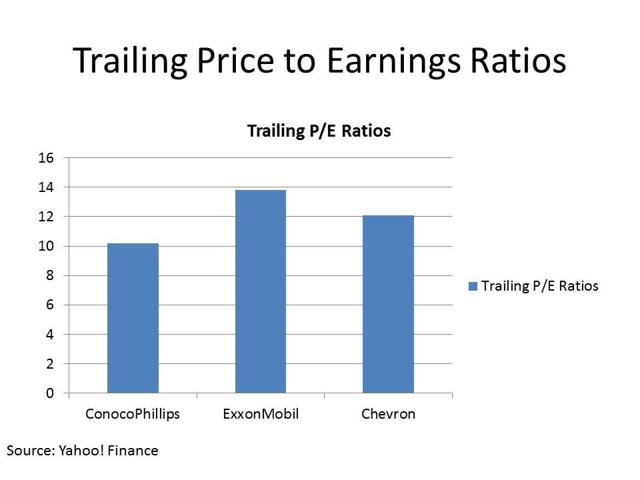 Disclosure: I am long COP. I wrote this article myself, and it expresses my own opinions. I am not receiving compensation for it (other than from Seeking Alpha). I have no business relationship with any company whose stock is mentioned in this article.