Under current market sentiments, Qualcomm (NASDAQ:QCOM) is a better buy than Intel (NASDAQ:INTC) or Advanced Micro Devices (NYSE:AMD). Alpha Omega Mathematica (AOM) rates QCOM as a Strong Buy and is the 2nd best pick among mega-cap companies. Intel's current woes in mobile is a factor why AOM only rates the world's biggest x86 chip producer a mere 75% score.
AOM gives QCOM a 95% overall score and a Strong Buy rating. Risk-averse investors looking for high-quality tickers for long-term bets should therefore consider adding QCOM to their portfolio. Qualcomm's recent legal woes should not deter Seeking Alpha users from appreciating the core strengths of this company. On a 10-year historical chart, QCOM bested many of its peers on the Communication Equipment industry.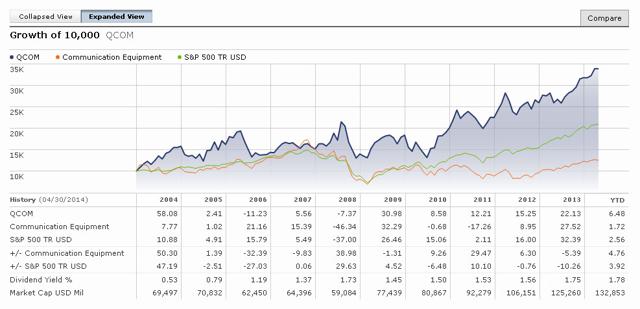 Click to enlargeSource: Morningstar
I like AOM's current market-based comparative methodology in valuing stocks. This article also draws from other resource sites. Majority of FT.com analysts still rate Qualcomm a Buy with an average 12-month median price target forecast of $85 and a high target price of $100.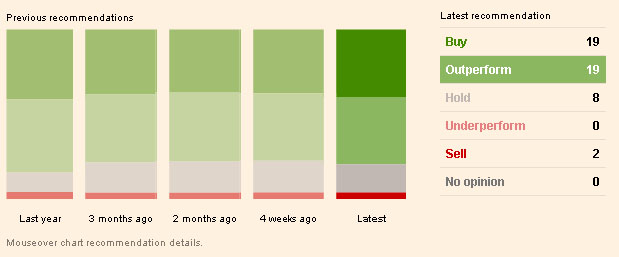 Charts courtesy of FT.com
High-Quality But Underpriced
Qualcomm's top rating from AOM is clearly illustrated by the following charts below. Compared to its Sector and Industry peers, QCOM is underpriced. Qualcomm has better forward P/E, PEG, P/Free Cash Flow, and Dividend Yield metrics than its Communications Equipment Industry peers.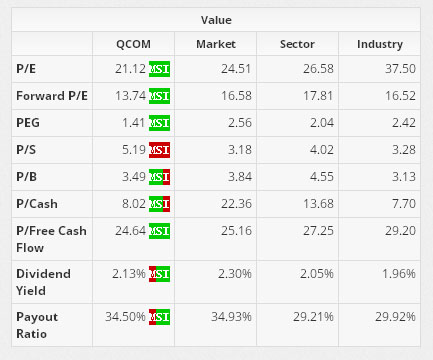 For those who prefer EV/EBITDA, QCOM also enjoys a non-bubble stock TTM EV/EBITDA rating of 13.50. In terms of comparative value, Qualcomm is cheaper than most of its peers. Qualcomm's attractiveness is further fortified by its AOM Quality scores.
QCOM's high return ratios and margins are the company's best compelling qualities. The company again is a clear winner. Qualcomm's Return on Assets, Return on Equity, and Return on Investments are better than the Market, Sector, and Industry averages.
Qualcomm's management should also be commended for the company's stellar Gross Margin, Operating Margin, and Profit Margin. Looking at the AOM chart below, QCOM's operating and profit margins are notably higher than its Sector and Industry peers.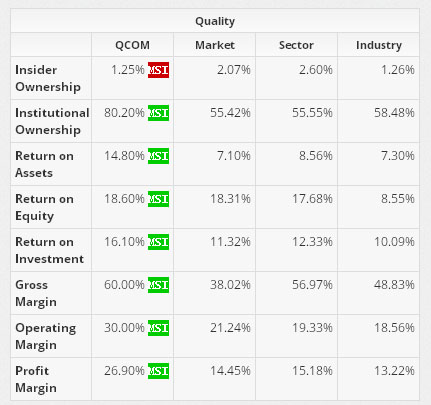 AOM's Quality measurement of QCOM is supported by Finviz's own chart.

Click to enlarge
Source: Finviz
The average consensus price target average for QCOM at Finviz is $84.84 - which is near FT.com's median price target of $85. Momentum is not on QCOM's side judging from its low SMA50 and SMA200 gains. However, based on AOM's overall score, the momentum factor as compared to its Industry peers, still gives a prominent contribution to Qualcomm's overall 95% Alpha Omega Mathematica final score.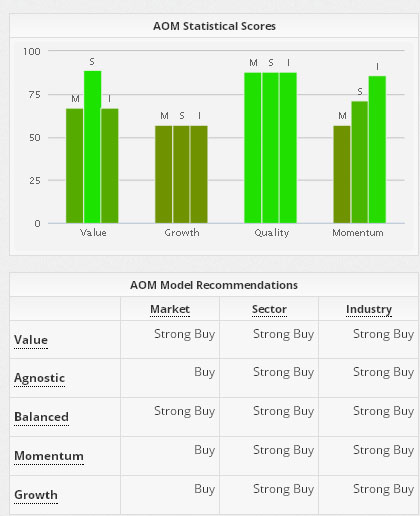 Sector-wise and Industry-wise, AOM's model recommendation gives a Strong Buy rating for Qualcomm for all Value, Agnostic, Balanced, Momentum, and Growth Strategies. Value investors who love high-quality stocks that are not fairly treated market should also note the Strong Buy rating for QCOM as compared to its Market peers.
Growth Potential Is Weakest
Based on AOM's modeling, Qualcomm's weakness is its Growth potential. Considering the threats posed by MediaTek and other Chinese dirt-cheap ARM-based chips producers, this is understandable. Intel is also aggressively and intentionally losing big money on contra revenue for its mobile ambitions. Qualcomm's LTE-equipped SoC products are under threat from MediaTek's octacore chip, the MT6595, which has embedded 4G LTE and 4K/2K playback capabilities.
Qualcomm's growth potential is hampered by many factors. On the other hand, AOM's algorithm still predicts a 5-year EPS growth of 15% for Qualcomm. For the past five years, QCOM also bested its Sector and Industry peers with sales growth performance. The Mediatek and Allwinner threat on mobile chip may no longer allow Qualcomm repeat its 17.40% sales performance for the next five years.
However, Qualcomm may still be able to deliver a five-year double-digit sales growth rate if Intel's x86 mobile chip products remain unfavorable among big OEM companies for the next three years. Intel's SoFia SoCs may still not find enough industry support to pose any serious threat to Qualcomm's preferred status among big and small phone manufacturers.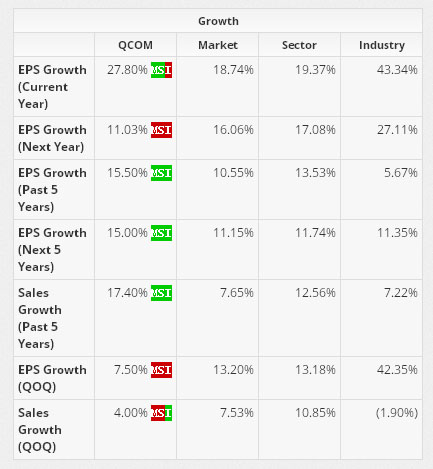 Morningstar's 10-year vs. 5-year historical data hints that Qualcomm's revenue growth is slowing down.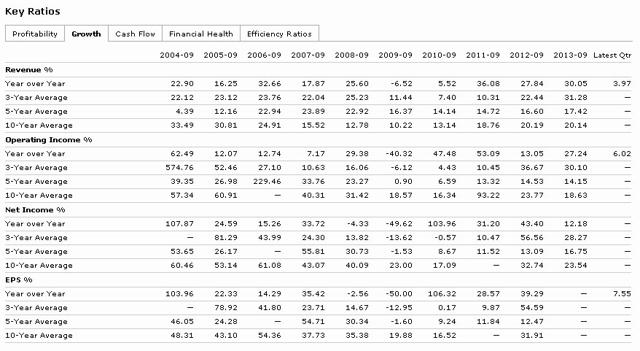 Click to enlarge
Source: Morningstar.com
Conclusion
Qualcomm is a long-term winner for Seeking Alpha investors who are looking for a high-quality stock to invest in. QCOM, when compared to its Sector and Industry peers, is not yet fairly valued. QCOM is not a high-flying growth stock but it has solid fundamentals and industry-leading operating and profit margins.
Qualcomm also owns some of the most valuable patents on LTE so the company can surely benefit from the new shift towards 4G LTE. QCOM's revenue from licensing its patents is guaranteed and will likely grow as more people buy smartphones and tablets in the future.
It also doesn't hurt that QCOM consistently increased its dividend payments for the last five years. Like what Alpha Omega Mathematica said, Qualcomm is a Strong BUY.

Click to enlarge
Source: YCharts
Note: The charts here without source given are all from getaom.com
Disclosure: I am long INTC, AMD. I wrote this article myself, and it expresses my own opinions. I am not receiving compensation for it (other than from Seeking Alpha). I have no business relationship with any company whose stock is mentioned in this article. I may initiate a Long position on QCOM this week.