By Simon Lack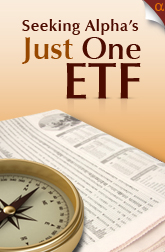 Several times a week, Seeking Alpha's Jason Aycock asks money managers about their single highest-conviction position - what they would own (or short) if they could choose just one stock or ETF.
---
In 2009 Simon Lack founded SL Advisors, an RIA based in Westfield, N.J., that focuses on the underlying asset values of investments. He spent 23 years at J.P. Morgan, primarily in North American Fixed Income Derivatives and Forward FX trading.
If you could only hold one position in your portfolio (long or short), what would it be?
It would be Boulder Growth and Income Fund (NYSE:BIF).
BIF is a closed-end fund (CEF), and like all CEFs the discount to net asset value is an important determinant of value. In this case, BIF is trading at slightly more than an 18% discount. It has a fairly concentrated portfolio including (as of their May report) a 26% position in Berkshire Hathaway (BRK.A and BRK.B), 6% in Wal-Mart (NYSE:WMT) and 6% in Johnson & Johnson (NYSE:JNJ). However, Berkshire is really a holding company with diverse underlying businesses, so there is more diversification than would otherwise be the case. They also hold 12% in Treasury bills.
BIF is managed by Boulder Investment Advisors in Boulder, Colo. The portfolio manager, Stewart Horejsi, has run the fund since 2002. In 2007 the fund traded at a staggeringly high premium to NAV of over 50%, driven in part by a very high and ultimately unsustainable dividend. BIF used to pay an $0.115 monthly dividend, so the yield was comfortably in double digits.
Closed-end funds are routinely bought for yield, so when the dividend was eliminated in late 2008 many investors soured on the stock and it quickly fell. The discount was as wide as 25% last year, and even though it's recovered somewhat, it's still lagged its peers.
Tell us more about the fund.
Management has been a steady buyer of the stock, and currently holds around a third of all outstanding shares, so the real point of this investment is the expectation that eventually they'll do something to create additional value for all the shareholders. It could be a reinstatement of the dividend, a special distribution (since they have a lot of cash), a buyback or even a liquidation or open-ending of the fund. There are several ways for them to close the NAV discount to everyone's benefit, and we expect that they will act in their own self-interest to do so.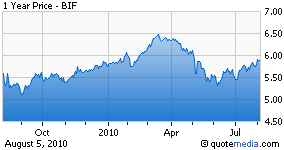 While CEFs sometimes attract activist investors when they're as discounted as BIF, the large percentage of stock held by management has most likely dissuaded any activists from getting involved, since they couldn't acquire enough shares to have any influence over the management of the fund.
We don't take an active role in any closed-end funds ourselves, we simply look for situations where we can align ourselves with current management at an attractive price.
How does your choice reflect your investment approach?
I set this business up to manage my own money after spending 23 years at J.P. Morgan running fixed income and hedge fund businesses. Working full time on my own portfolio has given me the opportunity to research potentially interesting areas.
We look for securities that are trading at a discount to tangible net asset value. We are not limited to closed-end funds; we have investments in energy, mining and shipping names amongst others. We look for companies with assets we believe we can value and low debt, that are unloved and therefore trading at a discount to tangible asset value. We tend to avoid growth stocks and so don't invest in technology, healthcare or other sectors where analysis of the income statement tends to be more important than understanding the balance sheet.
The focus on undervalued securities is really an extension of how I've always invested. Most former bond traders will tell you that their first concern is how they'll get repaid from a potential investment, and buying securities that provide a margin of safety offers some assurance that we'll earn a positive return.
We run three strategies: Fixed Income, Deep Value and Discount Arbitrage. The Fixed Income strategy is intended to preserve capital with some income. The other two strategies both focus on securities that we believe are cheap along the lines described above. Our Deep Value Strategy is long only, and rarely has more than 5-10% in cash, so is fully invested most of the time. Our Discount Arbitrage strategy contains some of the names we like in our Deep Value Strategy along with some others, but is run with a market hedge so when we identify a potential value opportunity we aim to isolate it from the risk of the overall market.
BIF is in our Discount Arbitrage Strategy, so we've attempted to hedge away the market risk, although we may also add it to our Deep Value Strategy where it would simply be held as a long position.
How much is your selection based on sector issues, as opposed to a pure bottom-up pick?
BIF really is a bottom-up pick. Boulder Total Return Fund (BTF) is run by the same manager and is a similar story. We've focused on BIF because it's more actively traded, although BTF has a slightly larger market cap.
How is BIF positioned with regard to competitors?
They've actually done a respectable job of managing the fund, in terms of NAV performance. Since January 2002 they've outperformed the S&P 500 by 2%. Morningstar gives them four stars and has calculated 3.5% of alpha, or excess return, relative to the S&P500. The portfolio is relatively low turnover, and the advisor's letters evoke the long-term, value orientation of Warren Buffett, whom they clearly admire. Their underlying investment process has been reasonably good.
Their dividend policy is what really hurt the stock. Many CEFs pay an artificially high dividend that isn't fully covered by the investment returns they are earning, with the result that part of the dividend is really a return of the investors' capital. Many investors evaluate CEFs based on yield, and income-oriented investors are drawn to high-yielding CEFs. Even though there are many, many articles describing this bias and recommending more thorough evaluation, it persists, and changes in a CEF's dividend are often the main factor moving prices. BIF's dividend was too high, but apparently few investors appreciated this in 2007. Now that it has no dividend, it's unattractive to mainstream CEF investors who tend to be individuals seeking steady income. It wasn't as good as investors thought in 2007 and it's not as bad as the market thinks today.
How does valuation compare to its competitors?
Out of 173 closed-end funds focused on U.S. equities, only 14 have wider discounts than BIF. Only a handful are wider than 20%, and most of those have some unusual features to them, or are too small and illiquid.
Does your view differ from the consensus sentiment on BIF?
Sentiment is clearly quite negative based on the wide discount to NAV. It's unlikely to change much without some type of event along the lines discussed above.
Does the company's management play a role in your selection?
Clearly we're assuming rational, wealth-creating behavior by management.
What catalysts, near-term or long-term, could move the stock significantly?
Anything that distributes value to stockholders through a dividend, special distribution, share buyback etc.
What could go wrong with your pick?
The underlying stocks they own could underperform the market. Clearly, if Berkshire Hathway suffered a negative event, such as a major insurance claim or significant challenges in one of its operating businesses, then BIF would be hurt.
If management either acted irrationally or made poor decisions we would lose money. If for some reason they decided to sell some of the stock they own that would clearly be negative. However, we can't see why they would do that.
Thanks, Simon, for sharing your choice with us.
Disclosure: Simon Lack is long BIF.
Read more Just One Stock articles »
If you are a fund manager and interested in doing an interview with us on just one stock or ETF position you'd hold, please email Rebecca Barnett.