Apple (NASDAQ:AAPL) has been hot in the news lately, and for good reason. The company reported record March quarter revenue and 15% EPS growth. The company is now also much more geographically diversified when it comes to revenue as fully 66% of revenue is generated abroad.
It also announced several shareholder-friendly measures like a dividend-hike of 8% and an increase in the share repurchase program. From not paying a penny in dividends under Steve Jobs just a couple of years ago, the company is now one of the largest dividend payers in the world.
Massive Share Repurchase Program
A year ago Apple announced a share repurchase program of $60 billion, one of the largest share repurchase programs ever announced by any company. Apparently the board thought it could do better and so on April 23 the company expanded the program to $90 billion.
Based on a current market capitalization of approximately $510 billion, that means the company will retire fully 17.6% of its shares under the current program. That is simply massive, even if you compare it to seasoned share repurchase companies in such high cash flow businesses as tobacco.
The share repurchase program should help the EPS growth of Apple as the earnings are divided by fewer shares. This comes on top of any growth generated by the business itself.
A few days after the company announced the larger share repurchase program, it offered to sell bonds of $12 billion in the market. Some people might wonder why a company with such a huge cash pile which earns almost nothing in interest issues bonds. It seems quite illogical to keep cash earning nothing and take on debt which costs the company 3%+ a year. The answer, of course, is that a lot of that cash is overseas and would trigger U.S. taxes if repatriated.
But how shareholder-friendly is it to issue bonds and use the funds to repurchase shares? One way to look at it is to compare the interest cost the company has to pay to the earnings yield it effectively buys when repurchasing shares. According to Morningstar, Apple's P/E is now 14.7x. The inverse of that, the E/P or earnings yield, is thus 6.8%. The most expensive bond offered was the $1 billion 4.45% Notes due 2044. In the last quarter, Apple's effective tax rate was 26%. Since interest is deductible in the U.S. this means that even the most expensive bond has an after-tax cost of 3.29%.
So the company pays 3.29% in order to invest at an earnings yield of 6.8%. For the rest of the bonds, the figures look even better since they are all cheaper. Fully $4.5 billion of the $12 billion in bonds pay an interest rate even lower than the dividend yield. When shares are repurchased and retired, dividends on those shares are no longer paid. So this means that the company saves more in dividends not paid than it pays in interest on the bonds. Quite a profitable exercise indeed.
This sounds almost too good to be true. And the caveat is that it cannot do this forever, of course. At some point the debt level will become too high for the comfort of its bond investors, making them charge a higher interest rate.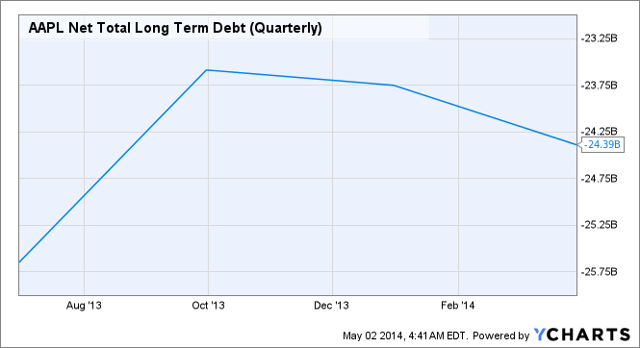 AAPL Net Total Long Term Debt (Quarterly) data by YCharts
As can be seen on the chart above, net long term debt at Apple is still negative, i.e. it has more cash than debt. This means that Apple shareholders can look forward to many more years of profitable debt issuance and share repurchases.
Risk Factors
Though the company has a strong position and I think it is heading down the right path, there are always risks. With an ever-larger share of profits generated overseas, currency is now a bigger risk than ever. Over time, currencies tend to mean-revert so negative effects in one period should be balanced by positive effects in later periods. New and disruptive technologies or competitors are the biggest risks as far as I am concerned. This has been the major risk for technology companies in the past and is how Apple itself nearly killed Nokia (NYSE:NOK). This risk will never go away but is mitigated by an alert management, R&D resources and monetary muscles, all of which Apple has plenty of. Rising interest rates might also be a risk insofar as the company chooses to take on debt rather than repatriate overseas funds. Rising interest rates will make share repurchases less accretive for shareholders.
Valuation
Usually, market leaders with a strong brand and market position command a premium price in the marketplace. So a look at Apple's valuation is in order.
| | | | |
| --- | --- | --- | --- |
| | Apple | Samsung | Microsoft |
| Price/Sales | 3.1x | 1.7x | 4.0x |
| Price/Earnings | 14.7x | 13.3x | 14.9x |
| Yield | 2.1% | 1.0% | 2.6% |
Source: Morningstar
Finding a direct peer group for Apple is not straightforward. But I do think the most relevant companies for Apple nowadays are the ones competing within the smartphone market either in the device segment or the software segment. I have chosen Samsung (OTC:SSNLF) as a competitor from the former and Microsoft (NASDAQ:MSFT) as a competitor from the latter.
Microsoft is the most expensive of the three on both the Price/Sales ratio and the Price/Earnings ratio but cheapest when measured on the dividend yield. Apple comes in as number two on all three metrics.
I think it's slightly surprising that Microsoft is more expensive than Apple given its lower expected growth rate going forward. For a separate analysis of Microsoft, you can view my earlier article on the company.
All three companies are cheap when compared to the overall market as represented by the S&P 500 as it trades at a Price/Earnings ratio of 18.0x.
The Dividend
Since reinstating its dividend at $2.65 in the summer of 2012, the company has increased the quarterly dividend twice. The last increase to $3.29 was announced on April 23. On an annualized basis that translates into a yield of 2.2% based on the closing price on April 30.
The annual dividend payment of $13.16 per share is covered by an earnings per share for fiscal year 2013 of $39.75. That's a payout ratio of 33% which means the dividend should be very secure. Even without much earnings growth, the company has room to increase its dividend for years on end.
Over the next five years the analyst community expects Apple to grow EPS by 15%. If we assume that the valuation remains the same and add in the dividend, total expected annual shareholder return comes in at a solid 17.1%. That is far above the stock market's historical return of approximately 10%.
Conclusion
Apple's latest quarterly report showed that the company continues to thrive. It generates loads of cash which it is returning to its shareholders at a massive scale. The company looks set to continue growing and has room to take on more debt. Thus, it seems likely that the dividend and share repurchases will continue expanding over the years generating market-beating shareholder returns. Any serious dividend growth investor should take a bite of this delicious apple.
Disclosure: I have no positions in any stocks mentioned, and no plans to initiate any positions within the next 72 hours. I wrote this article myself, and it expresses my own opinions. I am not receiving compensation for it (other than from Seeking Alpha). I have no business relationship with any company whose stock is mentioned in this article.
Editor's Note: This article discusses one or more securities that do not trade on a major U.S. exchange. Please be aware of the risks associated with these stocks.