When you look at the action on the 60min of the Nasdaq (click on chart below to enlarge) you can see the bollinger bands really tightening up. This often means pressure is building and the market is going to break one way or the other. The ADX is really low, and it often doesn't make it under 10, and when it does a very tradable move is coming (provided it doesn't gap up/down in a big way). At this point I'm firmly in the bull camp due to my timing system and I have to believe this is the way we're going to move out of this consolidating range. If I'm wrong I'll cut my losses and move on, but trading isn't a game of how you feel or what you think the market is going to do. It's also not about sitting on your hands because you're afraid of volatility.
It's about having a statistical edge that you've tested in real time and you can justify a position based on probabilities.
Another observation is the Dow Jones is outperforming the Nasdaq lately. I don't have any real insight as to what this means, it's just something I noticed yesterday.
I bought Herbalife (NYSE:HLF) today on the dip. The Auto/Truck sector has been very strong and the Transportations historically have led the markets. I'm looking at Autoliv (NYSE:ALV), BorgWarner (NYSE:BWA), Magna (NYSE:MGA), Tenneco (NYSE:TEN) and TRW.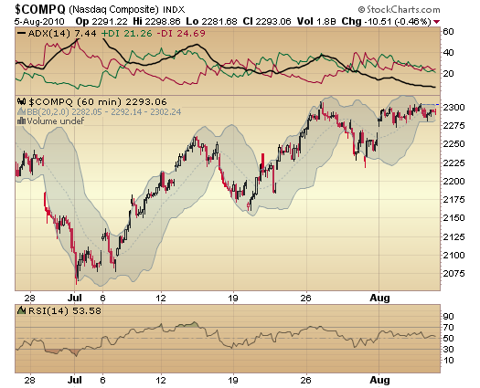 Click to enlarge