After the long weekend there are now more questions than answers as it pertains to the ongoing courtship of AstraZeneca (NYSE:AZN) by Pfizer (NYSE:PFE). What once seemed like a simple tax domicile deal to be financed with overseas cash that Pfizer had stockpiled has taken some major twists and turns in recent days and shows signs of running into headwinds. Pfizer's potential mega-deal began to appear to run into issues in the latter half of last week and this weekend saw further issues arise that could derail a deal between the two companies.
The deal gets more and more complicated by the day, however with the latest talk of spin-offs after the merger, one has to wonder whether Pfizer can talk shareholders into accepting the delay which would most likely be at least three years after the close of any deal.
Chart of the Day:
Even with the 10-year Treasury moving between the 2.60-2.80% range, mortgage rates are pretty much steady. There is very little movement in the rate right now and as a consequence we are hearing of very little interest in refinancing activities right now. Granted, many who could and wanted to already did a refi but for those homeowners who just recently got back above breakeven on their homes the interest rate environment is not their friend right now.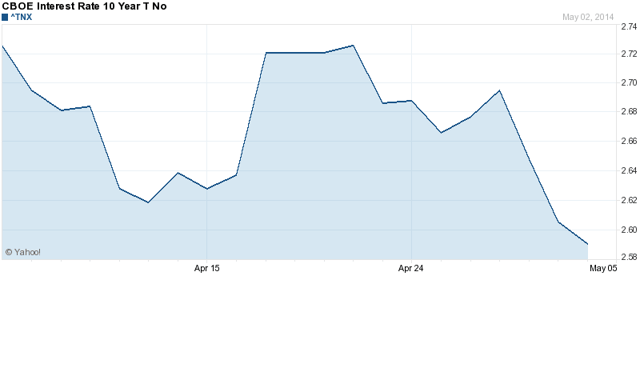 Click to enlarge
Source: Yahoo Finance
We have economic news today, and it is as follows:
ISM Services (10:00 a.m. EST): Est: 54.0 Act: 54.9
Asian markets are mixed today:
All Ordinaries -- up 0.08%
Shanghai Composite -- up 0.05%
Nikkei 225 -- down 0.19%
NZSE 50 -- CLOSED
Seoul Composite -- CLOSED
In Europe, markets are mostly down this morning:
CAC 40 -- down 0.28%
DAX -- down 0.55%
FTSE 100 -- CLOSED
OSE -- down 0.17%
Politics In Play In The U.K.
The most disturbing news for Pfizer shareholders, and quite possibly AstraZeneca shareholders, is that the politicians in the United Kingdom are weighing in on the merger and beginning to politicize it ahead of their elections that are scheduled for next year. With the rumored $100 billion+ price tag, this would be the largest foreign takeover of a British company and the opposition Labour Party is attempting to tap into nationalistic feelings to further boost their chances during the next election. Were the election to occur right now, the Labour Party would win so shareholders need to recognize the seriousness of this new threat to a deal.
The Financial Times has a good article that runs through the particulars of the UK's politics and who the major players are and why they are taking current positions. That article can be found here. AstraZeneca is the UK's second largest drug maker behind GlaxoSmithKline (NYSE:GSK), so the political opposition to a deal that is beginning to look more hostile than friendly makes sense.
The Type Of Deal Matters
With local politicians beginning to ramp up their rhetoric it is no surprise that Pfizer is now insisting that they want the deal to be friendly and not hostile. A friendly deal would show that the two companies' management teams are in agreement moving forward and that Pfizer is willing to work with those in the UK and not simply give orders. Even though AstraZeneca's board rejected the most recent offer, based on the UK's takeover laws it would seem that the next offer will either be the break it or make it moment for any deal. If AstraZeneca says no we highly doubt that Pfizer waits around, instead they might be forced to look elsewhere.
Pfizer has a lot riding on this deal, but so too does AstraZeneca with their stock having reacted so positively to the potential deal. Failure to reach an agreement would be painful for shareholders and put management in a less than desirable position.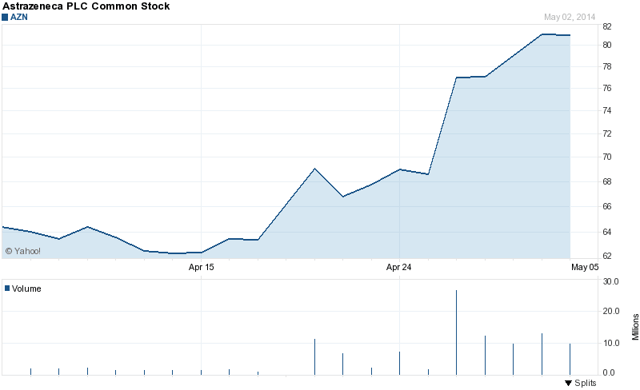 Click to enlarge
Source: Yahoo Finance
Spin-offs Possible
Any deal that Pfizer does to beef up its product offerings could result in further spin-offs down the road. Pfizer has already spun-off Zoetis (NYSE:ZTS) and discussed the possibility of spinning off its generics division, which hampered results for this quarter, so the talk of future spin-offs after a deal is completed make perfect sense. The added scale will help and there should be plenty of management talent to go around, with the promise of running spin-offs a possible deal maker with the current AstraZeneca management team.
Disclosure: I have no positions in any stocks mentioned, and no plans to initiate any positions within the next 72 hours. I wrote this article myself, and it expresses my own opinions. I am not receiving compensation for it (other than from Seeking Alpha). I have no business relationship with any company whose stock is mentioned in this article.