International Business Machines (NYSE:IBM), dating back to 1911, has grown to be one of the largest contributors to sectors of information technology around the world, including hardware, software, and additional services. IBM has always maintained a hefty research and development budget, which has been the reason behind its presence in over 170 countries today. IBM generates its largest share of revenue from the United States (44%), followed by Europe, Middle East, and Africa (32%).
Revenue expected to fall in 2014
IBM revenues declined in the year 2013 by almost 5% and it is expected that another 1% decrease will be seen this year. Why? IBM systems and technology segment has been facing a number of challenges, which include multiple issues like a major decline in the mainframe business, increasing competition and global pricing pressure. Sales in China, along with other developing markets, remain challenging and improvements aren't expected for another few quarters. However, it is expected that the revenue growth will return to normal in 2015, with sales of services and software being the primary growth boosters.
Big Blue earnings seem to be on track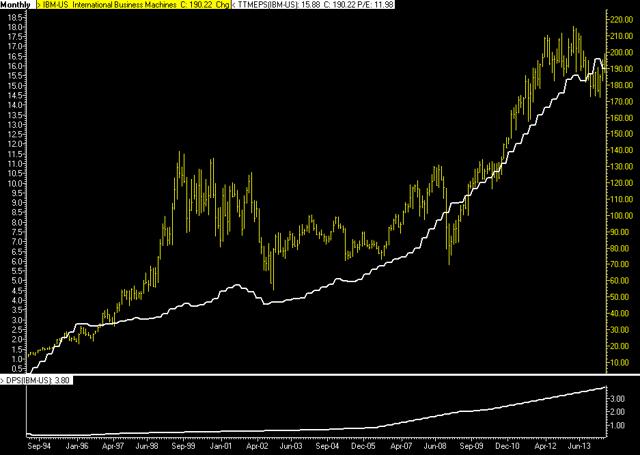 The chart above shows 20 years of trading history, as well, the trailing twelve months EPS is shown in the bold white line in the upper pane. The lower pane illustrates the dividends per share over 20 years. Based on the smooth and predictable nature of the EPS, we believe that Big Blue is already discounting a lot of the bad news that we've mentioned.
Non-GAAP EBITDA margins have been increasing and further improvements are expected in the year 2014 and 2015. These increases are primarily backed by IBM's efforts at cost reductions, productivity gains, and workforce realignments. On the other hand, it will take IBM a few years to make up for the drastic fall in annual gross margins back in 2013.
The Non-GAAP EPS was recorded at $16.99 in the year 2013, as it was aided by a lower tax rate. However, based on IBM's share repurchase activities, an EPS of $17.94 and $19.96 is expected in the year 2014 and 2015, respectively.
Troubles ahead - Will IBM successfully overcome?
IBM's diverse business model is no doubt appealing, but it is expected that it will face trouble and difficulties as the company tries to make adjustments to its portfolio, especially in the hardware business. Many investors are also concerned if IBM will be able to adjust to the fast changing market, nevertheless, IBM's share buybacks and a recent dividend yield of 2% is valued by everyone for broad, reliable exposure at a global scale.
Some important considerations
IBM is referred to as Big Blue because it's often thought of as the ultimate Blue Chip stock. Lately investors have been confusing it with black & blue because it was beaten up after the latest earnings report on April 2014. Revenues barely grew and net earnings slipped by 21%. After the earnings release, the shares quickly lost about $8 or 4%. But there are several reasons why you Do Not want to bet against IBM:
Warren Buffet owns 6.5% of the outstanding shares of the company.
IBM has a 46.3% Return on Capital
They have a free cash flow ratio of $9.78B
They have grown the earnings in a steady and predictable fashion for the last 20 years.

The current Purple Chips expectation is low valuation of $181 and a high valuation of $210.
The Bottom Line
IBM has been a substantial player in its industry for the past 20 years. Considering all the current problems and IBM's track record, do you really want to bet against Warren?
Disclosure: I am long IBM. I wrote this article myself, and it expresses my own opinions. I am not receiving compensation for it (other than from Seeking Alpha). I have no business relationship with any company whose stock is mentioned in this article.