AT&T (NYSE:T) has opened discussions with DirecTV regarding a possible acquisition. By purchasing the satellite provider, AT&T would have better integration with broadband and TV services.
The deal would be valued at over $40 billion and would add over 20 million subscribers from DirecTV with AT&T's customer base of more than 5.7 million. The company's U-verse TV services signed up an additional 200,000 customers in the first quarter of 2014.
Concerns About The Changing Scene
The possible acquisition occurs while the U.S. TV market experiences considerable change as the cable provider Comcast (NASDAQ:CMCSA) reported a $45 billion acquisition of its competitor, Time Warner Cable. Time Warner provides broadband and cable television services. However, the merger must obtain regulatory approval in the U.S. despite considerable concerns about the deal.
It may be questionable whether regulators would clear another pay-TV merger if the Time Warner Cable-Comcast merger passes antitrust regulations. On a combined basis, DirecTV and AT&T would have almost the same number of television subscribers as Comcast-around 26 million, in contrast to nearly 30 million at Comcast, taking into account some expected divestitures.
Foreign Channels
In Europe, Germany's largest cable provider, Vodafone (NASDAQ:VOD), purchased Kabel Deutschland and the Spanish cable provider Ono. In France, Numericable (NYSE:NUM), a cable services provider, is purchasing fixed-line and mobile operator SFR.
Global Pressures
Around the globe, pay-TV providers and telecom operators continue to face significant pressures from Internet-based video and voice services. Declining revenue streams from voice and messaging services are forcing companies like AT&T to seek new sources of revenue as they face competition from services such as Skype and WhatsApp.
In addition, the competition to acquire and retain viewers has grown fierce as content becomes available through products such as Aereo and Amazon's Fire TV.
If Acquisition Approved, Clearer Sights For ATT Shareholders
DirecTV had revenue of $24.7 billion in 2013, an increase of 6 percent over the prior year. This increase came directly from greater average revenue per subscriber. However, total subscriber additions declined by almost 30,000 compared to the prior year. The decrease in subscribers was due to the intensely competitive sector and a maturing industry, according to DirecTV.
AT&T expects satellite TV to provide the company with a more efficient method of delivering live TV than over its wired network. Acquiring DirecTV would allow AT&T to utilize its wired network for video-on-demand and fast broadband services.
The chart below illustrates stiff competition between AT&T and Comcast, with AT&T edging above its competitor at present.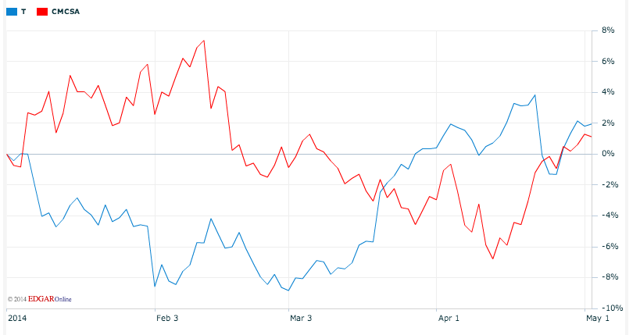 (Nasdaq.com)
If the acquisition between AT&T and DirecTV goes through, shareholders could see a clear path to profitability in 2014 as the characteristics of both could make one, highly competitive, market leader.
We invite readers wishing to join the discussion on AT&T and the telecommunications industry to click the +FOLLOW button above the title of this article.
Disclosure: I am long T. I wrote this article myself, and it expresses my own opinions. I am not receiving compensation for it (other than from Seeking Alpha). I have no business relationship with any company whose stock is mentioned in this article.