This 4-part series offers readers a short take on "All-American" stocks. Investors subscribing to the view that the U.S. economy is on the mend to a sustainable recovery may agree these companies are worth a more thorough analysis.
For purpose of this series, let's define "All-American" to mean companies that are not just based in the States, but generate the vast majority of their sales and earnings here, too.
In addition, I've selected stocks that while large-cap corporations, are generally not followed as closely as sector or industry peers. This is an intentional decision: to provide readers with exposure to some good American companies outside the most popular tickers.
Part 1 of the series covered U.S. Bancorp (NYSE:USB).
Part 2 of the series covered Nucor Corporation (NYSE:NUE).
In this installment, we will discuss Express Scripts Holding Company (NASDAQ:ESRX).
What Does Express Scripts Do?
Express Scripts is the nation's largest PBM (Pharmacy Benefits Manager). The company acts as an intermediary between pharmaceutical companies and patients; administering/distributing prescription drugs on behalf of its clients, which include HMOs, health insurers, employers, union-sponsored benefit plans, workers compensation plans, and government health programs. Express Scripts attempts to hold down end-user pharma costs by leveraging its size and breadth to negotiate lower supplier prescription costs; then share the savings with clients and shareholders.
Gauging Success
Express Scripts is a growth company. As such, investors demand growth in sales and earnings. Management provides detailed forward guidance. This guidance, and management's ability to meet or beat it, is a vital piece of the success narrative. The company offers investors no dividend, though an aggressive stock repurchase plan is in place.
Let's run through a series of key measures.
Revenues and Earnings
Over the past 5 years, top line sales and net income have risen rapidly. However, in the growth-stock "What have you done for me today?" world, squeaking in on the low-end of Street 2014 1Q revenues and earnings knocked the shares back 6%, on top of a previous 8% sag leading up to the Q1 announcement. Revised guidance down completed the bad news hat trick. This year's EPS forecast was reduced 6 cents a share to $4.88, still a 12% improvement on 2013 results. Not good enough, says Wall Street.
Express Scripts Holding Company -- One-Year Price and Volume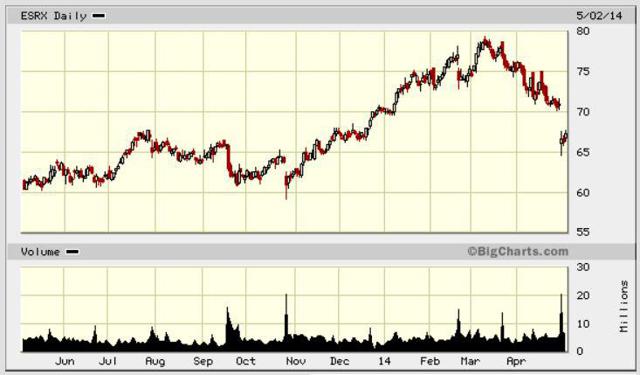 courtesy of bigcharts.marketwatch.com
Cash Flow
Express Scripts generates large amounts of cash flow and free cash flow. Remarkably, even FCF per share eclipses operating EPS. This is partly because the company carries and depreciates significant goodwill and intangibles on the balance sheet each quarter, and partly because required capital spending is modest. For 2014, EXRX management expects operating cash flow of ~$5 billion, or $6.58 per share. However, this is about flat with last year; so the number disappointed some investors.
Claims and Adjusted Gross Margin
Notably, PBMs work on high volume and low margins.
For the first quarter, Express Scripts logged an adjusted gross margin of 8%, besting the prior year's quarterly result. However, QvQ adjusted claims (total scripts) dropped 17%; about half of which was a result of losing the United Health Care contract. Management explained the other half of the shortfall was a result of several expected 2014 mid-year contracts being pushed out to January 1, 2015.
Many analysts, including this writer, found forward claims guidance to be more unsettling. In 2013, total adjusted claims were 1.39 billion, excluding the United Health Care business. Management has stated the company has an approximate 94% retention rate. This indicates about 1.31 billion claims should have been expected on the x-UHC carryover book. Yet, senior leadership has guided 2014 adjusted claims to a midpoint 1.3 billion, or roughly flat with last year; little more than what could be expected given no new accounts or ACA contribution.
EBITDA/Claim
While the total adjusted claims are called to question, management reported and guided robust growth in EBITDA per claim. Year-over-year 1Q figures jumped from $4.09 a claim to $4.60 each. On top of that, management forecast 2014 EBITDA/claim to be $5.25. The improvement represents a combination of higher percentage of costly specialty drugs making their way into the market and continued internal efficiency process improvements.
Recent Events
In addition to a trifecta of poor 2014 1Q results, there are 2 other news items that portend near-term headwinds.
No ACA Uplift
Out of the gate, the Affordable Care Act ("ObamaCare") has proven to be a disappointment to Express Scripts' business. The company found of those who enrolled in an exchange plan, over 40% already had Express Scripts coverage in 2013. The implication is that many ACA enrollees are simply churning, many of whom are not accretive to the number of covered individuals at all. Furthermore, of those who have enrolled, there's the issue of who's actually paid. The House Energy and Commerce Committee set out to track this down. The answers were not what Express Scripts wanted to hear.
Data provided to the committee by every insurance provider in the healthcare law's Federally Facilitated Marketplace (FFM) shows that, as of April 15, 2014, only 67 percent of individuals and families that had selected a health plan in the federally facilitated marketplace had paid their first month's premium and therefore completed the enrollment process.
On the Express Scripts first-quarter earnings conference call, CEO George Paz tried to explain the situation like this (boldface is mine):
And so 40% [the estimated number of ACA "churned enrollees] may actually be a conservative number. It could be higher than that, as we refine all the data. So I do think what we've seen is we picked up more than our percentage share, but we're also seeing that it's just a cannibalization of our current book to date. Again, nobody's come out with a number yet saying how many new lives are insured and how many of those people are actually paying premiums to stay in the enrolled as members.
Later on, he went on to say,
Now the question is, how effective is healthcare reform at bringing those people [who lost previous coverage] back into the marketplace? Probably short term it's not very effective. Long term, it will be. Something will have to give there. People are going to go without insurance and without coverage forever. So that's why I'm still bullish on this whole healthcare reform opportunity for us. I think it's going to pay off. I think it's just been a very rocky start, and we'll see the benefits of this over time.
Ultimately, investors must decide how to interpret these facts and commentary.
A Trio of Subpoenas
Prior to earnings, Express Scripts filed a disclosure saying it had received subpoenas from federal prosecutors in Rhode Island, from the Attorney General of New Jersey and from the U.S. Department of Labor. The company stated it would cooperate with all of them.
During the 1Q conference call, CEO Paz expressed it's too early to know the significance of three government subpoenas in February that asked about the company's dealings with U.S. and European drugmakers.
Investors hate overhangs like this, even if they don't end up amounting to anything.
Valuation
So what's the stock worth? Given all the puts and takes, do the shares reflect a good risk/reward profile for a current investor?
Here's some good news: price tracks earnings. A 15-year F.A.S.T. graph illustrates clearly the relationship between ESRX share price and EPS.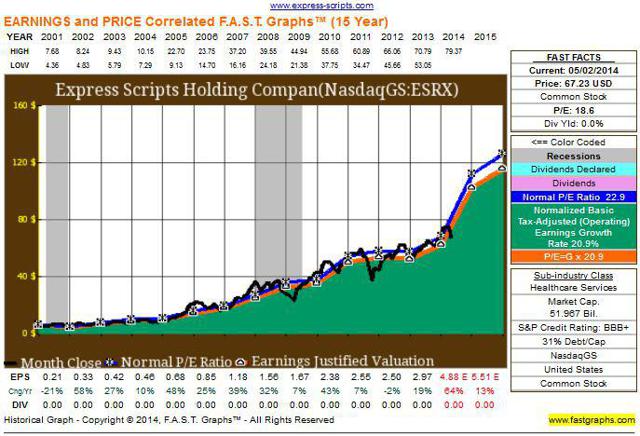 Click to enlarge
courtesy of fastgraphs.com
The black line is price. The blue line is the 15-year average, normalized P/E; currently just under 23x. Operating earnings are shown by the green shaded area. Price and earnings do track alright. Indeed, not many stocks track price/earnings this closely. As you can see, rarely does the price stray far from the blue earnings multiple marker. Also, please note the 15-year average EPS growth rate has been 21.1%. Solid.
This tight historical relationship suggests forward earnings will very likely drive future share prices. Therefore, forward EPS assumptions loom large.
Well, for 2014, management has guided to an EPS midpoint of $4.88. If we accept the premise that senior leadership will "make the numbers" (and they have not blown a quarterly consensus estimate in over three years), and we utilize an historic 22.9x multiple, then we arrive at a strictly mechanical $112 price target. That's a lot higher than the recent $68 price tag.
Maybe a bit too rich.
Instead, let's build in some safety factors.
S&P 500 IQ indicates the 5-year forward EPS growth is projected to be 15.5%; another leading Street consensus source offers a consensus 14.2% growth rate. Taken together, let's assume a 15% average 5-year EPS growth rate. Then, following lower near-term estimated growth, let's further reduce the 2015-16 growth rates to only 13%.
Next, we'll premise a 1.3 PEG ratio; a reasonably conservative PEG for a solid growth stock. The PEG ratio is calculated by dividing the P/E by the forward EPS growth rate. In our case, we want to solve for P/E, as we've assumed the PEG will equal 1.3 and the growth rate is 13%. Now then, solving for the P/E ratio, we get a 16.9x multiple. This is several points lower than the current normalized average. I've highlighted this on the chart below with a pink line.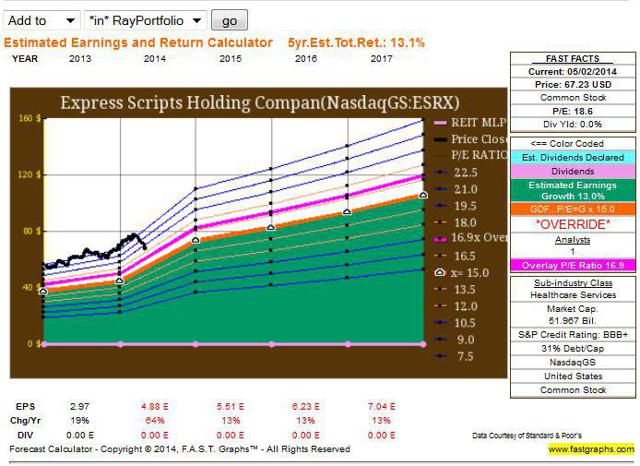 Click to enlarge
courtesy of fastgraphs.com
We end up with a $82 price target on 2014 EPS and a $93 tag on 2015 earnings. Using a $68 baseline share price, a potential 29% upside may be justified.
But the question remains: do you believe the forward estimates, particularly for 2014? If yes, our analysis suggests ESRX stock is well below fair value. If no, this high-flyer could crash and burn. In today's market, investors have little tolerance for growth stocks that need a tune-up.
Summary and Conclusion
Initially, I questioned whether or not to include Express Scripts as part of this series. While clearly meeting the "All-American" designation, the current quarterly results miss and guidance down gave me pause. Back in April 2013, Seeking Alpha editors published my first article on ESRX entitled, "Express Scripts: Strong EPS and Cash Flow, But Some Questions Too," and while the narrative has evolved, the overall investment thesis (and the questions) remain.
On balance, I decided there was enough of a storyline and enough prospects to proceed. I remain long ESRX, though it's a modest position. I am disinclined to either buy more or sell until another earnings report is down the hatch. New investors may see the current pullback as an opportunity: depending upon how you read the tea leaves.
As the largest PBM in the United States, Express Scripts has the heft to succeed in this low-margin, high-volume business. The fundamentals paint a mixed picture, reflecting both strengths and weaknesses. The question is whether or not sales and earnings have hit a temporary flat spot or a longer-term plateau. I believe ongoing changes in the delivery of healthcare services in general, and the ACA in particular, will eventually provide good upside for the company; however, perhaps not as quickly as hoped for.
In the meantime, continuing shifts towards mail-order pharmacy delivery, demand for higher-cost specialty drugs, and desires by all clients to reduce prescription medication costs will drive PBM's long-term growth in sales, earnings and cash flow. I believe Express Scripts may be considered well-managed.
During the current healthcare transition period, investors may find ESRX shares a good investment opportunity, though volatility may be expected.
Please do you own careful due diligence before making any investment. This article is not a recommendation to buy or sell any securities. Good luck with all your 2014 investments.
Disclosure: I am long ESRX. I wrote this article myself, and it expresses my own opinions. I am not receiving compensation for it (other than from Seeking Alpha). I have no business relationship with any company whose stock is mentioned in this article.