Howard Buffett-businessman, author, farmer, and an unpaid volunteer deputy sheriff-is Warren Buffett's eldest son. He is a philanthropist, conservationist, and has his father's approval to one day take the reins of the $300 billion corporate juggernaut Berkshire Hathaway (NYSE:BRK.B)-that is, if the board approves the decision.
When shareholders gathered for the Berkshire (NYSE:BRK.A) annual meeting in Omaha, Nebraska, over this weekend, the idea of succession was again on the table, given that Warren Buffett is now 83 years of age and had prostate cancer two years ago.
A Brief Biography of "Howie"
In addition to currently being the director of three public companies: Berkshire Hathaway, Lindsay Corp (NYSE:LNN), and Coca-Cola (NYSE:KO), "Howie," as his father calls him, has hobbies, which include traveling around the world taking photographs. He has taken on many dangerous assignments in war-torn regions in Africa as a photojournalist.
The younger Buffett, now 59, has previously served directorships at Archer Daniels Midland, ConAgra, and Coca-Cola Enterprises. In his free time from these posts, he has set aside 17,775 acres in total for farming and conservation in Arizona, Illinois, Nebraska, and South Africa. When he was 14, he traveled to the former Czechoslovakia, his first foreign trip. Since then he has traveled to 133 countries.
"Howie's" New Role
To be clear - the role of chairman is non-executive; Howard will not be involved in running the company, making investments, or overseeing the 70 plus subsidiaries. The role will not commence until the elder Warren Buffett has retired or is no longer with us. He will, however be in charge of keeping watch over Berkshire's culture and values, including maintaining strong focus on shareholders, and allowing its many managers continued flexibility to make decisions.
Quelling Board, Shareholder Concerns
Generally speaking, the shareholders do not know much about Howard Buffett, other than the fact that he is a corn and soybean farmer and has received $652 million from Warren Buffett for his foundation and distributed $531 million of it.
Still, neither father nor son are concerned about questions that might arise about Howard Buffett's ability to take on the new role. Warren Buffett believes his son fully understands the culture and values of Berkshire's culture, because he has grown up by his side.
For his part, Howard Buffett is not intimidated by the growing attention, because he is confident in his business abilities after serving in executive positions at two different companies as well as serving on numerous corporate boards.
Importantly, Howard fully understands the concept of avoiding misuse of power and letting the Chief Executive run the show.
With Leadership Changes On The Horizon, Berkshire Outlook Still Strong in 2014
While shareholders may speculate what will happen to the company after Warren Buffett, 83 years of age, and vice chairman Charlie Munger, 90 years of age, are no longer captains of the ship, the elder Buffett has spent the past two years planning a smooth succession-handpicking everyone who is fully competent to oversee the $107 billion stock portfolio.
Recent hires also include 29-year-old Harvard Business School graduate Tracy Britt Cool-who brings very keen decision making and a measure of diversity to Berkshire's older, male ranks.
Last year, Berkshire's net worth increased by a staggering $34.2 billion. Its largest acquisition to date has been the Burlington Northern Santa Fe Railroad for $26 billion. And its biggest stock holdings by market value ownership include 14.2% of American Express, 9.2% of Wells Fargo, 9.1% of Coca Cola, and 6.3% of IBM.
In 2014, the conglomerate expects to continue with aggressive actions in mergers and acquisition since purchasing Heinz in 2013. MidAmerican Energy is likely one area where M&A will occur.
Barclays recently issued a Buy rating on the stock, supported by a detailed report, discussing why Berkshire's stock is actually undervalued. Analyst Jay Gelb of Barclays noted Berkshire's attractive price-just 1.4 times book value-will also be buoyed by a planned share buyback program in the near future.
Berkshire's insurance business will continue to generate a significant float (already at $77 billion) for investing-and the conglomerate as a whole has historically outperformed the S&P. YTD, this is also the case (see below).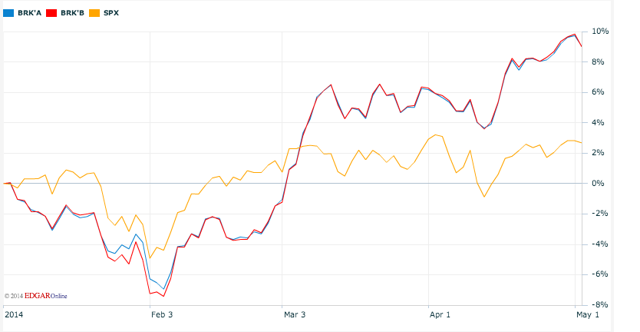 (Nasdaq.com)
Despite an aging figurehead, shareholders should be confident that Berkshire Hathaway will continue to be a core holding-both a solid and ethical company-in the years to come.
We reiterate our own positive stance on BRK.A, BRK.B
We invite readers wishing to join the discussion on Berkshire Hathaway to click the +FOLLOW button above the title of this article.
Disclosure: I have no positions in any stocks mentioned, and no plans to initiate any positions within the next 72 hours. I wrote this article myself, and it expresses my own opinions. I am not receiving compensation for it (other than from Seeking Alpha). I have no business relationship with any company whose stock is mentioned in this article.