In recent weeks, a couple of things have happened that should hearten Plug Power (NASDAQ:PLUG) investors. First, the purchase of fuel stack provider ReliOn Inc. was a strong step in the direction of Plug's stated goal of bringing the entire fuel cell process in house for its technology, further reducing costs and improving margins. Plug has a contract in place until the end of the year with Ballard Power Systems, Inc. (NASDAQ:BLDP) to provide fuel cell stacks for its GenDrive application yet will likely continue to work with Ballard in the future since they will need Ballard's stack infrastructure to keep up with the influx of new orders as they ramp their own. The second, and perhaps more telling development, was Plug's $116M net raise, which was completed last week. Speculation is rife that the funds will be used for an acquisition that either cements Plug's entry into an additional geographic market (such as Asia where Plug recently signed an important joint venture memorandum with Hyundai Hysco-an affiliate of Hyundai Motor Company (OTC:HYMTF)), moves the company further toward the prospect of realizing its goal to locate its needed fuel cell elements under one roof, or, to effectuate the completion of a mega-deal yet to be announced. There are other possibilities yet these seem most logical.
Plug's Perception Battle:
The slightest hint of a business connection or impact, from any quarter, on Plug can move its underlying share price dramatically as investors race to figure things out, or worse, simply accept what they are told. A relatively innocuous Barron's note Friday suggested (by its headline) that ClearEdge Power's bankruptcy filing may have negative implications for Plug and Ballard. This comes on the heels of a report by Trip Chowdhry of Global Equities Research, which summarized that Plug and fuel cell technology were not a good fit for the car market. He states:
"Fuel cell cars are complete failure and a nonevent," he said. "Fuel cell powered car lacks in power density, hence a typical fuel cell powered car will go 0 - 60 miles per hour in 11 seconds, which is much slower than Tesla Model S, which goes 0 - 60 in 5.4 seconds."
We find more than one false premise in this argument, the most significant being that Plug has stated that it is not actively pursuing the market for hydrogen-powered cars. Additionally, Chowdhry's comments infer that the litmus test to get into that market is the 0-60 in no time flat test. In practice, people reject such tests every day. For example, many buy 4-cylinder vehicles, not for their get- off-a-dime quickness but for better fuel economy. The same may be said for varieties of popular motorized scooters. Invariably, those that are slower often achieve the most significant savings in fuel economy. If 0-60 is not on the top of one's list of requirements (and it sure isn't for any number of delivery truck fleets) then Mr. Chowdhry's comments might be the real non-event but that is often not the case with Plug. I refer to these and similar critiques as distraction or "pay no attention to the man behind the curtain" arguments. They are rarely about what Plug can do or the billions in revenue it can achieve in the markets it has identified. Instead the story becomes one of narrowly trying to define what it is that Plug cannot do (and is usually not trying to do) thus making that the investor perception of the day or week until Plug again announces its next positive which invariably shows investors that it continues to execute on its stated game plan.
The biggest disservice to Plug is in what gets lost, namely the addressable markets that Plug is in and the staggering opportunity for growth in those markets. For those who fret about Plug's prospects, the time for such worry was 6-12 months ago when the stock was trading at or near record lows. Plug was on life support and the adoption of its products seemed anything but assured. In five short months, Plug has recorded new orders, shored up its balance sheet and announced critical expansion into Asia via the Hyundai Hysco joint venture. Additionally, investors anticipate the near-term release of details of a new GenKey deal with an as of yet not known North American automaker. CEO Andy Marsh has classified this order as "major."
Plug has staggering growth opportunities in the material handling market which includes: the market for transportation refrigeration units (TRUs), the electric vehicle range extender market - think FedEx, UPS, DHL (and others), and the market for airport baggage handling which is expected to grow to $30b by 2017.
Implications for future Wal-Mart (NYSE:WMT) Deals:
Modest penetration into just a couple of the markets we have mentioned above (Cowen and Company has put Plug's lift market penetration at 2%) is likely to put Plug on a fast track to at least $500M in revenue. Cowen analyst Rob Stone valued Plug's additional Wal-Mart order at $50M and made the following comment:
"The GenKey turnkey solution makes it easier for customers to deploy new sites. PLUG has about two dozen existing customers who own about 250K lift trucks. At year-end 2013, there were about 4,500 GenDrive units deployed (2% penetration). Wal-Mart has 114 distribution centers, of which about 100 are suitable for fuel cells (based on fleet size and access to hydrogen); three are converted so far, plus six on the latest order. Under the framework deal, WMT could eventually convert 5-6 sites per year. Kroger (NYSE:KR) has 30 distribution centers with 12K lift trucks; it has converted one site and ordered two more. Sysco (NYSE:SYY) has converted seven of 100 distribution centers."
So Plug has converted just 10% of the immediately available market for Wal-Mart lift trucks and between the new order and the previous one (535 Units @ approximately $28,769 per unit based on Cowen's math) we put the current contract somewhere in the range of $65M. Given what is currently available for conversion at Wal-Mart's distribution centers, PLUG's contract with them could approach $650M in a matter of years to say nothing of what Kroger and Sysco offer. In addition to Plug technology providing efficiency improvements, the public perception of Wal-Mart doing their part for the environment is hard to put a price on given perception problems that the company often seems to battle.
Final Thoughts:
Any responsible company in a high growth arena would be making the moves that Plug has made in recent weeks. For most, such moves would be positively received and yet Plug has a checkered past which is often used to define it today. At the turn of the century Plug was a company with ideas and products (and at one point a market cap of about $4b) considerably ahead of its time. The biggest difference for Plug today is the adoption of its technology by companies such as Kroger, Sysco, Coca-Cola (NASDAQ:COKE), BMW, Lowe's (NYSE:LOW), Procter & Gamble (NYSE:PG), Mercedes Benz and Wal-Mart. As more deals are announced, along with entry into markets where demand is largely untapped, Plug's rise will be hard to reverse by dredging up a past, which is almost entirely irrelevant.
The Plug of 2014 bears little resemblance to the Plug of just a year ago. In early March, Plug reached a valuation of approximately $1.6b with roughly 130M shares outstanding. It should be noted that this came in the aftermath of a short slump on a previous raise, the very position Plug finds itself in now. In the days that followed, Plug's shares rose 77% in concert with news of a Department of Energy contract with FuelCell Energy (NASDAQ:FCEL). Shares then tumbled with the now infamous report from Citron Research. What will be important to watch in light of Plug's newly minted cash position and other moves (again, some not yet announced) is the effect that such reports have on Plug's stock in the future. We suspect that each time Plug announces a new deal or market expansion that it will inoculate itself a bit more from such volatility and backward leaning analysis.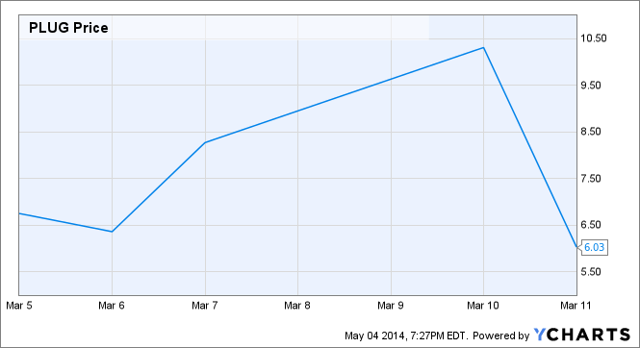 With some 160M shares outstanding today we see $9.50 (comparable valuation to recent highs) being breached on any significant set of new deals and/or expansion into an immediately addressable market for its technology, foreign or domestic. Cowen put a 2017 revenue figure for Plug at $350M between sales and service, which we think will turn out to be low given Plug's developments since that note. Our own estimates based upon Wal-Mart and other distribution center expansion, access to Asia through Hyundai Hysco, access to Europe through shareholder Air Liquide and others (incentives for fuel cell conversion in Europe are plentiful) and continued penetration into the material handling market - in particular vehicles for baggage handling, is closer to $500M. We see a Plug valuation in 2015 at or near $2.5b or about $15.50/share.
Plug stock has been volatile so it makes sense in our view to buy and trade around a core position. The important thing is that we now see more stability ahead for Plug as it continues to grow and penetrate its addressable markets, markets which may well expand in number. At the current price, we think Plug is an excellent buy.
Disclosure: I am long PLUG. I wrote this article myself, and it expresses my own opinions. I am not receiving compensation for it. I have no business relationship with any company whose stock is mentioned in this article.