Durata Therapeutics (NASDAQ:DRTX) is up for FDA board pending approval decision for its drug Dalbavancin. Dalbavancin is used to treat Acute Bacterial Skin and Skin Structure Infection (ABSSSI). Durata bought Dalbavancin back in September of 2009 from Pfizer after it received a Complete Response Letter from the FDA.
Dalbavancin's Advisory Committee (Anti-Infective Drugs Committee) was approved with a unanimous 12-0 vote. It has been accepted for priority review by the FDA on May 26th.
Anti-Infective Drugs Committee History
The Anti-Infective Drugs Committee had a string of successful post ADCOM FDA approval since September of 2010. Here is a list of previous ADCOMs from this same committee from 2008-2013.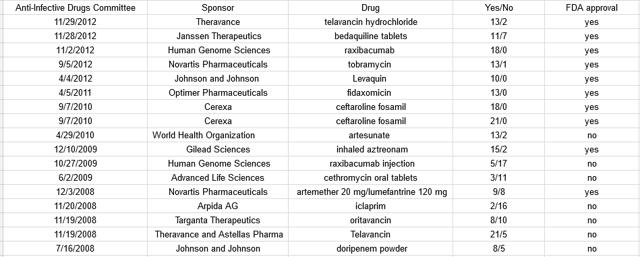 Source: FDAtracker.com
The FDA had approved every drug that went through the Anti-Infective Drugs Committee since September 2010. Every drug that had 0 "no" votes during ADCOM had been approved by the FDA. This is an encouraging sign that the Durata will get their approval to market on May 26th. However, there are not enough data in this one committee to make meaningful statistics. We should take that 100% approval statistics for 0 "no" votes with a grain of salt.
All ADCOMs History
Combining all the different committees gave us over 200 data points to have a better idea of approval probabilities. It should be obvious that the higher % of yes votes usually correlate to higher chance of FDA approval. However, there are still 6 ADCOMs with perfect votes that were still rejected by the FDA.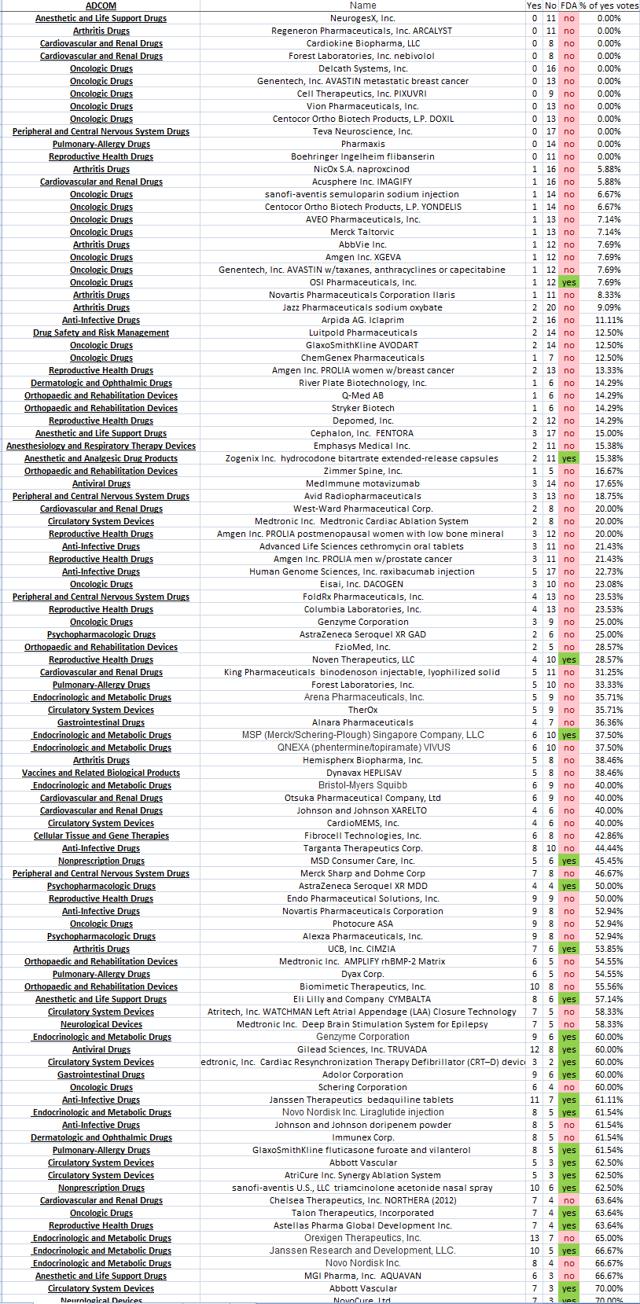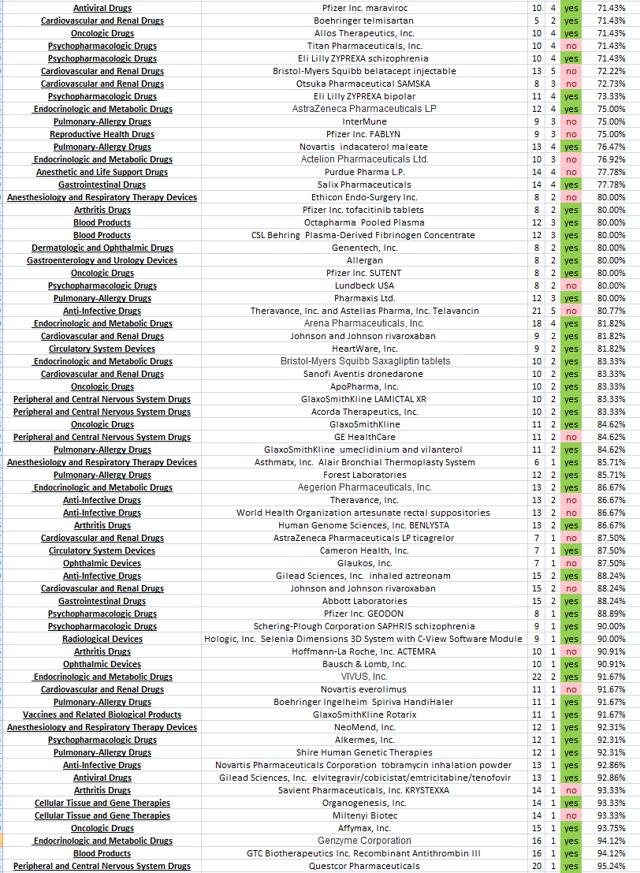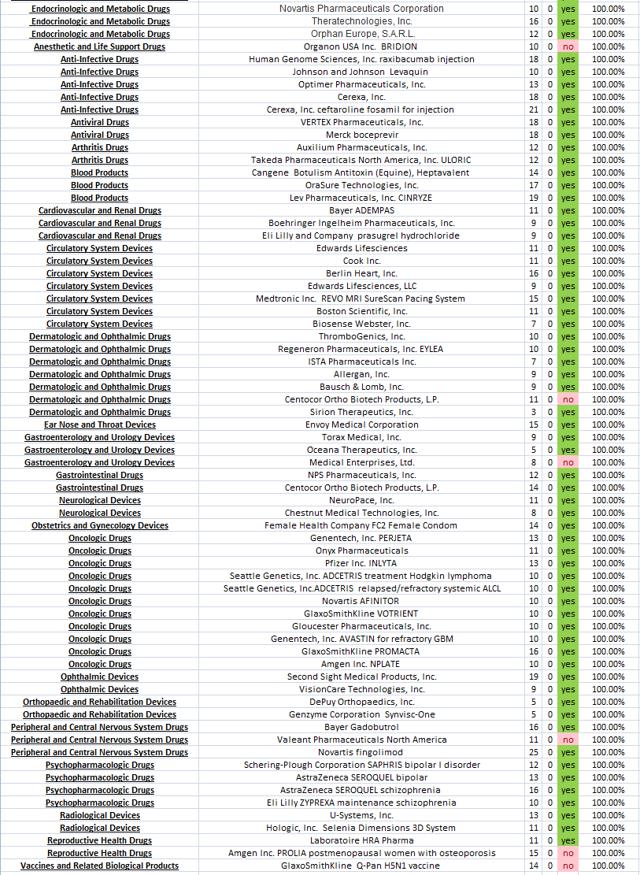 Source: FDAtracker.com
The data show a linear relationship between ADCOM votes and FDA approval. At 100% ADCOM results, there's over 91% chance for FDA approval.

Investors should note that FDA rejection for the 9% of ADCOM that had perfect votes were not random by any means. I discussed half of them here in my previous article.
Strategy Using Options
ADCOM results were promising. However, any investor in biotech should know that it is a high-risk/high-reward type of speculative investment. At this point, probability favors those who held long positions well before the ADCOM date. With their low entry price, they would lose less compared to someone looking for an entry.
This is where smart investors use options to limit their risks at the cost of some gains. If the FDA issue a CRL, we will see likely see the share price take a massive dive to $9 and below. If we get approval, shares will probably shoot past $17 for at least a few days. There's no telling what exactly will happen but this is just from my observation of past FDA approval/rejection. I would buy just call options since approval is more likely than not.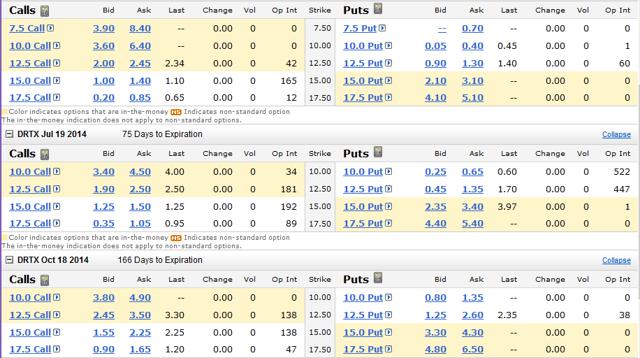 Looking through the call options, the most attractive options are at $12.50 or $15 strike price. I would choose the Oct 2014 expiration in case the FDA delay the meeting. This has happened to MannKind (NASDAQ:MNKD) recently with their drug, Afrezza that probably cost many investors using options. All those high-priced call options in April expired worthless due to a delay.
Buying only options is usually a hit or miss speculative educated guess that result in all-or-nothing outcomes. If you make the right call, you can net big gains. I highly suggest any investors taking this strategy to only buy what they can afford to lose. While data suggest 91% chance of approval, 9% chance is still a pretty high probability to lose everything you put in. If you are new to the options game, please be mindful that most options end up expiring worthless.
If I buy the $12.5 at $3.30, I can see my option be worth over $6.50 if Durata gets FDA approval. If not, I will lose all of that $3.30 because the share price will retrace itself under $9 and my option will be worth about 1 cent if anyone even wants to buy it. Basically, my investment will either end up double or nothing. With an overwhelming chance of it being approved, I see no point in wasting more money buying puts for a straddle position. Puts are not that cheap at ~$2.50 for $15 strike expiring May 2014. If you want to buy puts to be safe, I recommend the cheaper $10 strike puts. The only time I recommend a straddle position is when a stock has constant volatility both directions. Stocks like Tesla (NASDAQ:TSLA) are perfect for a straddle if you time when you buy our calls and puts.
Final Thoughts
May 26th is only a few weeks away. Many investors are probably reducing their position to lower risks. This could represent an opportunity for a dip especially closer to approval date as investors get more nervous about their positions. I recommend any investors looking for an entry in long positions or options to wait for those dips to buy in. On the other hand, I do wish for Dalbavancin to be approved for treatment of ABSSSI. Good luck to all investors. I hope the information I presented calm the nerves of those long position holders. For those that are entering, there's still opportunities to make money.
Disclosure: I am long MNKD. I wrote this article myself, and it expresses my own opinions. I am not receiving compensation for it (other than from Seeking Alpha). I have no business relationship with any company whose stock is mentioned in this article.
Additional disclosure: I have no positions in DRTX, but may initiate a long position or call options over the next 72 hours.