The long-anticipated IPO of Chinese search engine Alibaba (ABABA) may be filed in early May. Many investors have watched this fast-growing company for months, waiting for the announcement to take advantage of a good entry point to get in on this giant in the Chinese economic community.
It is expected to be the largest IPO ever offered, eclipsing Facebook (NASDAQ:FB), Visa (NYSE:V) and the Agricultural Bank of China.
With Yahoo's current 24% stake in Alibaba nearing potential valuation of $36 billion, the global tech company and search engine giant could have a dizzying array of options post-Alibaba's IPO.
Alibaba's Rise to Prominence
Although Alibaba may not be a recognizable name for consumers in the United States, it is one of the hottest Internet marketplaces in the world, second only to Amazon (NASDAQ:AMZN). Alibaba was the brainchild of Jack Ma, a Chinese teacher who understood the growing influence of the Internet in business-to-business transactions. He began the site in 1999, and it quickly became the preferred site for Chinese businesses to find products and services to make their own enterprises more profitable.
It branched out to Taobao, a consumer-to-consumer site similar to Ebay, and then to Alipay, an online money escrow service. In 2013, Alibaba sold $240 billion in merchandise, making it a powerhouse of the Chinese business-to-business marketplace. Cloud computing is also a part of the Alibaba Group's services.
See our previous article for more information.
The Yahoo/Alibaba Alliance
Noting the growing influence of Alibaba in the Chinese economy, Yahoo (NASDAQ:YHOO) made its move to join in on the success of the new Internet company. It purchased a 40 percent stake in Alibaba, and the company helped to increase Yahoo's assets steadily since that time.
Over a period of years, Yahoo's shares have dwindled to 24 percent, which will be further cut in half at the onset of the IPO. Even so, if Alibaba does well in its IPO, Yahoo's stake could be as large as $36 billion.
The partnership has had its share of stresses, and fears about a slowdown in revenue from Alibaba have been evident. Although recent reports from Yahoo have allayed some of these fears, Yahoo may be currently involved in looking for a way out of the one-year freeze in their shares that will take place once the IPO begins.
Alibaba's Growth
Allaying fears of Alibaba's slowed growth, the Yahoo report indicated that Alibaba reported a 51 percent gain in third-quarter earnings compared to the previous year. Fourth-quarter earnings for Alibaba were aided by sales for Singles Day, the equivalent of Valentine's Day in the west, with earnings 80 percent higher than the year before.
As manufacturing money begins to flow through the Chinese economy, these sites will see even bigger gains in consumer sales.
Alibaba recently partnered with Tesla as well-signaling the company's continued branching out, integrating, and competing with international partners. Other partnerships include stakes in e-commerce site ShopRunner, which rivals Amazon Prime's free-shipping service.
IPO Outlook
As China's middle class becomes more connected to the Internet and online buying, the company is poised to continue its growth well into the future. The massive influx of cash from the IPO could put Alibaba in line to take on buyers from Ebay and Amazon as well, creating a worldwide consumer community with enormous potential.
China's ability to produce scientific and technological innovations in the future is another factor that will help Alibaba to be one of the investment stars in both the short and long term.
What's Next For Yahoo? (And Yahoo Investors)
The likely boost from Alibaba's IPO should support CEO Marissa Mayer's priority to improve Yahoo's main business of search and display advertising, which has seen lackluster financial results, while competitor Facebook (NYSE:F) has jumped ahead in the arena.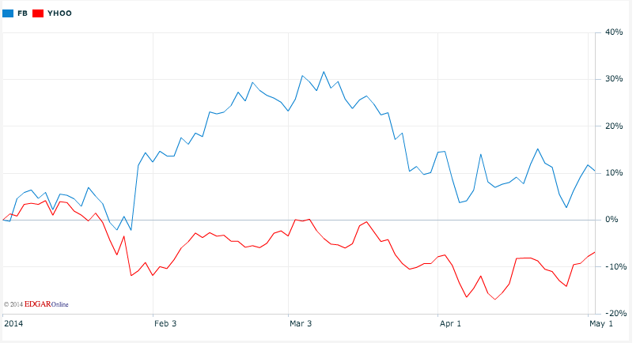 (Nasdaq.com)
Yahoo still has yet to post growth, competitive with Facebook's, with regards to mobile, video, and in-stream ads.
In fact, Yahoo has struggled to post growth at all, with revenues down to $4.68 billion in 2013 from $4.98 in 2012. Income thus far in 2014 has fallen 84% from the same time last year.
While investors should take heart that the impending Alibaba IPO will boost the value of their holdings at least temporarily, if Yahoo does not prove it is turning around its core business in the coming quarters, investors might consider taking some profits from their Yahoo shares when Alibaba goes public.
Disclosure: I am long YHOO. I wrote this article myself, and it expresses my own opinions. I am not receiving compensation for it (other than from Seeking Alpha). I have no business relationship with any company whose stock is mentioned in this article.