Vivus (NASDAQ:VVUS) will announce its Q1 earnings today after the close. The company has had a very challenging 2013 and thus far 2014 has not brought about brighter days. A year ago the equity was at $15 a share, while the more recent price has been hovering around 52 week lows at just over $5 per share.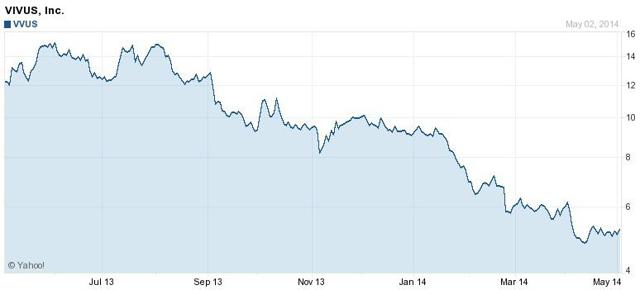 Chart Source - Yahoo Finance
The biggest question on the mind of many Vivus investors is whether or not this company has bottomed out and when or if it can recover. Part of the answer to that question may well be delivered today as the company reports earnings.
Vivus has two drugs on the market currently. Qsymia is an anti-obesity drug that has been selling for about 20 months but seems to have stalled in sales with weekly script sales not yet able to pass 11,000. Qsymia competes with phentermine (one of the ingredients in Qsymia) and Belviq from Arena Pharmaceuticals (NASDAQ:ARNA). Belviq has been on the market for 11 months, and while its sales are still lower than Qsymia, it now has the support of a national television advertising campaign which has spurred awareness of the drug. Belviq sales could surpass Qsymia for the first time in the next few weeks. Adding yet another layer to the competitive landscape is Orexigen (NASDAQ:OREX) with its anti-obesity drug Contrave. Orexigen is anticipating an FDA decision on Contrave next month and perhaps even a decision in Europe in Q3. It will be interesting to see the opinion of Vivus management on the competitive landscape and how the company intends to drive sales of Qsymia.
Another drug that Vivus has on the market is the erectile dysfunction drug Stendra. Stendra, a novel drug approved in 2012 hit the market in January of this year (there were modest Q4 sales) via marketing partner Auxilium. Early reports are that sales of the drug have been pretty good, and this may offer a surprise to Vivus investors during the quarterly call. The details of the deal with Auxilium have not been disclosed, so the call today will offer the first real insight on what type of revenue Vivus will get from U.S. sales of Stendra. Auxilium, the marketing partner for Stendra announced that Q1 sales of the drug were $11.6 million.
STENDRA U.S. net revenues of $11.6 million (revenues are recognized by the Company at the time product is shipped to wholesalers) - initial product launch traction is positive with STENDRA already gaining a 6.0 percent share of all new PDE5 prescriptions and a 2.3 percent share of total PDE5 prescriptions amongst Auxilium's target physician population, those doctors responsible for 45 percent of all PDE5 prescriptions
The street is expecting Vivus to announce a loss of $0.37 per share on revenue of $11 million. In Q4 of 2013 the company did $9.2 million in revenue from the sales of Qsymia. Q1 Qsymia sales should better that number by a decent margin, giving an opportunity for Qsymia sales alone to get the company to the $11 million anticipated by the street. This offers up a potential "beat-the-street" quarter on revenue from Stendra sales. The key here is how much of the sales revenue of Stendra Vivus actually gets. Vivus has no partner with Qsymia, so all revenue is kept by the company.
Will Vivus potentially beating the street be enough to allow this equity to rise? In my opinion that depends on what the revenue from Stendra sales comes in at or a much more clearly defined marketing path for Qsymia.
Vivus finished 2013 with about $103 million in cash and $240 million in securities available for sale. The securities, if brought to market, will dilute the share count in what could be a meaningful manner. This is one of the main cautions with Vivus at the moment. The company has some substantial expenses to contend with, and a competitive environment in both the anti-obesity space and erectile dysfunction space do not make things easy.
The current Vivus market cap is about $550 million. If the company can outline a definitive plan on how it will increase revenues, license products, or garner additional approvals in other countries, the equity may be able to appreciate. If the street does not see these answers, it could be a long Q2 for Vivus investors. Stay Tuned!
Disclosure: I am long ARNA. I wrote this article myself, and it expresses my own opinions. I am not receiving compensation for it (other than from Seeking Alpha). I have no business relationship with any company whose stock is mentioned in this article. I have no position in Vivus or Orexigen