By Paul Curbo, Portfolio Manager, Invesco Real Estate
Competing forces dictated slightly negative performance both in the U.S. and globally for the fourth quarter of 2013. On the positive side, companies are experiencing increased cash flow growth as real estate fundamentals improve. Likewise, economic data - a reliable long-term indicator of tenant demand - are improving. On the negative side, the headwind of rising interest rates buffeted performance. But we believe investors have overreacted a bit by viewing real estate as an income-only investment without appreciating the sector's growth potential. For 2014, we anticipate improving economic fundamentals will increase real estate demand and will result in cash flow growth to investors.
Global good news
We're in a very good fundamental environment. As the chart below indicates, most markets around the world are in the accelerating rental growth phase, or at least in the positive rental growth phase. While moderation will likely occur as new construction comes back on the market in some developed areas, improving fundamentals globally should generally provide underlying long-term support for the overall sector.
Key Market Fundamentals Likely to Improve at Different Times Across Regions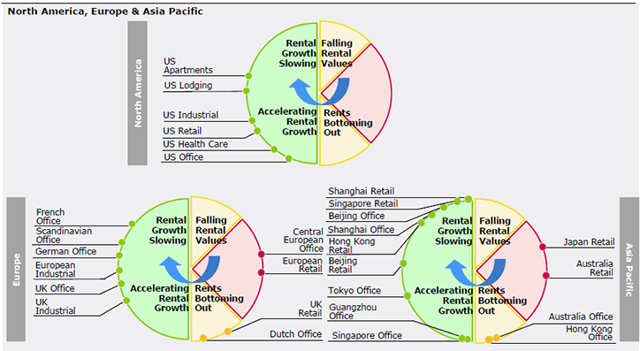 Source: Invesco Real Estate as of Dec. 31, 2013, based on internal research. For illustrative purposes only.
Regional catalysts, however, will affect the pace and timing of improving fundamentals. Areas to watch carefully include:
Europe, where additional economic stimulus from the European Central Bank could potentially lead to a rally in some lower-quality or deep-value high yield names.
China on two fronts - gross domestic product (GDP) growth and tightening liquidity domestically. Specifically, the unpredictable investor response to tightening will set the stage for potential growth or slowdown.
Japan, which is trading at a premium to underlying asset values. Key considerations are the effect of the newly imposed consumption tax hike on economic growth and implementation of policy changes to support growth over the longer term.
On the whole, though, fundamentally we feel very good about where things are heading from a tenant demand and supply point of view.
Valuation opportunities positive
In our view, the valuation opportunity is positive -both in the U.S. and globally. As the chart below shows, U.S. REITs and the overall global real estate securities market is trading at a 5% discount to their underlying asset values.
Valuations Remain Positive Overall Despite Variations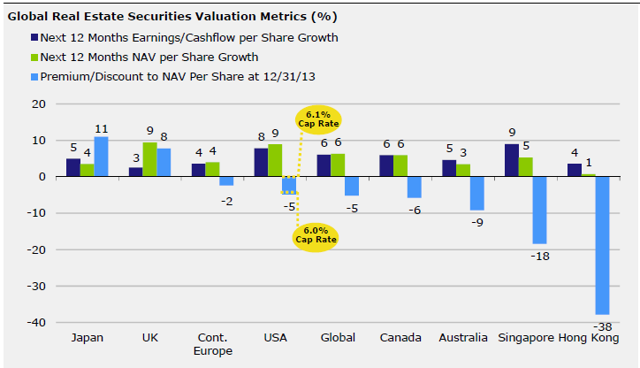 Source: Invesco Real Estate. Estimates based on consensus data as of Dec. 31, 2013. The U.S. net asset value ((NYSE:NAV)) discount is based on third party provided 6.0% nominal cap rate. If the cap rate is 6.1%, the current U.S. valuation would be a 0% premium. If the cap rate is 6.1%, the current global valuation would be a 3% discount.
In some areas, the discount is very wide. Hong Kong, for example, was trading a 38% discount (as of Dec. 31, 2013) to the underlying asset value, while Singapore traded at an 18% discount. In contrast, other areas were trading at premiums, including Japan and the U.K.
But, in our view, investors also need to focus on the growth aspect. We anticipate 6% cash flow growth globally over the next year, resulting from increases in occupancy and rent, as well as development and redevelopment deliveries, that should spur growth over time.
Since the Global Financial Crisis, public real estate companies have benefited from the following factors, which we expect will be less significant going forward:
Acquisitions, which will likely be less active going forward, particularly in the U.S.
Refinancing debt, which has provided growth for many companies as interest rates were quite low over the last several years. But that's not a repeatable source of growth. It is more of a onetime benefit.
We expect these factors will drive growth in the future:
Continued global economic growth.
Continued positive job growth. In the U.S., sustainable job growth of more than 200,000 a month would be very positive for economically sensitive sectors.
In addition, we believe these are key watch points that will affect the 2014 outlook:
The removal of significant fiscal headwinds in the U.S. The headwinds that subtracted an estimated 1% to 1.5% from economic growth during 2013 have been largely eliminated, boosting consensus forecasts.
Interest rate movement and monetary policy in the U.S., particularly the pace of tapering. In our view, interest rates could increase moderately without a significant impact on valuations in general.
Continued decrease in the unemployment rate.
REITs and rising rates
Although REITs have historically tended to underperform the broad market as measured by the S&P 500 Index when interest rates begin increasing, they have outperformed the broad market by an average of nearly 20% in the year after the initial sell-off (Source: FactSet as of June 30, 2013). As of Dec. 31, 2013, preferred yields in the REIT space are about 7.0% - a yield last seen when the 10-year Treasury was above 4%. With the 10-year Treasury currently below 3%, we believe that preferreds still have room to do well despite rising interest rates. And they have done well as of March 6, 2014, recovering to about 7% so far.
As you can see from the chart below, the U.S. REITs overall were trading at an approximately 5% discount to their underlying asset value at the end of the fourth quarter. We've found the most attractive discounts in apartments, malls, office space and shopping centers, which have good growth characteristics and offer very attractive valuation, in our view. The industrial sector has also offered opportunities that we believe have long-term compelling growth characteristics both from internal and external sources. Health care and the freestanding sectors, in contrast, have a much flatter income profile and are much more dependent upon acquisitions to drive growth.

Apartments, Malls, Office Space and Shopping Centers Offer Attractive Valuations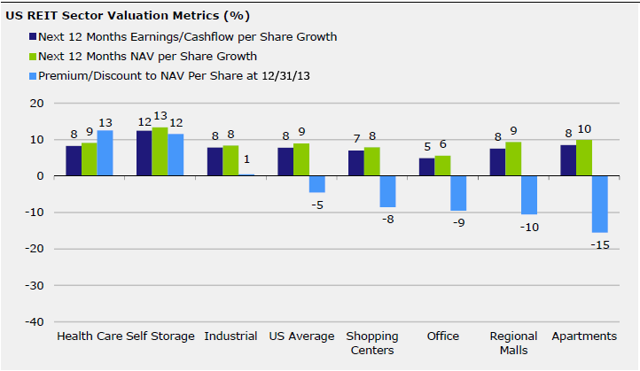 Source: Invesco Real Estate estimates based on consensus data and Green Street Advisors data. For illustrative purposes only. Weighted average (weighted by NAV*shares outstanding) of all U.S.-listed companies in Green Street's coverage universe, excluding Hotels and those without a published opinion.
What investors may not realize is that increasing interest rates and an improving economy are good things for real estate over the long term. It's important to keep in mind that real estate equities are not fixed income instruments; they have growth characteristics that tend to get rewarded by the market over the longer term.
In our view, when rising interest rates have a negative impact on REIT prices, it may present a good time to consider rebalancing portfolios away from overpriced sectors and into undervalued REITs. In general, an improving economy and rising interest rates are likely required for real estate to perform well over the long term.
Focus on development
We are particularly focused on development capabilities because companies that deliver projects through development or redevelopment will generate long-term excess earnings or cash flow growth that is less dependent upon the capital markets, but on real estate expertise. Development makes economic sense when improving fundamentals support it.
North America Offers Development-Focused Opportunities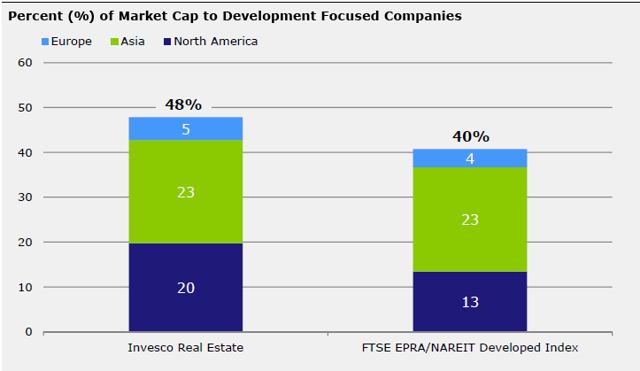 Source: Invesco Real Estate as of Dec. 31, 2013. Illustrates exposure to development focused companies based on equity market capitalization. This is an internal IRE definition with a development focused company defined as possessing greater than 10% of NAV exposure to development projects.
The chart above shows Invesco Real Estate's increased exposure versus the FTSE EPRA/NAREIT Developed Index to companies with development capabilities - that is, the companies we have invested in have a higher proportion of their asset value focused on development - in certain regions that we believe will provide long-term positive results. Furthermore, many of these companies are not currently trading at much higher earnings multiples despite having greater exposure to future growth. This exposure is focused primarily on North America, where we believe companies may experience a greater benefit from development in the current economic landscape.
Outlook for 2014
We feel very good about the cash flow growth prospects for the sector overall. In general:
Fundamentals are still fairly good because of delayed response in new construction, as a result of somewhat muted lending environment.
In this environment, a company's ability to grow from refinancing debt or through acquisition becomes less predictable and less valued by the market.
Internal growth that comes from increases in rents or occupancy rates seems to become more valued by the market, and the ability to develop or redevelop may also become a bigger factor in relative performance.
As always, we believe that paying virtually the same valuation for companies that have better balance sheets, better fundamental real estate characteristics and better growth characteristics is a recipe for outperformance over the long term.
About Risk
The opinions expressed are those of the author, are based on current market conditions and are subject to change without notice. These opinions may differ from those of other Invesco investment professionals.
All material presented is compiled from sources believed to be reliable and current, but accuracy cannot be guaranteed. This is not to be construed as an offer to buy or sell any financial instruments and should not be relied upon as the sole factor in an investment-making decision. As with all investments, there are associated inherent risks. Please obtain and review all financial material carefully before investing.
The S&P 500® Index is an unmanaged index representative of U.S. stocks. The FTSE EPRA/NAREIT Developed Real Estate Index is an unmanaged index considered representative of global real estate companies and REITs. An investment cannot be made directly in an index.
| | | |
| --- | --- | --- |
| NOT FDIC INSURED | MAY LOSE VALUE | NO BANK GUARANTEE |
All data provided by Invesco unless otherwise noted.
Invesco Distributors, Inc. is a U.S. distributor for retail mutual funds, exchange-traded funds, institutional money market funds and unit investment trusts.
Invesco unit investment trusts are distributed by the sponsor, Invesco Capital Markets, Inc. and broker dealers including Invesco Distributors, Inc. These Invesco entities are indirect, wholly owned subsidiaries of Invesco Ltd.
©2014 Invesco Ltd. All rights reserved.
Disclosure: The information provided is for educational purposes only and does not constitute a recommendation of the suitability of any investment strategy for a particular investor. The opinions expressed are those of the author(s), are based on current market conditions and are subject to change without notice. These opinions may differ from those of other Invesco investment professionals.