"Investment is most intelligent when it is most businesslike" -Benjamin Graham in his book, The Intelligent Investor.
Graham did not state that investment is most intelligent when it is political-like or market-like, even though politics and market behaviors can have huge influence on stocks. Instead, he firmly believed that an intelligent investor should adopt a business owner mindset instead of a speculator mindset. This business owner mindset is also shared by Warren Buffett, the most successful investor of our time.
Yandex's (NASDAQ:YNDX) stock has been greatly impacted by political events in the past 3 months-including the Ukraine Crisis, the sanctions on Russia, and president Vladimir Putin's intention to have stronger internet control. In response to these political events, the stock dropped 38% year-to-date even though the company had strong revenue and net income growth for the same period, according to its Q1 2014 financial release. The stock market tends to focus on market headlines and short-term negative events, and to sell off stocks even when they have great fundamentals and long-term prospects.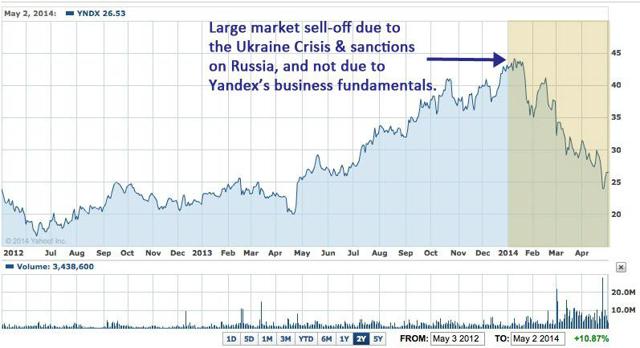 For long-term investors who like to invest for the long-term and focus on business fundamentals, Yandex's recent market sell-off can be a great buying opportunity. This is because its current stock price is substantially undervalued relative to its intrinsic value as well as to its peers [Google (NASDAQ:GOOG) (NASDAQ:GOOGL) and Baidu (NASDAQ:BIDU)]. I have estimated Yandex's intrinsic value to be much higher than its current stock price (I will provide my estimates later on). And if the Ukraine Crisis and Russian sanctions do not impact Yandex's fundamentals and long-term prospects, the stock will eventually recover due to Yandex's increasing earnings.
Yandex is a Wonderful Business With Great Long-Term Prospects
Yandex-the Russian Google-is the most popular internet search engine in Russia with the largest market share (see image below). Its market share was 61.9% vs. Google's 27.6% for Q1 2014. Like Baidu, Yandex dominates its domestic market because of its greater brand presence, its superior search technologies in linguistic understanding of search queries as well as website content, and its greater acceptance by domestic internet users. Perhaps, the political and regulatory environment of Russia also leads to more users using Yandex instead of Google. This is similar in China in that most internet users also use Baidu instead of Google. Russia and China are two large markets that Google has failed to dominate year after year.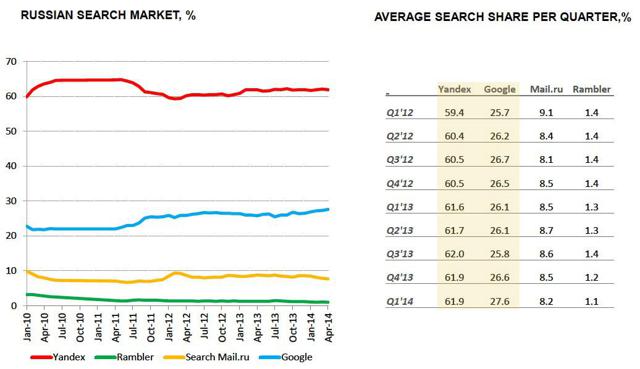 Yandex has favorable economic prospects as it is benefiting from the internet sector growth in Russia. Russia's population is around 142 million according to the World Population Review. And its penetration rate is expected to grow from 58.2% in 2014 to 66.3% in 2017 according to eMarketer, Nov 2013 (see image below).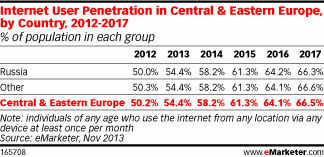 Source: eMarketer, Nov 2013.
The Internet penetration rate in Russia is lower compared with the U.S. and other developed countries. Moreover, its online advertising and eCommerce industries are still in their early growth stages. This means that Yandex's text-based advertising revenue (its main source of revenue) should continue to grow as more people have access to the internet via PC and mobile devices and as more businesses shift their ad budgets from offline to online advertising (see image below).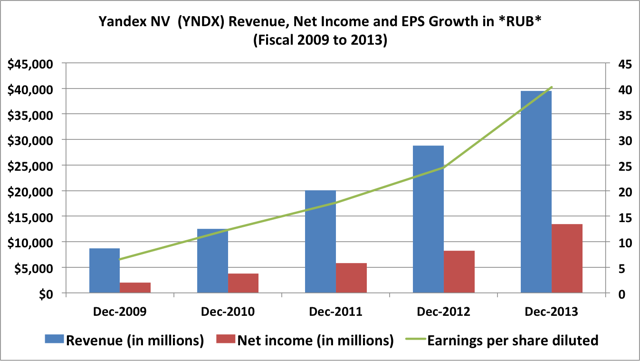 Yandex's Intrinsic Value vs. Its Stock Price vs. Its Peers
In terms of intrinsic valuation (the company's business worth), I have estimated Yandex's intrinsic value based on three scenarios: optimistic, fair and pessimistic valuations (see image below).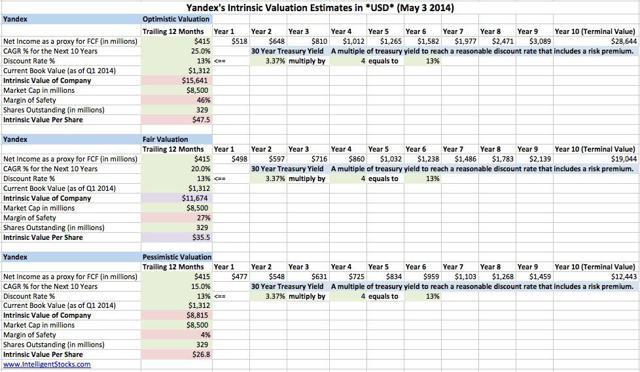 Based on the fair valuation scenario, I believe Yandex's fair intrinsic value is around $12 billion in market cap or $35.5 per share, which suggests that the stock is undervalued by about 27% at the time of writing. This scenario assumes that Yandex's net income will grow at a compound annual growth rate (CAGR) of 20% for the next decade. (Note that Yandex's net income growth in RUB was much higher for the past five years.)
If Yandex's net income grows at a CAGR of 25% for the next decade, its current intrinsic value should be around $16 billion in market cap or $47.5 per share, which suggests that the stock is undervalued by about 46% at the time of writing. However, I would rather be more conservative in my estimates and value the company to be around $12 billion in market cap or $35.5 per share than choosing the most optimistic scenario.
In terms of valuation comparison, Yandex is much cheaper than its peers (Baidu and Google) in terms of price-to-earnings (see image below).

Ukraine Crisis and Political Risks on Russian Stocks
At this moment, Yandex's biggest risks are political and macroeconomic risks instead of competition risk from Google. First, the G7 leaders' sanctions on Russia over the Ukraine Crisis may impact Russia's overall economy and will likely cause Russian stocks to be very volatile. Second, the upcoming presidential election in Ukraine on May 25 will be a significant event that may impact Russian stocks. Third, the Russian President Vladimir Putin has announced that his government wants to have greater control over internet companies-such as Yandex, which I believe will be similar to China's internet censorship (source: Bloomberg).
While I do not know the ultimate outcomes of these political events, I believe that Yandex's business fundamentals and economic moats will not be affected and that its earnings should continue to grow in the long-term as more people use the internet and as more businesses invest in online advertising in Russia.
The Bottom Line
Yandex is a wonderful business that is traded at a bargain price. While the stock has dropped significantly this year, the company still has strong fundamentals, economic moat and long-term prospects. In the short-term, Yandex's stock performance will continue to be impacted by the Ukraine Crisis and Russia's political standoff with the West. But in the long-term, I believe that the stock will eventually recover and that it should increase substantially over time due to the company's increasing earnings.
Sources: Yandex Q1 2014 Earnings Release & Slides, Yandex 2013 Annual Report, Bloomberg, Yahoo Finance, Morning Star, eMarketer, World Population Review and Intelligent Stocks.
Disclosure: I am long YNDX, GOOGL, BIDU. I wrote this article myself, and it expresses my own opinions. I am not receiving compensation for it (other than from Seeking Alpha). I have no business relationship with any company whose stock is mentioned in this article.