Medical Marijuana, Inc. (OTCPK:MJNA) hasn't said a word about it, but a careful read of the SEC filings of Axim International (OTCQB:AXIM) indicates that MJNA will soon spin out its stake in a joint venture. MJNA's operating results have been lackluster, and the company likely feels pressured to generate additional non-operating revenues in order to avoid the appearance of declining fundamentals. MJNA reported 2013 net income of $24.6mm, but over 99% of these "profits", the vast majority of which is illiquid stock that has never been sold, was from the CannaVest (CANV) transaction (source: annual disclosure).
The Axim Transaction
First, I would like to thank 420 Investor member "jerryg" for alerting me, as this seems to have eluded not only me but the rest of the MJNA investor base as well. AXIM is a Nevada-based company with little history of success. It's recent 10-K (the company is an SEC-filer) indicates no employees, total assets of $57K, negative equity and $75K in revenue in 2013.
MJNA and the officers of Canchew Biotechnologies (Dr. George Anastassov, Dr. Philip Van Damme and Lekhram Changoer) have acquired voting control via preferred stock as well 91% of the common stock of the company, according to a Schedule 14-C filed on May 2nd. The company has 33mm shares outstanding, and it has increased the authorized shares from 200mm to 300mm. This change, along with the corporate name change to Canchew Biotechnologies, will take place on the 20th day following the mailing of the information (presumably May 20th). MJNA and the Sanammad Foundation (controlled by Anastassov, Van Damme and Changoer) are listed as each owning 14.944mm shares each as well as 500K each of non-convertible Preferred Stock with 100 votes per share.
This Schedule 13D filing indicates that MJNA paid only $34,800 to buy the common shares ($0.0023 per share) and voting stock, which is the same that Sanammad paid per its filing. The bios of the three gentlemen from Sanammad who serve as the officers of the company are described here.
What is Canchew Biotechnologies?
MJNA announced the purchase of 50% of Canchew Biotechnologies in June 2012, failing to live up to its intention to " begin production of the CBD-based gum, and in states where legally allowed a THC-infused product, within the next 90 days." In fact, the first shipment to consumers of just the CBD-based product was delayed until the summer of 2013. In July of 2012, the company announced it would begin shipping the CBD-based product on 10/1/12, and described the rollout:
We expect the CanChew product line to be available at select retail locations throughout Colorado, California, Arizona and Washington DC by Q4 2012.

Continued distribution throughout North America and Europe will commence no later than Q1 2013.
In November, 2012, President Ted Caligiuri promised an early 2013 "full-blown launch" that again was delayed (note that Caligiuri departed in early 2013). The company announced wholesale shipments in June 2013 and booked less than $10K sales in Q2. The results for the CBD-infused gum have been disappointing at best. Total sales for the year were just $145K according to the annual disclosure. Based on the prior two filings, it appeared that the sales were about $101K in Q4 ($9801 in Q2 and $33,887 in Q3), but the quarterly information in the annual disclosure and the press release both indicate that sales were only $57K (perhaps there was a change in the Q2 results that wasn't disclosed by the company). The lack of Q4 sales traction was surprising given the international distribution agreement announced last August that called for $2mm per year in minimum in wholesale purchases by ARITEX AG.
The big appeal of the technology was that the company purported to have patents on the delivery mechanism, and many investors were excited about the prospects of THC-infused gum. Not only has the company never shipped any THC-infused product, but it has never sold the 47mm shares allocated for R&D at the beginning of 2013, with no clear explanation for this delay. The company stated that it is on track to begin the trials in 2014, with completion expected within three to five years.
The bottom-line is that this acquisition has missed on timing and on financial impact, with little indication of tangible success. I have monitored the term "Canchew" for more than a year using Google News alerts with almost no alerts generated (except MJNA press releases). In the most recent press release describing the unit, MJNA didn't share any comments about the company beyond the reported sales and the indication of clinical trials. Earlier in the year, it stated:
In the United States, CanChew CBD-rich hemp oil gum is available for purchase online. Each piece contains approximately 10 mg of naturally-derived industrial hemp-based cannabidiol ("CBD"). In the fourth quarter, the Company continued to gain market traction and public awareness while it finalized its clinical development plans. The Company is focusing on establishing celebrity and medical professional endorsements in the near future, as well as developing additional product distribution channels.
Subsequently, there has been no indication of these endorsements or additional product distribution channels.
Value Creation or More Obfuscation?
Those who follow MJNA will recall and those who don't should review the CannaVest transaction from 2013. The recent Forbes exposé does a great job of providing the details. As I initially reported over a year ago, this was a questionable transaction from the onset. The bottom-line on CANV is that MJNA didn't end up with control, as COO Sides indicated it would, that the sales have been abysmal (and the operating cash flow much worse) and that the only winner has been insider Stuart Titus, who booked $7mm in sales at sky-high prices, and other insiders who have bought stock at $1 or less through private placements or debt conversions. It remains to be seen exactly how this new "deal" will play out, but investors should be leery of any promised benefits from the spin-out. Quite simply, Canchew Biotechnologies has been a big disappointment, and creating a separate trading vehicle won't change the prospects for that company. More likely, this transaction is intended to fill the void in net income following the one-time benefits of the CANV transaction in 2013.
MJNA carries its 50% ownership in Canchew at $6.559mm as of year-end. At year-end 2012, the value was $1.25mm (source), with the difference being the 47mm shares of MJNA that the business holds that have yet to be sold. At this point, since the company hasn't shared any details, it's not yet clear if MJNA will put the 47mm shares held on its balance sheet to fund R&D into AXIM. Presumably the shares will be transferred, as they are part of Canchew Biotechnology presently. This would allow the new company to fund the research that MJNA has indicated would transpire this year. If not, this would give MJNA additional shares to use for other purposes, as the current shares outstanding are just below the management-imposed share cap of 950mm.
AXIM isn't trading with any sort of liquidity yet, with the last trade reported at $0.25 per share on 3/28 (20K shares). Recall that the CANV deal was priced at $5 with a $4.50-6.00 collar, though CANV shares were purchased by insiders just prior to the transaction at about $0.05.
I have not reached out to management at MJNA, as the last time I attempted to have a discussion with the company I was told that I would need to sign a non-disclosure agreement. In any event, the information I have conveyed is all in the public domain and cited.
Conclusion
Investors in MJNA are a patient lot, no doubt. The stock, which closed below the 200dma, has gone nowhere in the past year: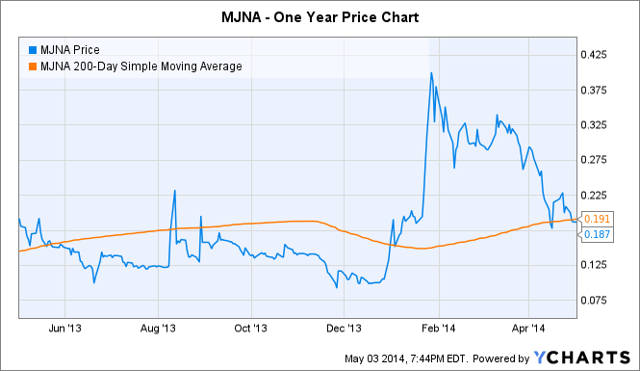 The company entered into the CANV transaction in 2013 in an apparent attempt to make the business look better than it really was, providing guidance in early 2013 that called a one-time asset sale "revenue", a transaction that has yet to put much cash in the coffers. Investors caught on pretty quickly and probably won't fall for such a gimmick again. This AXIM deal looks like the proverbial lipstick on a pig.
Disclosure: I have no positions in any stocks mentioned, and no plans to initiate any positions within the next 72 hours. I wrote this article myself, and it expresses my own opinions. I am not receiving compensation for it (other than from Seeking Alpha). I have no business relationship with any company whose stock is mentioned in this article.
Editor's Note: This article covers one or more stocks trading at less than $1 per share and/or with less than a $100 million market cap. Please be aware of the risks associated with these stocks.