By Boyd Erman
It's the morning after a bad, bad day for Manulife Financial Corp. (NYSE:MFC), and it appears the pain isn't going to stop.
Analysts, with a night to think about just what led to Manulife's record loss, which blindsided the market, are piling on and cutting estimates.
The stock is down another 2%, and to add insult to injury, the two things that hurt Manulife's earnings so bad are getting worse Friday morning. (Click to enlarge)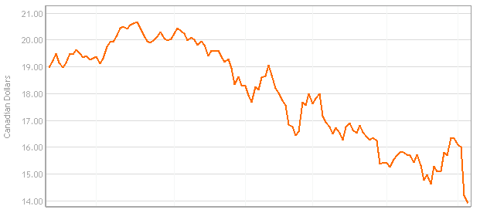 Stocks are falling, squeezing Manulife because it has sold products based on stocks that have guaranteed returns. And interest rates, which also hurt Manulife when they are falling, are doing just that as well after underwhelming employment numbers in the U.S. and Canada.
The U.S. two-year note touched an all-time low just under 0.50% and the the 10-year note yield dropped as far as 2.84%, the lowest level since April 2009.
Analysts said Manulife stock will likely become exceedingly sensitive to market moves now as investors understand just how tightly correlated the companies earnings are with markets.
Desjardins analyst Michael Goldberg cut Manulife to "hold" from "top pick" and cut the price target to $18 from $20. He said that the company will "remain highly sensitive to equities and interest rates over the medium term while lifeco investors seek more stability. This likely means that the stock will go sideways, at best, in the near term before confidence returns."
CIBC World Markets analyst Robert Sedran called the results "awful, with no redeeming features." He cut his price target to $15 from $19 saying, "it seems likely that pressure on the shares will remain in the near-term."
Barclays Capital analyst John Aiken pointed to the fact that this quarter may hold more bad news. "Unless Manulife receives some material relief from the markets in the third quarter, more damage to its financial statements could be on its way."
He pointed out that the company is reviewing various businesses and assumptions, which may lead to "additional pressure on earnings in the neighbourhood of well above $1 billion." The volatility in earnings, "the stark erosion of its capital ratios (and Q3 outlook) will rekindle concerns of incremental common equity dilution." He cut his price target from $16 to $15.
Other analysts to cut Manulife were Darko Mihelic of Cormark Securities, who dropped the insurer to "market perform" from "buy"; Tom Mackinnon of BMO Nesbitt Burns, who cut his price target to $17 from $19; Andre-Philippe Hardy of RBC Dominion Securities, who slashed his target to $16 from $20; and Mario Mendonca, who reduced his target to $17 from $18.
Disclosure: None