Since the start of the year, shares of Alcoa (NYSE:AA) surged more than 30% to $13.72, its highest level since September 2011. The stock has gained approximately 35% in the past year. For the first quarter of 2014, the company reported a loss of $178 million, which includes $276 million in special items largely tied to smelter and rolling mill capacity reductions. Excluding special items, net income was $98 million. Revenue fell 8% year-over-year to $5.5 billion. Although revenue was disappointing, profit beat expectations after excluding charges. Analysts were expecting earnings per share of 5 cents after items and revenue of $5.57 billion.
Growth of Alcoa's business is largely dependent on the demand for aluminum. The company expects that global aluminum demand will surpass production this year. Global aluminum demand is projected to expand 5.9% annually through 2017 to 86.5 million metric tons. Alcoa projected 7% increase in aluminum demand. Most of the increase will come from the Asia/Pacific region. China's share of global demand will increase from 43% in 2012 to 48% in 2017. China is the world's largest aluminum consumer and as China's demand expands so will the potential for the company's growth. Alcoa has been doing business with China since 1980s. One of the key factors contributing to this market growth is the use of aluminum in the Automotive industry. Customer preferences are shifting from large vehicles towards smaller and more fuel efficient models. Car manufacturers are using aluminum in their vehicles because it is lighter than steel and makes more fuel efficient cars possible.
Alcoa expects strong aluminum demand from the auto industry. The company projected 1%-4% growth in the global automotive industry this year. Aluminum use per motor vehicle is projected to increase from a global average of 120 kilograms/vehicle in 2012 to 132 kilograms/vehicle in 2017. Analysts from Goldman Sachs projected that aluminum auto sheets will grow at 14% CAGR from 2012 through 2025. Alcoa expects the market to grow more than 50% from 2012 through 2016. The U.S. market for aluminum sheet will increase from less than 200 million pounds in 2012 to 1 billion pounds this year and could reach 3.2 billion to 6.4 billion pounds by 2025. As the U.S. is the largest market for Alcoa, it is well positioned to benefit from this increase. The company estimated that its sales of auto aluminum sheet will rise from $330 million in 2014 to $1.3 billion in 2018. After Ford (NYSE:F), General Motors (NYSE:GM) also announced that it will build its 2018 pickup truck with Alcoa's aluminum, which would likely increase the company's profits going forward.
Alcoa also expects strong aluminum demand from the aerospace industry. Two major aircraft makers Boeing (NYSE:BA) and Airbus SAS (OTCPK:EADSY) have combined orders for around 8,000 planes, and both companies are starting to ramp up their production schedules. Analysts expect their annual deliveries to exceed 1,000 aircraft over the next five years. This means the Aluminum demand will remain strong from that sector. Both Boeing and Airbus are customers of Alcoa. Last year, the company generated more than 50% of its engineered products and solutions division revenue from the aerospace sector. It anticipates global aerospace demand will grow 7% to 8% this year, 9% to 10% in 2015 and 8% to 9% in 2016.
In December 2013, Alcoa has signed long-term agreement with Airbus for Value-Add titanium and Aluminum aerospace parts; the deal is worth approximately $110 million. The company will supply the aircraft-maker with aluminum plates and other construction materials which meet the stringent aerospace specifications. This deal will allow Airbus to make more fuel-efficient and stronger planes. Recently, Alcoa also signed another multi-year contract with Spirit AeroSystems (NYSE:SPR) for aluminum sheet. The contract valued at approximately $290 million over five years. For Alcoa, these contracts will offer a long-term business opportunity. Such deals will help the company mitigate the impact of lower aluminum prices.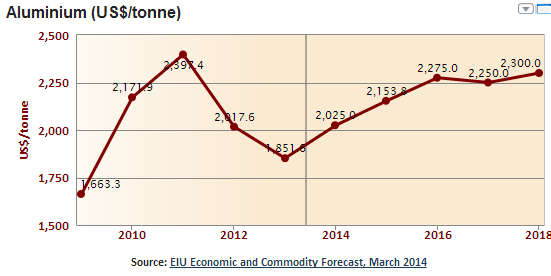 The profitability of Alcoa depends significantly on the world price of aluminum as listed on the London Metal Exchange (LME). Currently the aluminum price is around $1,769/tonne. According to EIU Economic and Commodity forecast, aluminum prices will rise to $2,153/tonne in 2015 and $2,275/tonne in 2016, and could reach $2,300/tonne in 2018. An increase in the price of aluminum will result in higher sales margins and more profits.
Risks:
The following are the most relevant risks facing Alcoa at present.
The price of energy may increase.

The price of raw materials could increase.
Exposure to fluctuations in currency exchange rates.
Low pricing power.
Bottom Line
The future of Alcoa looks bright. Aluminum demand will remain strong in the automotive and aerospace industry. This should lead to a strong rebound in its profitability over the next several years. Increases in aluminum processing will help the company to improve margin and generate significant profit in the coming years. With a forward-looking price-to-earnings (P/E) ratio of 21.31, well below its five-year average, and a 0.90% percent dividend yield, the company seems likely to reward long-term investors. In my opinion, Alcoa is a strong buy right now.
Disclosure: I have no positions in any stocks mentioned, and no plans to initiate any positions within the next 72 hours. I wrote this article myself, and it expresses my own opinions. I am not receiving compensation for it (other than from Seeking Alpha). I have no business relationship with any company whose stock is mentioned in this article.