After years of political bickering, Taiwan and China have signed a historic Economic Cooperation Framework Agreement (ECFA). The trade pact will help lift economic productivity in Taiwan, and provide a boost to Taiwan-related ETFs.
The trade back between Taiwan and China is expected to provide a 0.4% boost to the island's economy, create 60,000 new jobs in the next two years and save Taiwan $928 million in tariffs, according to the AFP. The ECFA will remove tariffs on 539 Taiwanese products within three years. Still, opponents caution that the accord may strengthen Beijing's hold over the island.

The Taiwanese Foreign Ministry is creating an office to better attract global investments, as stated by Radio Taiwan International. Governmental official Timothy Hsiang said that the "ministry has announced to all the overseas representative offices that attracting investment is one of [their] top tasks for this year."

The HSBC Headline Purchasing Mangaers' Index for Taiwan dropped to 50.5 in July from 53.8 in June, according to RTTNews. Anything above 50 indicates an expansion in the sector. Lower demand in the international market is slowing export orders. Nevertheless, employment within the manufacturing sector increased in July.
The Taiwanese Central Bank increased rates in June, and observers expect 25 basis point hikes in each quarter through the end of 2011, reports Ralph Jenning for ForexYard. After risk aversion caused by the eurozone debt crisis, investors are coming back to Taiwan's stocks. However, capital controls could be tightened if "hot money" becomes an issue. Observers are awaiting news on any economic reforms since the government currently puts limits on foreign portfolio investment and restricts foreign direct investments in a few sectors.
IQ Taiwan Small Cap ETF (TWON)
click to enlarge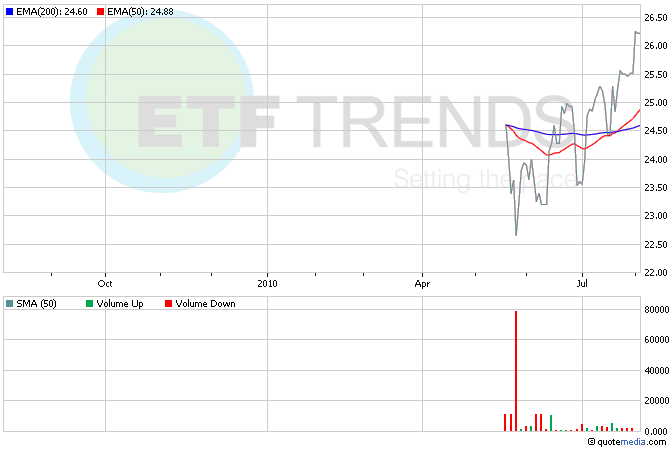 iShares MSCI Taiwan Index (NYSEARCA:EWT)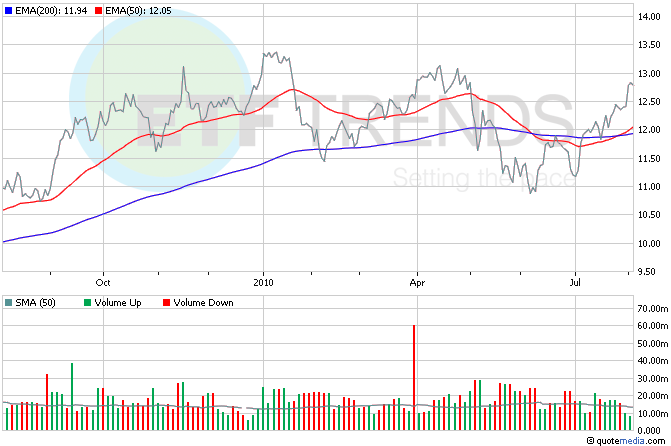 Max Chen contributed to this article
Disclosure: None