One of the few energy stocks to not have a solid 2014 so far is Bakken play, Oasis Petroleum (NYSE:OAS). The stock lost some ~15% from its highs late last year, before rebounding a bit recently. I added to my position at ~$42.50 a share. A good portion of the decline was triggered by an earnings miss in its last reported quarter.
However, this was primarily weather-related, as the areas in Montana and North Dakota Oasis operates in suffered through Arctic-like conditions most of the winter. Hard to have robust drilling activity or anything else when it is too cold to even pour cement.
In addition, given that the company controls some 500,000 net acres is some of the fastest-growing shale energy production areas in the country; it easily could find itself a buyout candidate by a bigger domestic or foreign major trying to significantly expand its North American production. This was recently speculated on in Barron's.
The sentiment seems to have improved on the stock over the last month. After falling for months, consensus earnings estimates have started to creep back up for FY2014 and FY2015 over the past four weeks. Technically, OAS recently crossed back over its 200-Day Moving Average (DMA) (See Chart).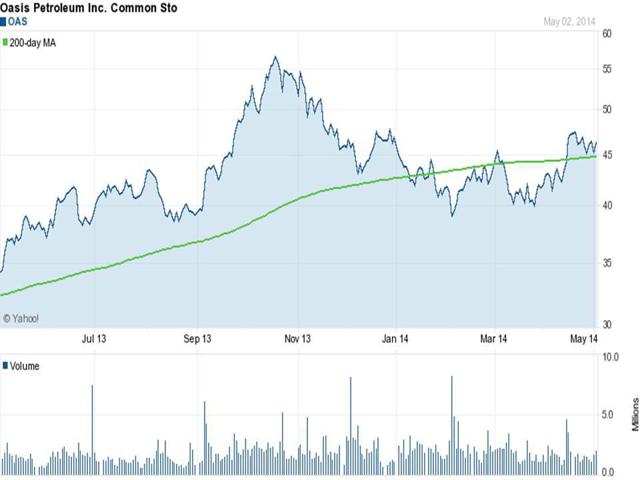 Click to enlarge
The company continues to see robust production growth. Current analyst expectations call for revenues to increase over 30% in FY2014 and just under 25% increases in FY2015. The stock has a five-year projected PEG of just over 1 (1.12).
Given growth prospects, the shares are fairly cheap at under 13x FY2015's expected earnings per share. The 28 analysts that cover the shares have a $55 a share median price target on OAS, just below where it was trading late last year.
I believe the shares have a good chance to attain that level again by end of the year. The company reports earnings after the bell today, and I look for the company to start putting last quarter's disappointment behind it. Finally, the company is at a market capitalization level that should get it into the S&P 500 index at some point in the future, which would be an additional positive catalyst for the stock. ACCUMULATE
Disclosure: I am long OAS. I wrote this article myself, and it expresses my own opinions. I am not receiving compensation for it (other than from Seeking Alpha). I have no business relationship with any company whose stock is mentioned in this article.