Intro
I have written about SOKO before (OTC:SOKF), but everything will be coming to a head this month (around August 20, 2010) with the release of its annual results. Last quarter was Q3 for the period ending Feb. 28, 2010. The upcoming results will be for Q4 and fiscal year 2010, ending May 31, 2010.
Soon after earnings are released, the stock will spike higher from its current $4.00-$4.50 range.
Q3 revenue and profit was $8.1million and $2.7million. I predict Q4 revenue and profit to be $14+million and $4.8+million.
Revenue and profit for FY2009 was $19.6million and $7million. I predict revenue and profit for FY2010 will be $36+million and $13.1+million.
Recently, I met with SOKO management. I also reviewed SOKO's financial statements since inception, putting the numbers into a large Excel spreadsheet. Some of the more interesting charts I generated are below.
Overview
SOKO operates two major business segments in northeastern China. It owns and operates luxury spas. It also owns and operates fitness centers. SOKO's base is in Harbin, although it is quickly expanding and now has a number of facilities in Shenyang and Beijing.
If you have not heard of Harbin and Shenyang before, they are cities that you will be hearing about much more about in the years to come. Here are some population numbers from Wikipedia:
Harbin - 10million
Shenyang - 7.8 million
Beijing - 22 million
Chicago -10 million
San Francisco - 4 million
Boston - 4.5 million
Revenue Breakdown
As shown by the figure below, most revenue comes from SOKO's spa segment. Spas account for the majority of revenue, which is derived from professional services and product sales. Fitness centers generate revenue by collecting membership fees.
Over the last year, fitness centers have contributed a larger proportion of revenue. This is because SOKO is undergoing another wave of expansion. In line with its business model, SOKO first opens up fitness centers that are able to cheaply and quickly attract fitness members. Then, after several months to a year, SOKO opens a spa nearby. These spas quickly become profitable because existing fitness members are upsold to nearby spa services. SOKO has been opening up many fitness facilities, so expect to see a follow-up wave of spa openings soon.
Geographic Breakdown
Here is SOKO's distribution of facilities. Note that this includes a few facilities that have not yet opened, but have been announced with opening dates for this calendar year.
| | |
| --- | --- |
| Shenyang Fitness Subtotal | 2 |
| Shenyang Spa Subtotal | 1 |
| Shenyang Subtotal | 3 |
| Harbin Fitness Subtotal | 3 |
| Harbin Spa Subtotal | 9 |
| Harbin Subtotal | 12 |
| Beijing Fitness Subtotal | 3 |
| Beijing Spa Subtotal | 1 |
| Beijing Subtotal | 4 |
| Fitness Subtotal | 8 |
| Spa Subtotal | 11 |
| Schools | 1 |
| TOTAL | 21 |
Facility Growth
SOKO has grown from 5 facilities in May 2008 to 16 as of February 2010 (Q3). Since releasing their Q3 results, SOKO has announced the opening of several more facilities and should have at least 21 facilities by November 2010. SOKO projected to open 10+ facilities for the 2010 calendar year. The "projections" in the chart below reflect only facilities already announced to be opening.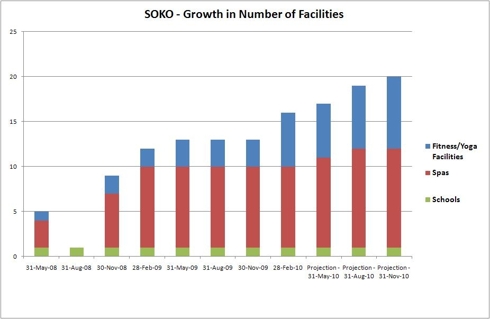 Growth in Number of Fitness Facilities and Corresponding Revenue
Below is a chart showing the growth in number of fitness facilities. Also shown are "projected" numbers of fitness facilities. These "projected" numbers should be accurate because they are based on facilities that have already been announced as opening.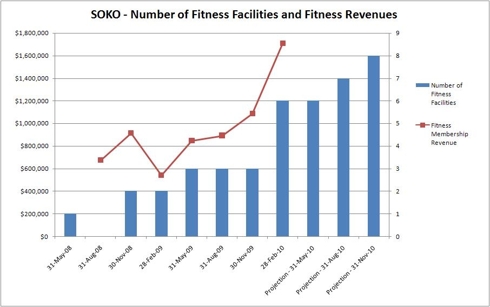 Growth in Number of Spas and Corresponding Revenue
The chart below shows the number of SOKO spas along with the revenue they generate. Some have expressed concern that the number of spas and spa clients have been leveling off. This is expected, however, and in line with SOKO's luxury business model, which aims for fewer but higher spending clients (in contrast to many, lower spending clients).
The numbers of spas and spa clients have been leveling off, but the chart shows spa revenue increasing – exactly what SOKO's business model calls for. Having recently expanded the number of fitness facilities, SOKO is now increasing the number of spas. Upon opening, the spas will have a ready client base of nearby fitness members, so expect tremendous growth in spa revenue in the upcoming quarters.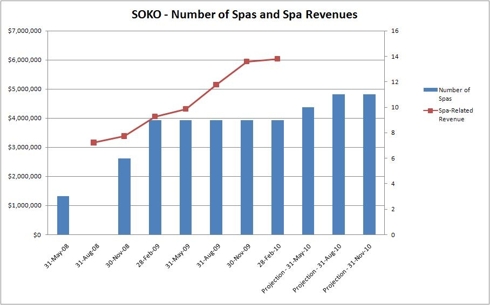 Revenue per Spa Client
As clients get to know the spas and SOKO employees better, they tend to spend more. Notice how revenue per spa client has been increasing even though the number of spas have remained static at 9 facilities recently. In other words, same store sales are rocketing higher - always a good indicator.
The slight leveling off in revenue per client in the last quarter is due to $1million in unrecognized revenue due to Chinese New Year at the end of last quarter (discussed below).
The number of spas has leveled off at 9 facilities recently, but SOKO has since opened more with more expansions to be announced this year.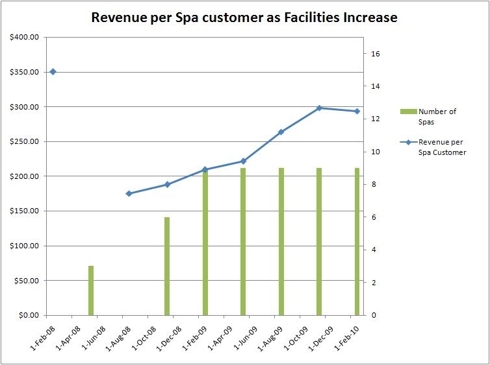 Fitness Memberships and Spa Client Numbers
This is just another chart to show the growth in fitness members and spa clients. Spa clients have been leveling off as the spas mature. However, as expected and detailed above, spa clients are spending more as relationships build. SOKO has been increasing the number of fitness centers. As expected, fitness facilities have been quickly attracting members. Expect SOKO to now transition to opening spa facilities near the newer fitness facilities. SOKO will then cross-sell spa services to existing fitness members – a competitive advantage because securing new, high-spending spa clients is normally difficult.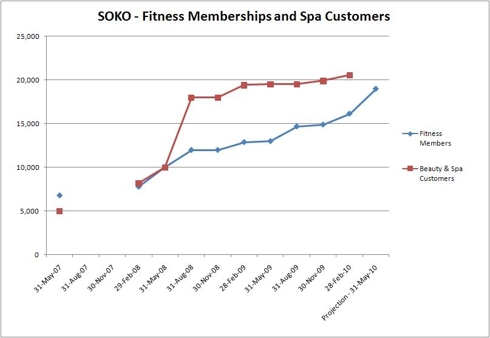 Q4 and FY2010 Revenue Projection
From August 2007 to February 2010, SOKO has been able to steadily and consistently increase quarterly revenue from $2 million to $8 million. In the same period, its quarterly profit has increased from under $1million to around $3 million. See chart below.
Most importantly right now, however, is my prediction of SOKO's upcoming revenue numbers for the quarter and year ending May 31, 2010, which are going to be reported this month. Last quarter's (Q3) revenue was $8 million. My prediction for Q4 is $14+ million. Revenue for 2009 was $19.6 million. My prediction for 2010 is $36 million+.
The huge projected jump in revenue from Q3 to Q4 can be explained with attention to two items.
First, SOKO's financial statements often show a large amount of deferred revenue. As of February 28, 2010, SOKO had $8.1 million in deferred revenue. SOKO incurs deferred revenue when it collects money from clients for future services, which is unrecognizable until the services are actually rendered. For example, a spa client may pay $5000 in cash for a year's worth of spa treatment. The $5000 may only be recognized as the treatments are performed. $6 million of the $8.1 million in deferred revenue will be recognized in the upcoming earnings report. SOKO representative Shawn Qu stated during the last (Q3) earnings call:
Shawn Qu: As of February 28th, 2010, our deferred revenue was $8.1 million and we expect to pass through approximately $6 million of this deferred revenue in the fourth quarter.
The recognition of $6million in unearned revenue will reflect what was earned through the first three quarters of fiscal year 2010 and will not be based on revenue from the prior fiscal year. This is because unearned revenue at the end of May 31, 2009 was only $1.9million, which means that all of the $6million to be recognized was earned in the months through Feb. 28, 2010.
Second, Q3's balance sheet showed ~$1.4million in account receivables compared to $0.4million in Q2. Shawn Qu explained this increase:
Craig Johnson: Okay. Thank you. And just one last question and that is your accounts receivable is up substantially from the previous quarter, from about 400,000 to about 1.4 million. Could you… my understanding was that this is mostly a cash business. Could you explain why the accounts receivable are up so significantly?

Shawn Qu: Okay. I will turn to our CFO and get back to you very soon. (Chinese spoken) Okay. The major reason is due to the two facilities of our whole business; one in Lea Spa in Sofitel which is a five-star hotel. Another one is Xinyang [ph] in the… a big comprehensive entertainment center. Only these two spas we have a slightly different revenue collect system… with the five-star hotel and also the comprehensive entertainment center but at the same time, in February it's the Chinese special year so it coincidentally happened we haven't collected the money from the five-star hotel and also the entertainment center respectively by the end of February because they are in holiday and we actually already get all the revenue collected by March 10th which we cannot recognize those revenues in the third quarter but we will catch up in the fourth quarter.
This means that Q3 revenue was about $1million lower than actually reported. The catch-up will occur in Q4 when the $1million in Q3 revenue will be recognized. Furthermore, Q4 will presumably also see at least $1million in revenue from the Lea Spa and Xinyang facilities.
My calculation for Q4 revenue is as follows. Q3's revenue was $8.1million. We'll assume revenue from normal operations will at least be the same for Q4. Not a bad assumption as SOKO has been growing revenue every quarter for the last 10 quarters (which includes the "recession") and there has been no change in SOKO's operating environment. So, I assume Q4's base revenue will be at least $8.1 million. Now, add the $6million in deferred revenue. Then add the $1million in unrecognized Q3 revenue. Now add another $1million in Q4 revenue from the Lea Spa and the Xinyang. Thus, Q4's revenue will be $8.1 + 6 + 1 + 1 = $16.1million. SOKO has been expanding rapidly (discussed below), so I subtract about $2million to be conservative and account for any one-time expansion expenses (as have been incurred before). Thus, I predict SOKO's Q4 revenue to be $14+, resulting in a FY2010 prediction of $36+million.
This is in comparison to Q3 revenue of $8.1 million, FY2009 revenue of $19.6million, and FY2008 revenue of $14million.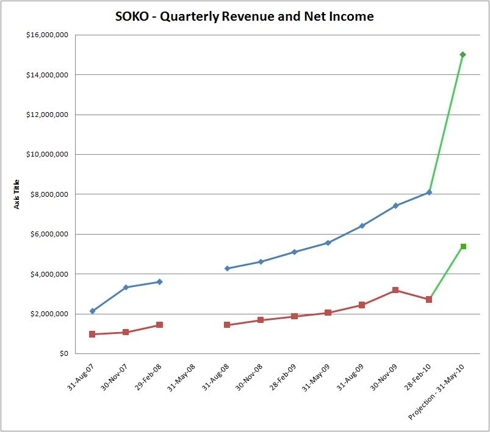 Q4 and FY2010 Profit Projection
SOKO's high gross and net margins have held steady over the past few years - a competitive advantage indicator. Last quarter's profit margins were a little off at 33% because of the $1million in unrecognized revenue, as explained above. Assuming a conservative profit margin of 34% for Q4, Q4 profit should be $4.8million, resulting in FY2010 profits of $13.1million.
This is comparison to Q3 profit of $2.7million and FY2009 profit of $7million.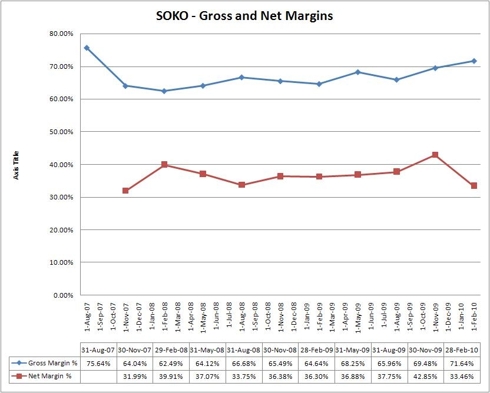 Conclusion
Q3 revenue and profit were $8.1million and $2.7million. Revenue and profit for FY2009 were $19.6million and $7million.
The stock has been hovering in the $4 - $4.50 range based on Q3 results. Compare that with my projected Q4 results.
Q4 revenue and profit should be $14+million and $4.8+million. Revenue and profit for FY2010 should be $36+million and $13.1+million.
Thus, SOKO's stock should spike with the results coming out this month. Exactly how much I am not foolish enough to say, but I expect it to be significant. Just look at the stock's step-like reaction upon positive news in the past: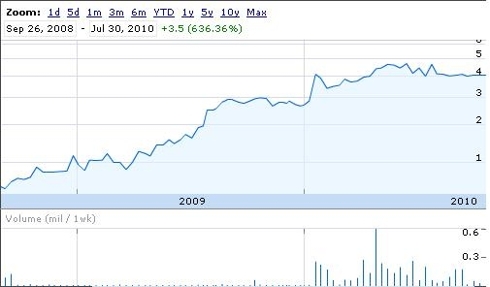 P/E and other ratios etc. have been covered in other articles and are favorable.
Notably, my predictions have not been based only any assumption of growth from existing facilities or growth from new facilities. They are based only on recognition of previously unrecognized revenue.
If you also consider the new facilities that SOKO has opened and planned for this year, this stock should be an amazing opportunity for at least the next couple years.
P.S. - Future Revenue Drivers
At the end of calendar year 2009, SOKO operated 13 spa and fitness facilities.
Here are the 7 facilities that have opened so far this calendar year (or have been announced as opening this year):
Yoga Wave Harbin
SOKO Beijing Natural Beauty Fitness
SOKO Beijing Natural Fitness II
Lea Spa Xishan Club
Daoli Fitness
Legend Spa Central Club
Yoga Wave Beijing - Westin Chaoyang Hotel
There should also be several more opening, as per management's guidance. Expect revenues and profits to accelerate in the quarters to come.
Disclosure: Long SOKF - all in