The following is an analysis of short float by sector. We only focus on S&P 500 stocks. We'll also list the 10 most shorted and 10 least shorted S&P 500 stocks, as of August 5, 2010.

Sector Overview: Average Short Float (i.e. shares sold short, as a percentage of outstanding shares)

Basic Materials: 4.00% (based on 56 stocks)
Conglomerates: 2.41% (based on 6 stocks)
Consumer Goods: 3.59% (based on 60 stocks)
Financial: 4.18% (based on 80 stocks)
Healthcare: 3.30% (based on 43 stocks)
Industrial Goods: 4.12% (based on 41 stocks)
Services: 5.19% (based on 101 stocks)
Technology: 4.61% (based on 78 stocks)
Utilities: 3.35% (based on 35 stocks)

Top 10 Most Shorted S&P 500 Stocks By Short Float

Mylan, Inc. (MYL): 25.27%
First Solar, Inc. (FSLR): 23.01%
American International Group, Inc. (AIG): 22.90%
Eastman Kodak Co. (EK): 21.55%
GameStop Corp. (GME): 20.69%
AutoNation Inc. (AN): 20.12%
Western Union Co. (WU): 18.73%
United States Steel Corp. (X): 17.65%
CMS Energy Corp. (CMS): 17.42%
Lexmark International Inc. (LXK): 15.15%

As the following chart shows, most of these companies have neutral analyst ratings. EK and AIG have underperformed over the last year, and currently have the lowest analyst ratings of the group.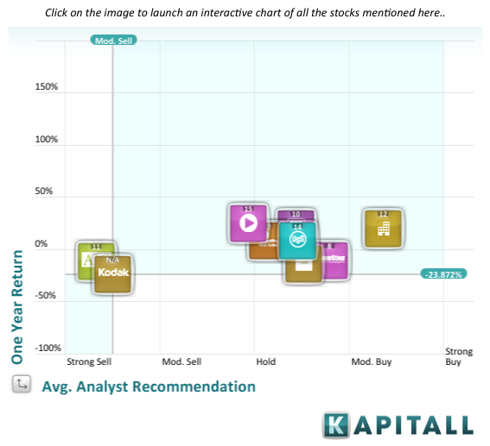 Top 10 Least Shorted S&P 500 Stocks By Short Float

Exxon Mobil Corp. (XOM): 0.54%
General Electric Co. (GE): 0.67%
Pfizer Inc. (PFE): 0.7%
Pepsico, Inc. (PEP): 0.7%
Cisco Systems, Inc. (CSCO): 0.73%
Abbott Laboratories (ABT): 0.73%
JPMorgan Chase & Co. (JPM): 0.81%
Edison International (EIX): 0.82%
MetLife, Inc. (MET): 0.85%
Norfolk Southern Corp. (NSC): 0.86%

As the following chart shows, most of these stocks have neutral to positive analyst ratings, and their performances have been in line with the group.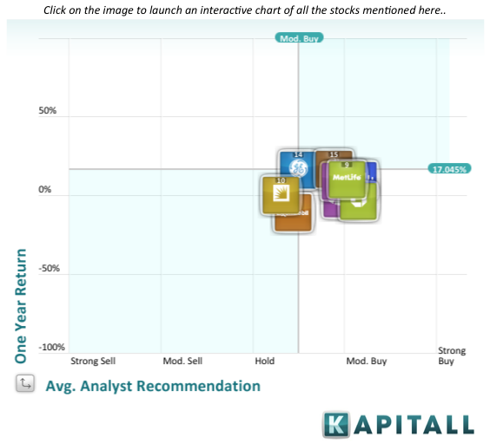 Disclosure: No positions