By Carla Fried
Amid a better-than-expected earnings report, Apple (NASDAQ:AAPL) announced a 50% increase in its share buyback program. By the end of 2015, it now plans to spend $90 billion on buybacks, up from the original $60 billion announced one year ago. As big as that number is, it's still not going to put much of a dent in Apple's prodigious cash hoard. In the year since Apple announced the buyback plan, it is has generated $48 billion in free cash flow, including more than $12 billion in the latest quarter: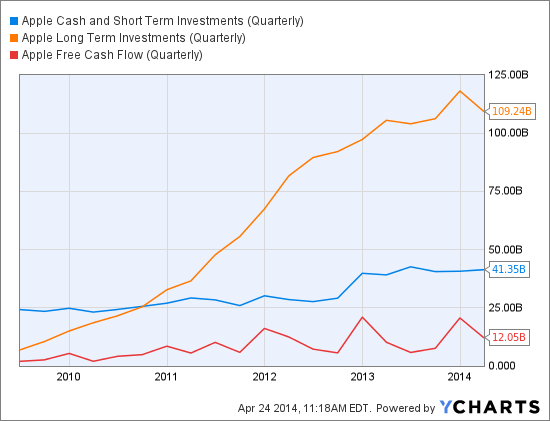 AAPL Cash and Short Term Investments (Quarterly) data by YCharts
Back out the cash from Apple's balance sheet and the stock currently trades at a cash-adjusted P/E of 11.4. Just for comparison's sake, Google's (NASDAQ:GOOG) (NASDAQ:GOOGL) P/E ratio less cash is around 26. Facebook (NASDAQ:FB) is at 95. Just saying.
Apple clearly has a claim that it is buying back shares it deems to be undervalued. And interestingly, even though we're in year six of the bull run, there seems to be a decent supply of other companies in buyback mode that are trading at decent valuations. The PowerShares Buyback Achievers ETF (NASDAQ:PKW) has nearly $3 billion in assets, with more than $2 billion coming from fresh inflows over the past year. With a forward P/E of 15, the portfolio is trading below the market average of near 17. Not bad for a strategy that has thumped the SPDR S&P 500 ETF (NYSEARCA:SPY) over the past year: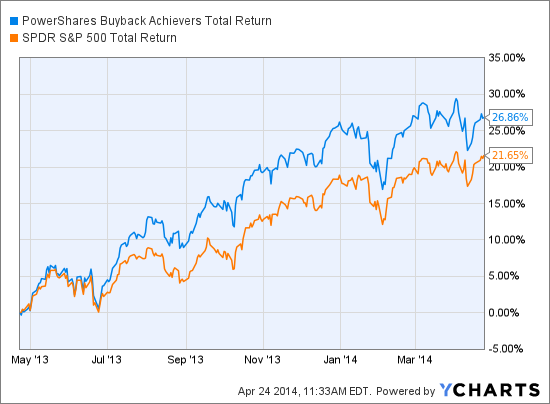 PKW Total Return Price data by YCharts
The PowerShares Buyback Achievers ETF screens for companies that have reduced their shares outstanding by at least 5% over the past year and then weights the stocks by market cap. A 5% share reduction is a mighty big chunk to repurchase in a single year, and not necessarily something that can be sustained. The PowerShares ETF reconstitutes once a year, and last year the portfolio had 80% turnover according to Morningstar (NASDAQ:MORN). As a point of reference, even with Apple's aggressive repurchase plan that started last spring, shares outstanding are down less than 2% over the past 12 months. (New issuance from exercised options plays a part in that low net reduction.)
Currently, the buyback ETF's three largest holdings are Oracle (NASDAQ:ORCL), AT&T (NYSE:T) and Pfizer (NYSE:PFE). As this long-term chart shows, consistent buybacks are not their thing: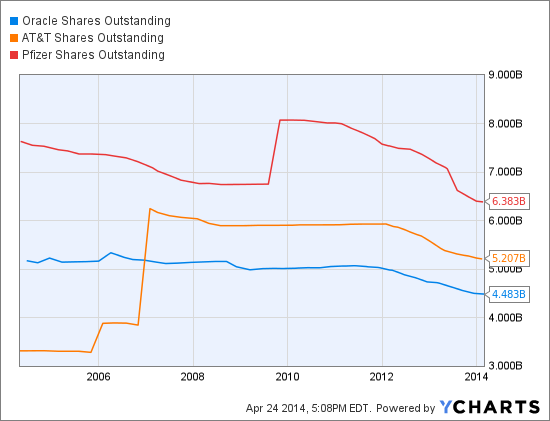 ORCL Shares Outstanding data by YCharts
Turning to the more inclusive shareholder yield metric, Pfizer is the standout.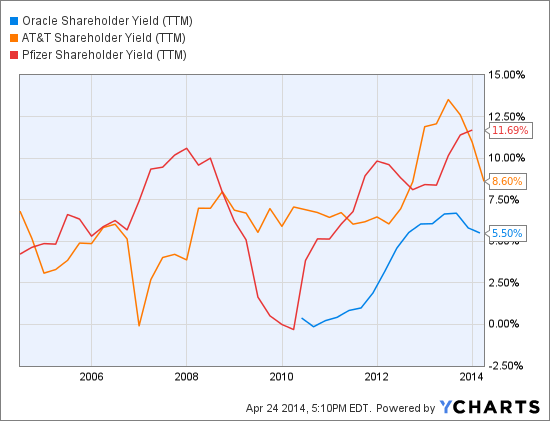 ORCL Shareholder Yield (TTM) data by YCharts
But keep in mind that of the three components to shareholder yield, the dividend history is the stickiest. It's easier for management to pull the plug on share repurchases and debt pay-downs than to tell shareholders you're going to pare the dividend payout. And Pfizer is still mending fences after slashing its dividend in 2009. Even with steady increases commencing in early 2010, Pfizer's dividend is still not back to its 2009 level.
Oracle only recently instituted a dividend, and AT&T's dividend, while growing consistently, is growing somewhat slowly, rising less than 50% over the past 10 years.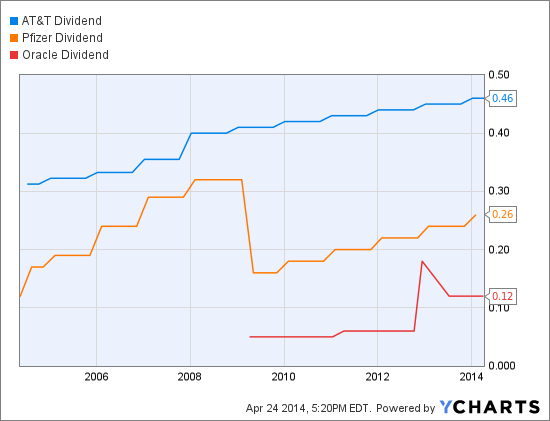 T Dividend data by YCharts
A quick ranking of the S&P 500 by buyback yield lands a nice starting point for further investment research.
ADT (NYSE:ADT) and VeriSign (NASDAQ:VRSN) have the highest buyback yield, but neither has the consistent buyback program of DirecTV (DTV), which is also high in the ranking.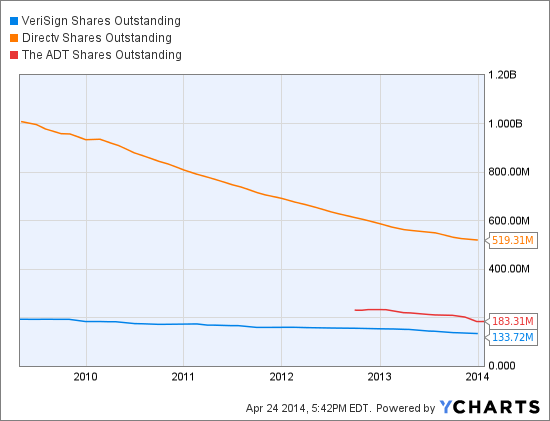 VRSN Shares Outstanding data by YCharts
That said, none of those three pays a dividend.
For a mix of current buyback with stickier dividend growth, Quest Diagnostic (NYSE:DGX) jumps out from the list. The buyback yield is above 10% over the past year (yes, it is a constituent of the PowerShares Buyback Achievers ETF), and Quest's dividend has increased more than 25% over the past three years as management has shifted strategy after holding the dividend steady from 2006-2011.
That said, Quest certainly has the capacity to keep the dividend growing as its payout ratio is below 30%.
YCharts three years ago wrote admiringly of Quest and its industry-mate, Laboratory Corp. of America (NYSE:LH), which are in the process of consolidating the medical testing industry. From time to time, the stocks are buffeted by government and private insurance reimbursement issues. But the broad forces of demographics and increased utilization of healthcare overall and testing specifically are the wind at their backs.
Disclosure: None