The U.S. jobs data is in. Nonfarm payrolls is the big one to watch. Analysts were looking for a drop of 87,000 last month, but 131,000 jobs were lost. The private sector added 71,000 jobs, which was below most estimates. The President was on today pumping that gain to Americans. The politicians in Washington are so far removed from what is happening in the real world and it should be considered an insult towards the public to positively spin U.S. unemployment.
The unemployment rate was widely expected to increase to 9.6%, but it was unchanged at 9.5%. That is easy to do when over 100,000 unemployed stop looking for jobs, which takes them out of the unemployment pool used to calculate the unemployment rate. The average workweek was 34.2 and more importantly hourly earnings rose slightly, both numbers were expected. The market has responded negatively to the news. The response was expected, but foreign currencies strengthened and lightened the blow to the market. Despite all the confusing head-fakes this week, I favor the bulls to 1150 until sellers drive SPX below 1085 support.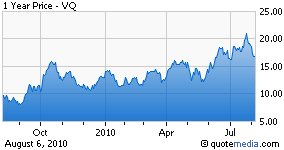 The Chart of the Day
Venoco (NYSE:VQ) is a new position as of this afternoon.
The pick is a bit more aggressive than I would normally like, but I expect shares will find support at $16, which had been resistance for most of this winter. Volume picked-up in June as shares broke past $16.20 resistance and later found support at that same level back in July.
A bearish engulfing candle and the gap down last week are a concern. The stock should at least backtest the 50 day moving average (which is moving higher) at $17.40. The downside risk is minimal provided that commodities remain hot. To the upside we could be looking at a quick move to $19 resistance. The next few days will be very telling for this company.
Watch List
Our watch list was mostly lower today, similar to the market.
Leading the way higher were the regulars, Origin Agritech (NASDAQ:SEED) and China Agritech (OTCPK:CAGC) .
Disclosure: None