By Chris McKhann
With August expiration two weeks away, many traders already appear to be rolling positions, as we see today in Athenahealth (NASDAQ:ATHN).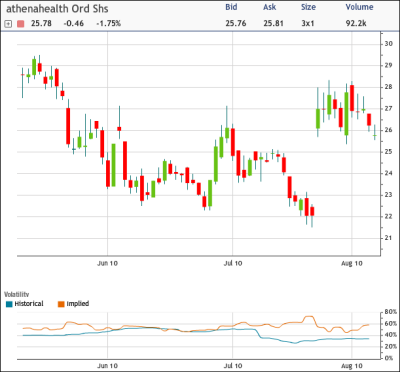 The average option volume in ATHN is 2,362 per day, but we are already seeing 10,000 change hands this morning, only about 100 of them on the call side. Almost all of that volume sits in the August and September 22.50 puts.
A trader sold 5,000 of the August puts for $0.20 against open interest of 6,283 contracts. At the same time, this investor bought 5,000 of the September puts for $1. The previous open interest at this strike was 420.
This could have been a calendar spread betting on a range-bound market, but it was more likely a trader closing out the put position in August and rolling it out to September.
Shares of ATHN, which provides online business services to physicians, are down 1.6 percent to trade at $25.78. They gapped higher off the 52-week low of $21.51 on July 23 after positive response to earnings. But the primary downtrend in place since January when shares were near $48 remains in place.
(Chart courtesy of tradeMONSTER)
Disclosure: None