Over the last couple of years, perhaps one of the most disappointing names in the technology sector has been Cisco Systems (NASDAQ:CSCO). As you can see in the chart below, shares of the networking giant have greatly underperformed the Dow, NASDAQ, and S&P 500.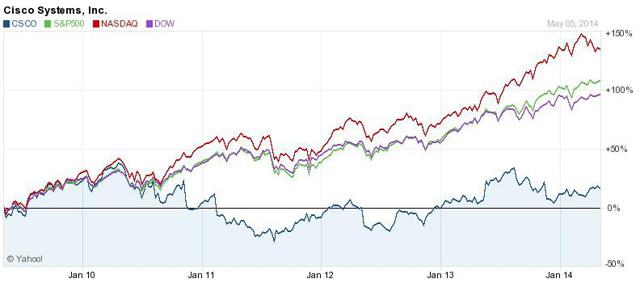 (Source: Yahoo! Finance)
Cisco shares are off their late 2013 lows, but they are nowhere near yearly highs like many names in the market. The company is in the midst of a revenue and earnings decline, one that has set the company's growth story back a couple of years. Another earnings report is on the horizon, and results are not expected to be great. Today, I'll detail why long-term investors might want Cisco to report bad news. While shares might decline in the short-term, bad news might just be what's needed to wake up this sleepy stock and provide promise for the future.
Still in a revenue decline:
The current fiscal year was initially expected to be a decent one for Cisco. While the company was not expected to be a tremendous growth company like Google (GOOG, GOOGL) or Facebook (NASDAQ:FB), some growth was expected. The following image shows a snapshot of Cisco's analyst estimates in mid-November 2013. These growth estimates put Cisco a little below Microsoft (NASDAQ:MSFT) and Apple (NASDAQ:AAPL) in terms of growth, but a bit ahead of Intel (NASDAQ:INTC).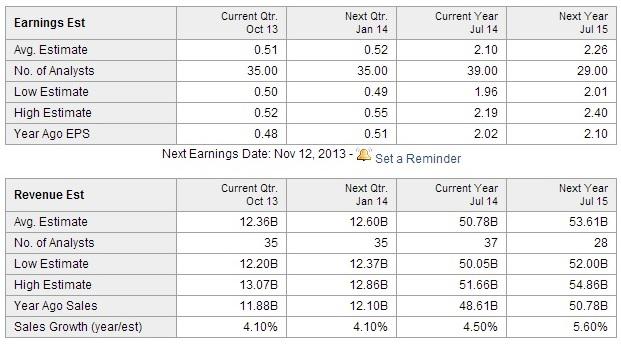 (Source: Yahoo! Finance estimates page early/mid November 2013)
Of course, we all know what happened. Cisco issued a large warning, with service provider weakness being the main culprit. The government shutdown did not help, and China was also weak. EPS estimates have crept up a little since the last report, but that was mainly a function of Cisco's huge buyback. While Cisco became a better value investment thanks to the last report, the business situation did not change much. The following image shows where estimates stood as of Monday.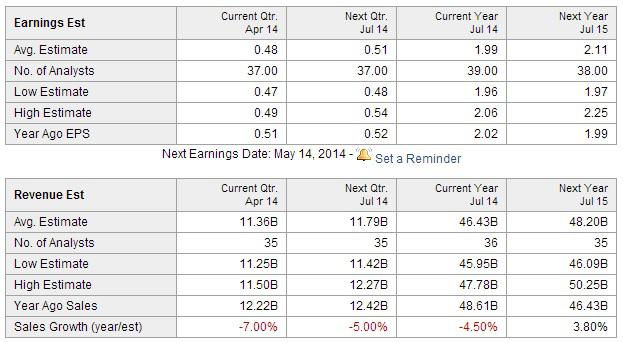 (Yahoo! Finance estimates currently)
Analysts are looking for a 7% revenue decline this quarter and a 5% decline next quarter. Will things get better in the next fiscal year? Analysts think so, but Cisco has a lot to prove. Revenue estimates for the July 2015 ending year have come down nearly $5.5 billion since November. That's a lot. The company is starting to look to the future, focusing some investments on the cloud, but are those investments too late? The cloud space has become crowded, and these investments are unlikely to pay off in the short-term. Right now, Cisco is one of the big five names in terms of US tech, and it is the one showing the weakest results. So why might investors want a bad report? Well, it just might lead to some big changes at Cisco.
Is Cisco's Dow spot in trouble?
The Dow Jones Industrial Average is a price weighted index. The weightings of its 30 components are based on share price, not market cap, revenues, or anything else. If you trade at $50, you have less of a weight than a name at $100. Some believe the index is highly flawed, but that's the way it works.
Well, Cisco has the lowest share price, so it has the lowest weight in the Dow. Right now, Cisco's weight in the Dow is about 0.9%, according to the SPDR Dow Jones Industrial Average ETF (NYSEARCA:DIA). The largest weight in the Dow is around 8%, and it doesn't take a math genius to figure out what the average weight of one component in a 30 component index is. Cisco is the only component with a weight of under 1% in the Dow currently.
So what's the big deal here? Well, Apple recently announced a 7 for 1 stock split that will get Apple shares under $100 a share. There are many who believe Apple's split was a way to get Apple into the Dow. Obviously, if Apple enters the Dow, someone has to go. With Cisco having the lowest weight, Cisco could be a strong candidate to get booted. Some might believe trading one tech name for a larger one in the Dow makes perfect sense, and adding Apple as a larger weight would balance the index out a little more. In that linked article above, I discussed how Cisco would be my number 2 choice to be booted from the Dow if Apple joins. But don't get me wrong here, I certainly would not be surprised if Cisco gets kicked out.
Chambers must go? It seems to have worked for Microsoft:
In late August 2013, we saw Steve Ballmer step down as Microsoft CEO. It was reported as a retirement, but some speculated he would have been fired otherwise. On the day of the announcement, Microsoft shares rallied by nearly 7.3%. Excluding dividends, Microsoft shares are up more than 20% since the day before the announcement. Obviously, investors have more faith in Microsoft now, with shares recently breaking $40 for the first time in more than a decade.
Well, many have been calling for Cisco CEO John Chambers to go for years. With the flop in results this fiscal year, those calls may have picked up a little steam. With some names, a CEO's departure is seen as a negative because it leads to a period of transition and investors are worried about the short-term future. But perhaps in Cisco's case, it might be time for someone new to take over, to lead Cisco into the next phase of its growth. If Cisco disappoints on May 14th, calls for Chambers to go will most likely come.
An activist investor could step up to the plate:
With another bad report or Cisco getting the Dow boot, it might be the perfect time for an activist investor to step in. We saw ValueAct come in with Microsoft, and Carl Icahn with Apple. While Icahn did not get as much as he wanted with Apple, Apple has increased its buyback from $10 billion to $90 billion in the last year plus.
Icahn put a few billion into Apple, a company with a market cap of about $400 billion or so when Icahn was buying shares. Icahn only held about 1% of Apple, but his words were loud and clear. Cisco's market cap is a little under $120 billion right now. Someone like Icahn with a few billion would be a bit more powerful with Cisco than Icahn was with Apple. If shares fall post-earnings, the market cap will be reduced even further, allowing an activist to have more power. It might be a good wake up call for Cisco, and an activist might push for Chambers to go as well.
Short interest continues higher:
One interesting item when it comes to Cisco is short interest. Most of these large cap tech names are not highly shorted, with the five major US names all having about 5% or less of their share counts short. However, there is an interesting trend for Cisco's short interest recently, as seen in the chart below.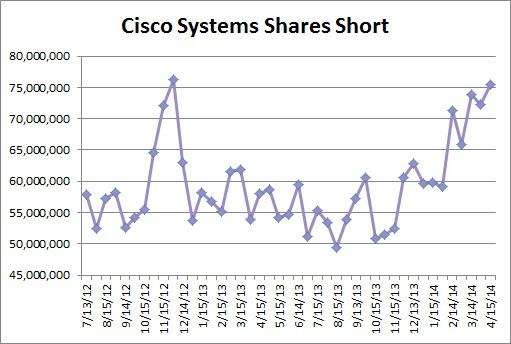 At the mid-April update, a little more than 75 million shares were short. Yes, that is a relatively small number for Cisco, a name with over 5.1 billion shares outstanding. However, this is the first time short interest has been over 75 million since the end of November 2012, nearly 18 months. Short interest has trended higher recently, and it is something to watch going forward. From the 2013 low, short interest has risen more than 53%.
Final thoughts:
Cisco is in the midst of a very disappointing fiscal year, and the stock has been a disappointment for years. While expectations are for the company to improve going forward, Cisco has a lot to prove. Long-term investors might actually want Cisco to have a bad quarter in the next couple of weeks, because it might just start the ball rolling for some much needed change. It might just be time for John Chambers to step aside for someone to lead Cisco into the next generation. Cisco could get the Dow boot in favor of Apple, and that might spark the interest of an activist investor. While the dividend is good and the buyback has been better lately, Cisco has the lowest P/E of the five major US tech names. There's a reason for that, as investors continue to be less than impressed with Cisco. While a short-term decline in this stock would be bad for current investors, it just might be what's needed for Cisco in the long run.
Disclosure: I have no positions in any stocks mentioned, and no plans to initiate any positions within the next 72 hours. I wrote this article myself, and it expresses my own opinions. I am not receiving compensation for it (other than from Seeking Alpha). I have no business relationship with any company whose stock is mentioned in this article.
Additional disclosure: Investors are always reminded that before making any investment, you should do your own proper due diligence on any name directly or indirectly mentioned in this article. Investors should also consider seeking advice from a broker or financial adviser before making any investment decisions. Any material in this article should be considered general information, and not relied on as a formal investment recommendation.