Foster Wheeler AG (FWLT) reported second-quarter earnings from continuing operations of 46 cents, below the Zacks Consensus Estimate of 51 cents. The second quarter earnings declined sharply from prior-year quarter's earnings from continuing operations of 96 cents.
Earnings in the reported quarter and prior-year quarter included asbestos-related provision of 2 cents each, excluding which earnings per share was 48 cents compared with 98 cents.
Consolidated revenue was $1,005.5 million compared with $1,308.8 million in the second quarter of 2009.
The company's revenue and EBITDA margins declined in both its Global Engineering and Construction (E&C) Group and Global Power Group (GPG) segments. This led to a decrease in net income or earnings. However, despite the prevailing competition in the market, the company was successful in executing contracts and also bagged a number of new contracts during the quarter.
Revenue in Global E&C Group was $454 million, down 5.6%, primarily due to lower volume of work executed. Global Power Group revenue was $162 million versus $246 million.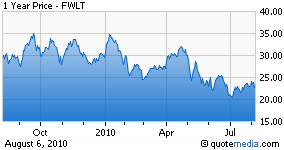 E&C Group's new orders were worth $488 million, modestly below $512 million in the prior-year quarter. The new orders in Global Power Group were $162 million, impressively above $83 million in the prior-year period. The company's increased orders reflect strong global demand for its CFB boiler technology and an improving market condition, particularly in Eastern Europe and the Far East.
A low revenue from a reduced volume of work decreased Global E&C Group EBITDA margin to 18.8% from 27.1%. The EBITDA margin for GPG declined to 16.5% from 19.5%, due to lower revenue as well as the loss related to destruction of Chilean power plant in a February 2010 earthquake.
Consolidated EBITDA in the quarter was $90 million compared with $162 million and net income was $59 million compared with $122 million.
Balance Sheet
Cash and cash equivalents was $973.9 million with long-term debt of $149.9 million and shareowner's equity of $928.8 million.
The company did not repurchase any shares in the first half of 2010. As per its share repurchase program announced in September 2008, Foster Wheeler is authorized to repurchase $750 million worth of shares, of which $264 million worth shares remains to be repurchased.
Outlook
The company continues to expect EBITDA margin for Global Power Group to be in the range of 16% to 18% in 2010. The backlog in the group at the end of 2010 is expected to be well above the first two quarter of the year.
In Global E&C Group, Foster Wheeler expects to see steady increase in new orders in the second half of the year. The company looks favorably at the improving market conditions, especially in the emerging economies. However, delay in certain projects and a low comparative currency exchange rate in the year is believed to decline the revenue. EBITDA margin in the E&C group is expected to be in the range of 18% to 20%.
We believe that the global demand for energy will continue to grow over the long term and the clients will continue to invest in new and upgraded capacity to meet the demand. In this regard, Foster Wheeler has been successful in booking contracts for front-end engineering work, which is frequently the precursor to significant work for engineering, procurement and construction. However, competition in Foster's end market is very high, and its major competitors include Fluor Corporation (NYSE:FLR) and Jacobs Engineering Group Inc. (NYSE:JEC).
Foster Wheeler AG is based in Zug Switzerland, but its operational headquarters are in Clinton NJ USA. The majority of Foster's revenues and new businesses originate from outside the United States. The company serves the following industries: Oil and Gas; Oil Refining; Chemical & Petrochemical; Pharmaceutical; Environmental; Power Generation; and Power Plant Operation and Maintenance.
We currently maintain our Neutral recommendation on Foster Wheeler, with a Zacks #4 Rank over the next one-to-three months.