What do coffee, orange juice and wheat all have in common? Besides the fact that they are all breakfast foods (or used in them), their prices and related ETFs have all been affected by nature.
If you're skipping breakfast these days, it might be because it's just gotten so expensive. Look at what's been happening:
According to The Economist, Russia, the world's fourth-largest wheat producer, has been hit with severe drought and wildfires. To date, Mother Nature has destroyed a fifth of the country's crop.
Kazakhstan and Ukraine – also big wheat producers – have been hit with dry weather, while Canada's unusually wet weather has prevented seeding and destroyed crops.

Orange juice prices have also increased – some speculate that that's because of futures trading- while coffee prices have increased as well, thanks to poor harvests.
All together, the price of raw materials for breakfast foods has increased about 25% since June.

click to enlarge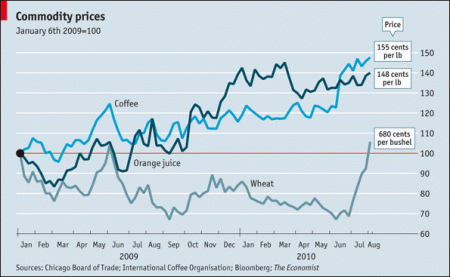 Source: The Economist
You can play along with the rising cost of breakfast using ETFs and exchange traded notes (ETNs). Most funds hold a mixture of commodity futures contracts and incorporate these in small amounts, though there is a coffee ETN.

Sumin Kim contributed to this article.
Disclosure: None